Democrats tend to be happy with the ideology of their current candidates, but Republicans want GOP candidates to become more conservative
Traditionally the two major American political parties, the Democratic and Republican parties, have contained within them a wide range of political opinions and ideologies. Over the past few decades, however, the two parties have become increasingly ideologically united. The slow death of Southern, conservative Democrats has made the Democratic Party increasingly liberal while the disappearance of many liberal coastal Republicans has resulted in the GOP becoming more and more conservative. As the parties have become more ideologically cohesive, the choice offered to voters has become more dramatic and distinct.
YouGov's latest research shows a divide about how ideological partisans of each party want their candidates to be. Democrats, and independents who lean Democratic, tend to say that they don't want candidates of the Democratic Party to become either more or less liberal than they are now. 49% want them to remain about the same, while only 26% want Democratic candidates to become more liberal. 10% want Democratic candidates to become less liberal.
Among Republicans and Republican leaning independents, however, 46% want their candidates to become more conservative. 32% say that they want the candidates to stay about the same, while 13% want them to be less conservative.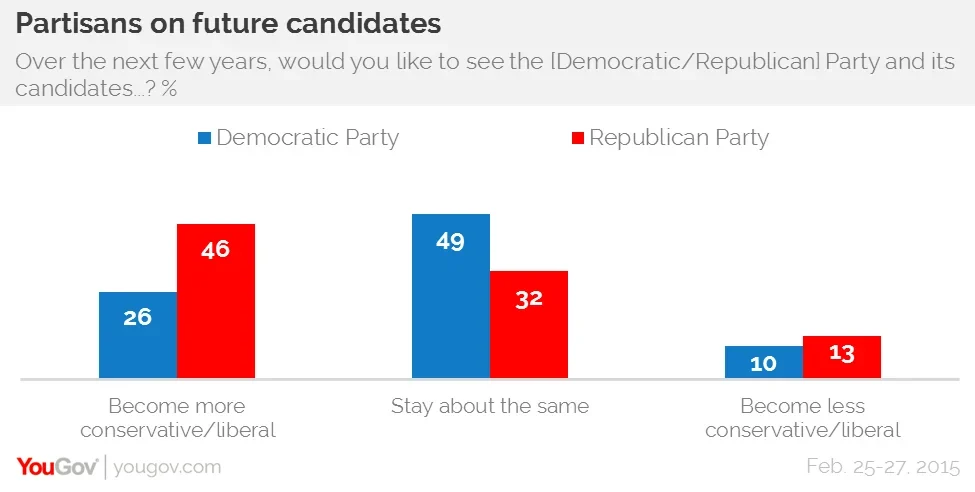 Asked whether each party had become more ideologically exteme in recent years, the broader public tend to think that Democrats, not Republicans, have moved further away from the center ground. 42% of Americans, including 21% of Democrats, think that the Democratic Party has become more liberal in the past few years. 33% say it has remained the same while only 7% think it has become less liberal.
When it comes to the Republican Party, Americans are effectively split as to whether they have become more conservative (30%) or remained the same (28%) in recent years, while 19% think that Republicans have become less conservative. Republicans tend to think that the party has remained the same (46%) in recent years, but a third (32%) do think that the party has become less conservative in recent years.