Scott Walker could be a formidable candidate for the Republicans in 2016, combining conservative credentials with a good national profile
Wisconsin Governor Scott Walker may not have won the CPAC straw poll last weekend, but he stands high with most Republicans, who in this week's Economist/YouGov poll see him as a strong leader who is ideologically "just right."
Walker gets high marks for leadership from Republicans: nearly four times as many say he is a strong leader as say Walker is a weak one. And even non-Republicans see his leadership potential. More than half overall say he is strong leader.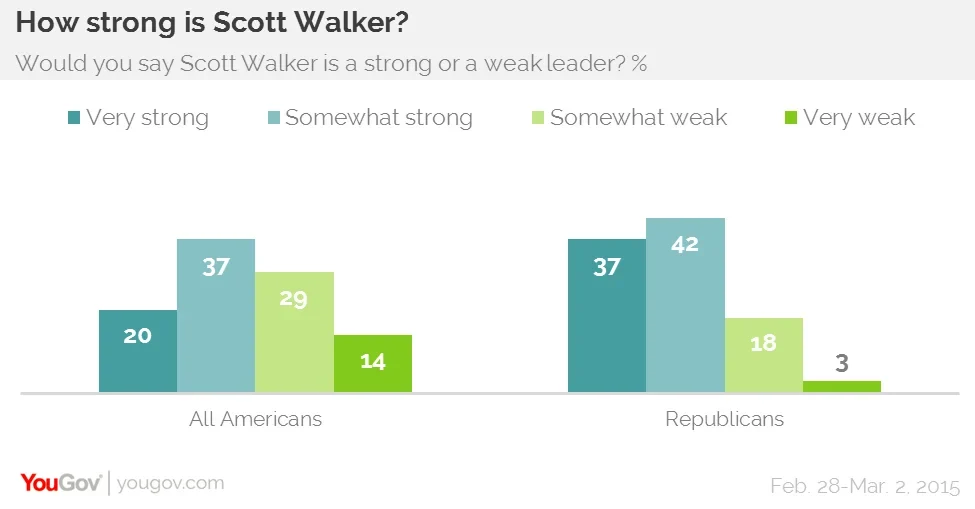 Put in perspective, that puts Walker slightly ahead of the current President, Barack Obama. In this week's poll, just 50% call the President a strong leader.
Walker may have endeared himself to conservatives by fighting Wisconsin labor unions; as he put it last week: "If I can take on 100,000 protesters, I can do the same across the world." Republicans are generally confident in Walker's ability to handle an international crisis, though the public overall is skeptical – as it is about other GOP presidential possibilities.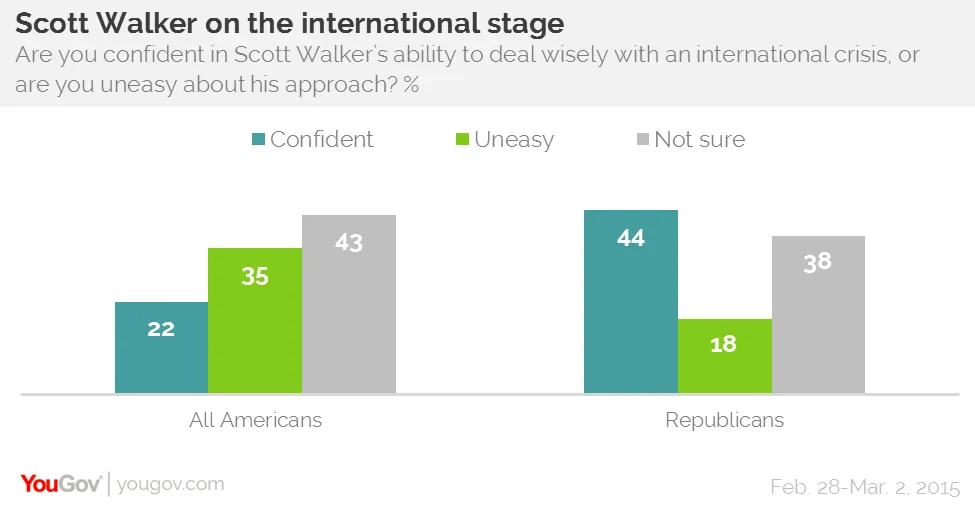 Walker just signed a right-to-work law in Wisconsin, making it the 25th state to allow workers to opt out of joining a union and paying dues. Republicans clearly like Walker's performance in Wisconsin. By twelve to one, they approve of how he handles that job: 61% approve, and only 5% disapprove. Republicans also see Walker as honest: a majority of Republicans think Walker is more likely to say what he really believes rather than what he thinks people want to hear. And the public overall also gives Walker him positive marks on this, though many are undecided. Clearly, as a second term governor, Walker still has to introduce himself to many in and out of his own party.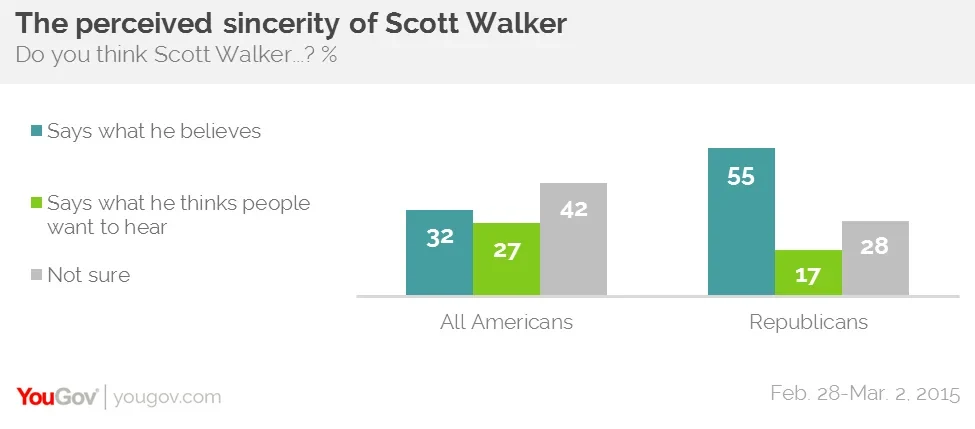 Nearly half of Republicans describe Walker as more honest than most people in public life.
But it is strength and words that imply strength that dominate the answers when Americans who like Walker are asked for a single word to describe him. There are also mentions of his conservative ideology. On the other hand, those with an unfavorable opinion of Walker use a variety of negative words about him: some come directly from his confrontation with Wisconsin public unions, while others are extremely negative descriptions of his personality and presentation.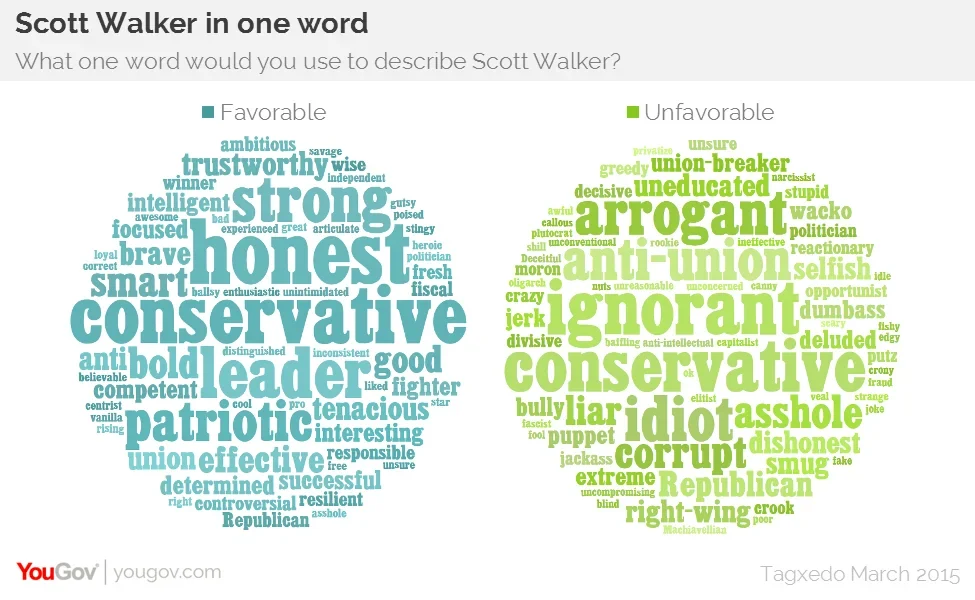 Walker definitely is among the top tier of contenders for Republicans. Among those who identify with the GOP, favorable ratings of Walker outnumber unfavorable ones by nearly five to one. That ratio is even better than what other popular GOP candidates receive from Republicans, though Texas Senator Ted Cruz, Florida Senator Marco Rubio and former Arkansas Governor Mike Huckabee fare especially well.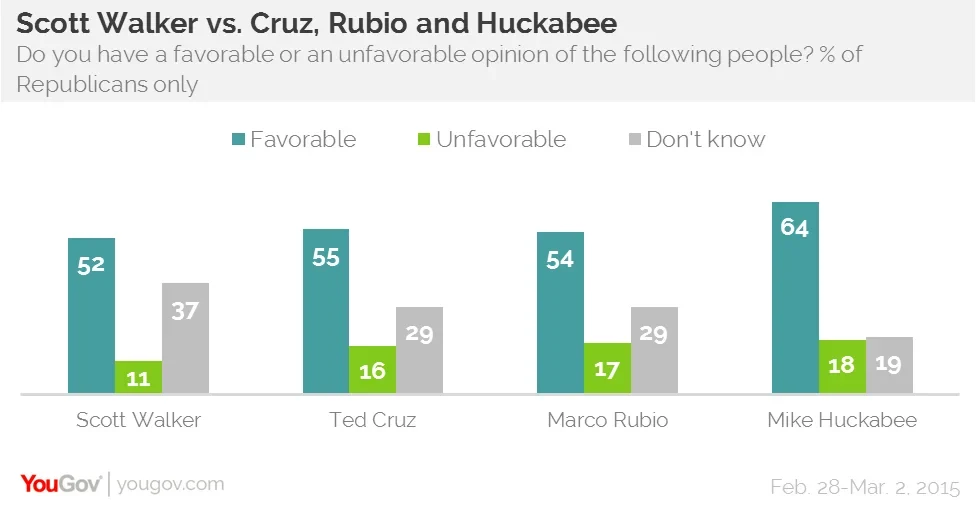 Some other possible candidates – Texas Governor Rick Perry and Kentucky Senator Rand Paul -- do well, too, but two potential nominees face significant problems from their fellow partisans. More than a third of Republicans have unfavorable views of former Florida Governor Jeb Bush and New Jersey Governor Chris Christie.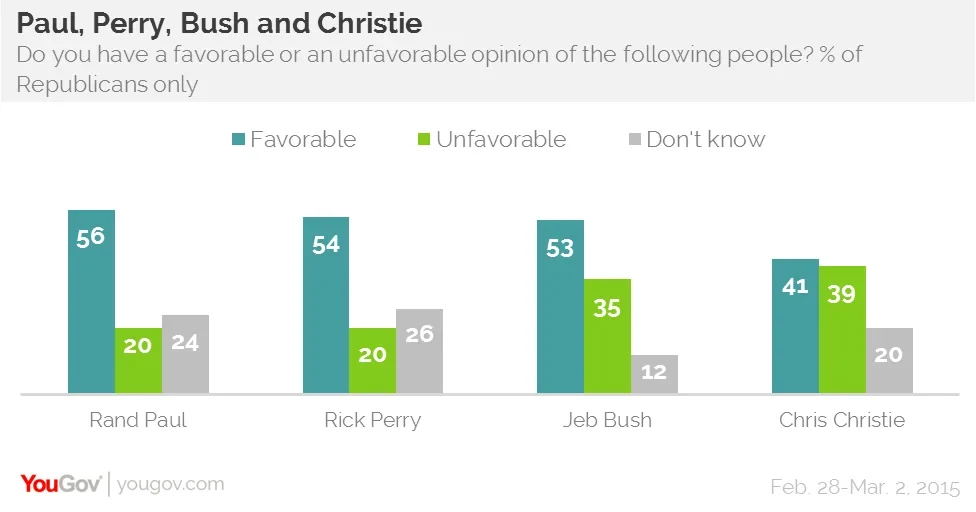 Part of Bush and Christie's problem is that about a third of Republicans think those two men are not conservative enough. In contrast, a majority of Republicans view Walker's ideology as "about right." Few Republicans find him erring on either side of the ideological divide.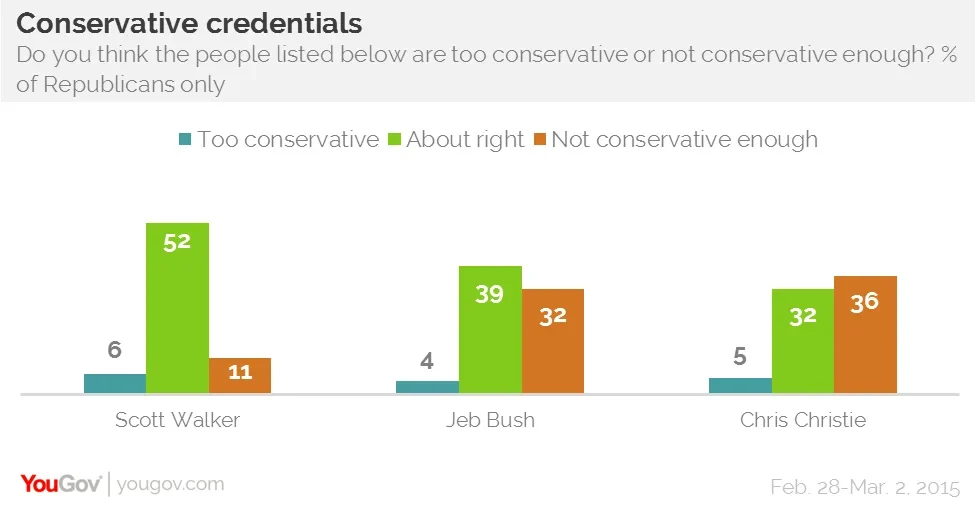 In fact, Republicans would be happy to see Walker enter the race officially. 45% say he should run; just 16% disagree. Most Republicans expect that Walker will enter the 2016 race. And there are high expectations that he could do well. 44% of Republicans say it's likely Walker would win the election if he ran, only 25% say he would be likely to lose. Republicans agree Walker is qualified for the job, a hurdle some other potential candidates have had a difficult time meeting.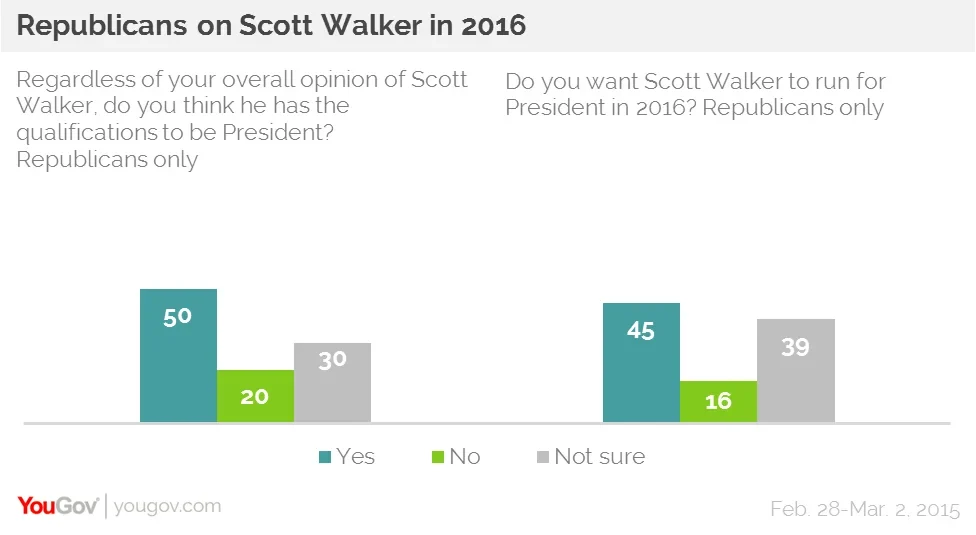 Americans overall are mixed on Walker. Just about as many have an unfavorable opinion about him as a favorable one. But 44% have no opinion of him at all.
Economist/YouGov poll archives can be found here.