The number of Americans following the controversy surrounding Hillary Clinton's use of private email has grown, but perceptions have become predictably more partisan
Hillary Clinton personally defended her use of private email as Secretary of State at a hectic 20-minute press conference this week. The appearance appears to have pleased many supporters of the likely presidential candidate, but left Clinton's foes – and many journalists – with lingering questions.
Two surveys conducted by YouGov, one the week before the question-and-answer session and one after, tell a similar, perhaps familiar, story about how ordinary Americans have responded.
On the one hand, more people are following the story since the last survey on 4-6 March (The New York Times first reported on the email account on 2 March). Then, 53% of Americans said they were following the story at least somewhat closely. Now, 65% say they are following it.
The biggest increase in attention comes from Democrats, who had been relatively disengaged with the story before, but have noticed it now that Clinton herself has spoken out. Republican interest has grown even higher, though the gap with Democrats has shrunk from 15 to 10.
On whether the story is a serious issue, however, Democratic and Republican paths have dramatically diverged. Where fully six in ten Republicans now perceive Hillary Clinton's use of private email as a "very serious" problem, the number of Democrats who agree has actually fallen, from 17% before the press conference to just 8% today.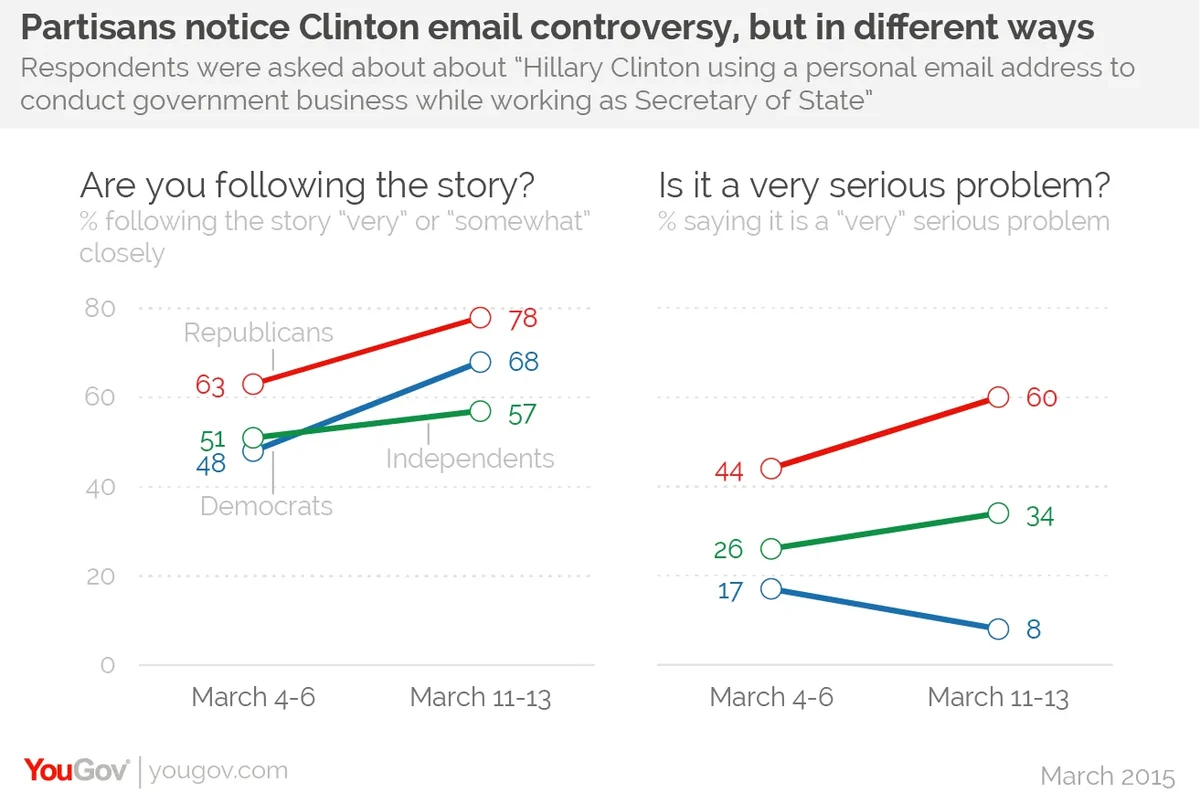 The findings suggest that the email issue has taken on an increasingly partisan tone, with Democrats moving to Clinton's side and Republicans lining up against her.
Noticeably, political independents – with no allegiance in the partisan skirmish the story has become – are now the group least interested in the story.
PA image
Full poll results can be found here and topline results and margin of error here.