Americans are more likely to say they have a "very" favorable opinion of Clinton when she is asked about alongside other politicians
The Economist/YouGov Poll has been asking Americans for several years how they feel about former Secretary of State, Senator and First Lady, the past and possibly future presidential candidate Hillary Clinton, and one conclusion is clear: Clinton looks better when questions about her are surrounded by questions about other possible candidates and politicians than when the questions are only about Clinton.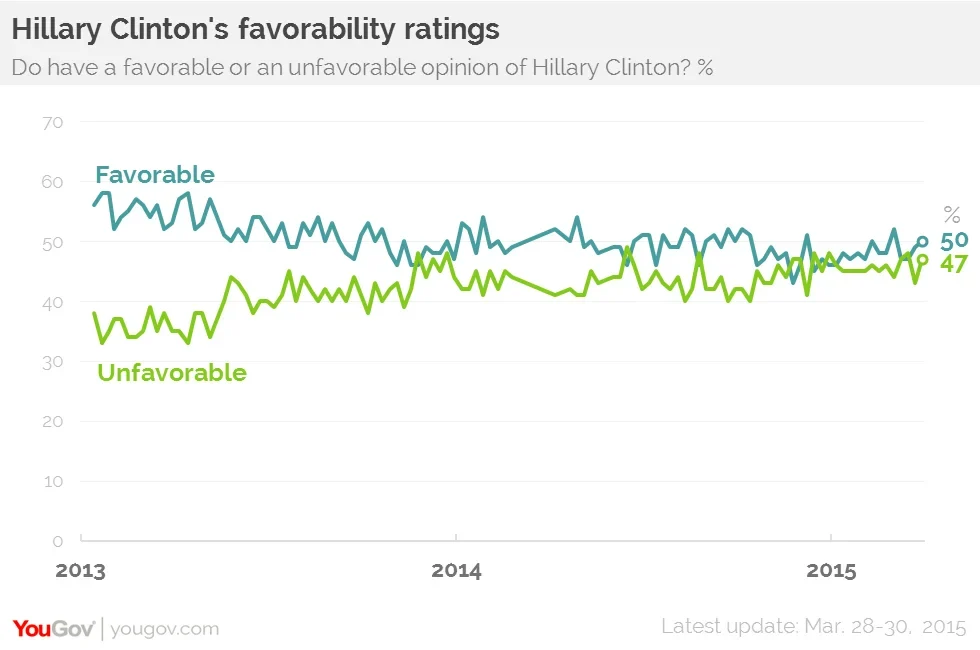 Americans have – almost consistently – given Clinton some of the best ratings they give anyone who might possibly be running for President in 2016. But there have been some fluctuations. Since she left her position as Secretary of State, her ratings have dropped – mostly due to the changing way Republicans view her. As Secretary of State, she was not always a politician (and as many as a third of Republicans rated her favorably), but since she left that office, she has been increasing perceived as a partisan figure (in the most recent poll, just 20% of Republicans have a favorable view of her). Meanwhile, Democrats have retained their overwhelmingly favorable opinion of Clinton (83% this week), and she leads the other Democrats who have said they are thinking of running by a wide margin.
But there seems to be something else driving opinions about Clinton. When the public is asked about Clinton on her own, without mention of any other possible candidate in vision, her "very favorable" rating is lower than it is when she is asked with a group of possible candidates. That is true when the candidates are Democrats only or both Republicans and Democrats.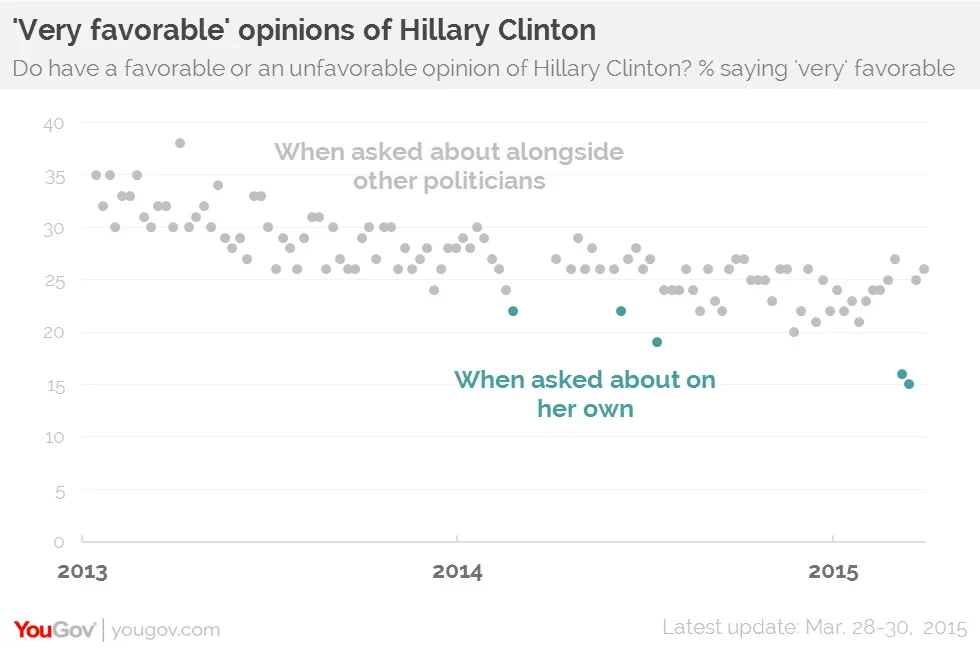 When Clinton is asked alone, usually as part of a series of questions about her, "very favorable" ratings drop (they are the orange dots in the graphs). When she is included in a list of possible candidates (randomized) her "very favorable" ratings are much higher. Those are indicated in green.
That suggests several conclusions. As is occasionally the case, question placement matters. Clinton looks better to everyone when she is grouped with others, so she gains in comparison with other potential candidates. She remains the only likely candidate about whom more than nine in ten adults have an opinion. 13% can't judge the current Vice President, Joe Biden, and more than half have little to say about other Democrats weighing a run.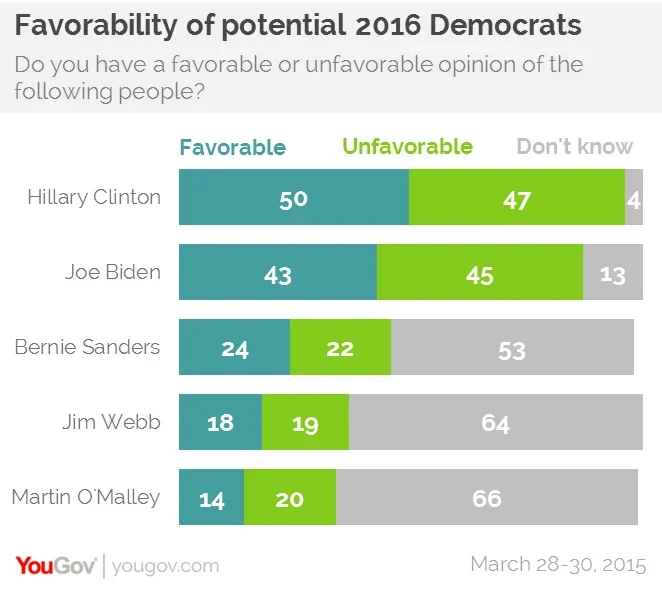 Clinton is also better known than every current Republican potential.
But when asked alone, with no other possible candidate to compare her with, respondents' ratings of Clinton drop a bit. Instead of net positive, favorable and unfavorable ratings are closer to even.
Who changes most? Although there are shifts across the board, Democrats seem most affected. In the two weeks of March when Clinton was asked individually, just under a third of Democrats said they had a very favorable view of her. That figure is closer to 50% when respondents can consider her as one os many people who might run for President.
Democrats on Hillary Clinton
In highlighted instances Hillary Clinton was asked about independently. In all other cases she was asked about alongside other potential 2016 Democratic candidates. Results for self-identified Democrats shown.
% Very favorable
Somewhat favorable
Somewhat unfavorable
Very unfavorable
Don't know
14-16 Feb.
51
35
4
6
4
21-23 Feb.
52
33
6
5
4
28 Feb.-2 Mar.
49
38
3
6
4
7-9 Mar.
32
45
7
6
10
14-16 Mar.
32
46
8
11
2
21-23 Mar.
49
39
3
6
3
28-30 Mar.
53
30
7
5
5
In the end, Clinton may look better when a campaign begins. It's clear that there is little evidence that questions raised about her email policy while Secretary of State has affected opinion about her overall.
Economist/YouGov poll archives can be found here.