Republicans want an experienced presidential candidate, and one who can beat the Democratic nominee in 2016
Republicans and Democrats look for slightly different things in a presidential nominee. In the latest Economist/YouGov Poll, Republicans say they want a candidate with experience, but they are also willing to support someone they might may disagree with on some things – as long as that person can beat the Democrat.
The desire for experience is much stronger among Republicans that it is among Democrats. By more than two to one, Republicans say they would prefer a candidate with experience to one with new ideas. Democrats are evenly divided.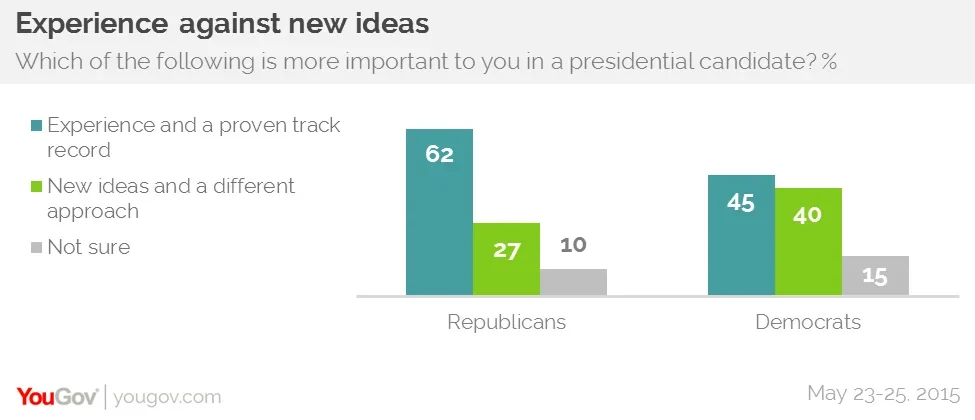 But when voters compare individual candidates those preferences seem to matter less. In a head to head contest between former Florida Governor Jeb Bush and current Florida Senator Marco Rubio, Republicans don't choose the more experienced (and older) Bush. Twice as many say that they would pick Rubio over Bush. Even those Republicans who prefer experience over new ideas pick Rubio – and by about the same margin.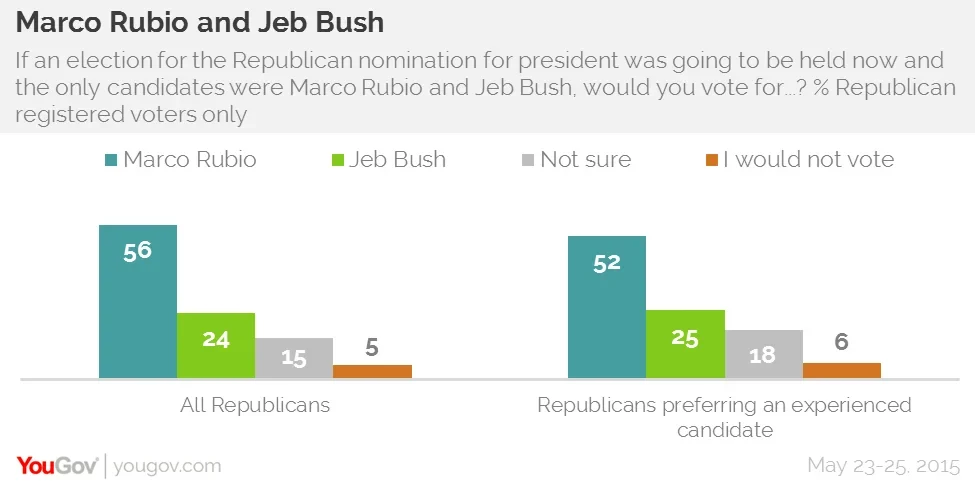 This campaign is only just beginning, but when asked, Republicans seems to favor those candidates with fewer years on the national political scene, and not those with arguably the most political experience. Rubio and another first term U.S. Senator, Kentucky's Rand Paul, both beat Bush in head to head matchups. However, Paul leads Bush by less: 48% of Republicans in the poll support Paul, 30% favor Bush.
Republicans also want a candidate who doesn't compromise, something more Democrats accept. Democrats are evenly divided on whether they prefer a candidate who sticks to his or her positions or one who is willing to compromise.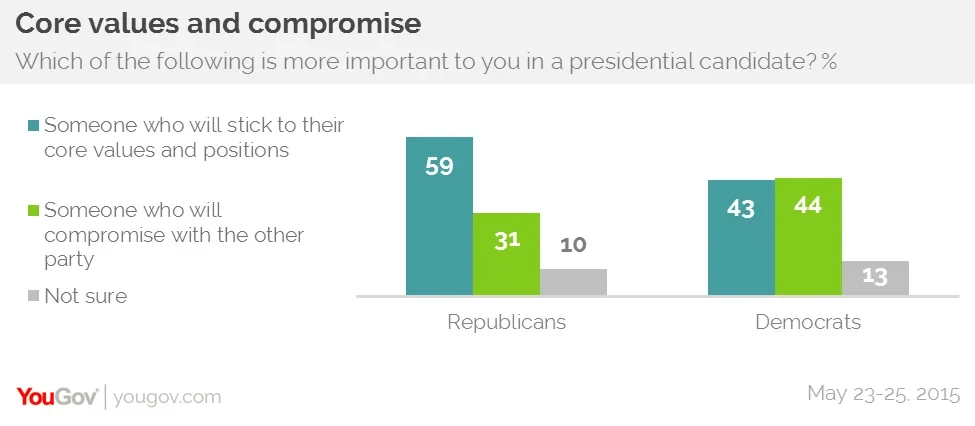 Republicans are also much more interested than Democrats are in having a presidential candidate with state government experience as opposed to someone who has served in Washington. Of course, both announced Democratic nominees, Bernie Sanders and Hillary Clinton, have spent the greatest share of their elected lives in Congress. Republicans support candidates who have been both Governors and Senators, as well as a few who have never been elected to office.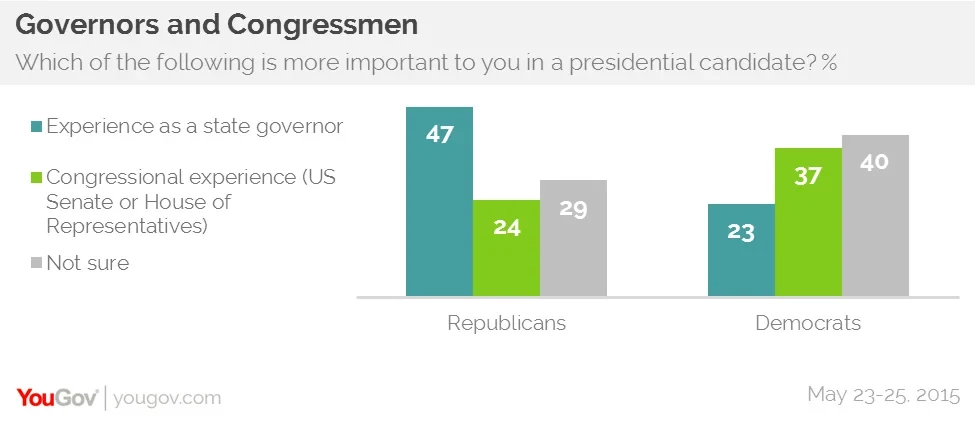 In this week's poll, a sitting Senator, Marco Rubio, a sitting Governor, Scott Walker, and a non-politician, retired neurosurgeon Ben Carson, are at the top of the GOP field among registered voters who call themselves Republicans, But they are followed closely by two former Governors. The GOP race is competitive, with no candidate holding a significant lead.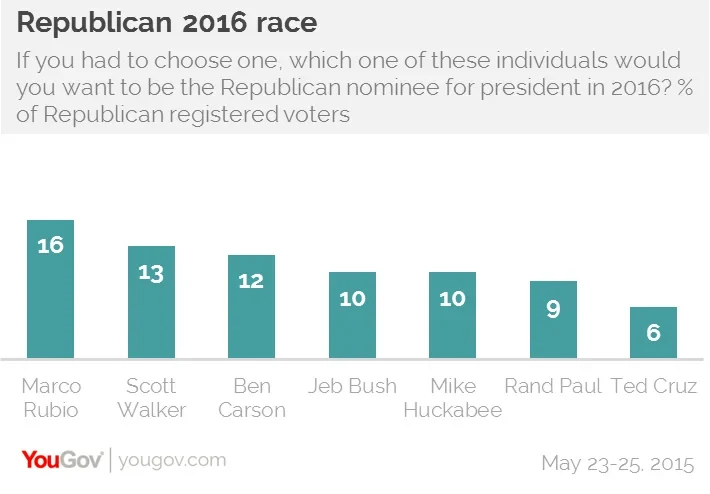 There is one overwhelming goal for Republicans. The GOP has lost the last two presidential elections to Barack Obama, and that frustration is clear when they are asked whether they would rather their party nominate a person who agreed with them on every important issue, or a candidate who can win, even if they may not agree with the respondent on every issue that mattered. They overwhelmingly choose the latter.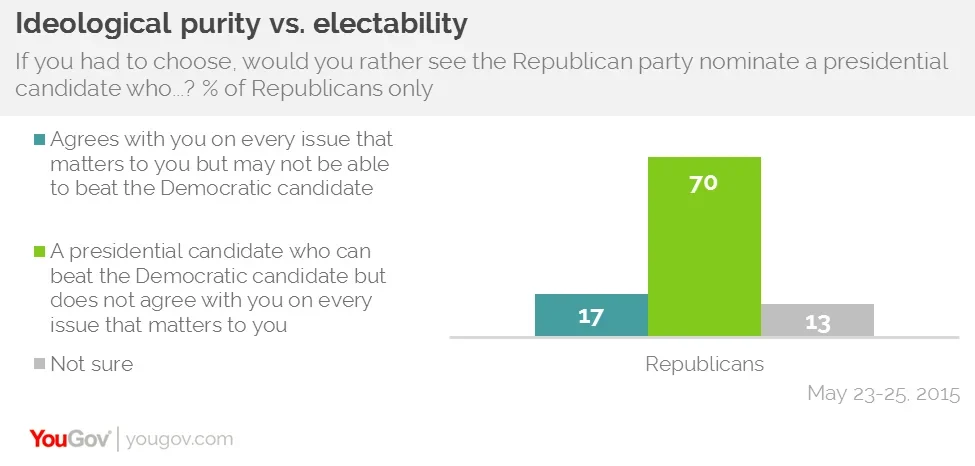 Both Republicans and Democrats are generally content with the current field, though Democrats are happier. Two in three Republicans say they would be satisfied even if no other candidates announced for President (the poll was conducted just before former Pennsylvania Senator Rick Santorum and former New York Governor George Pataki announced their candidacies). But even more Democrats, 77%, would be content choosing among only Hillary Clinton and Bernie Sanders.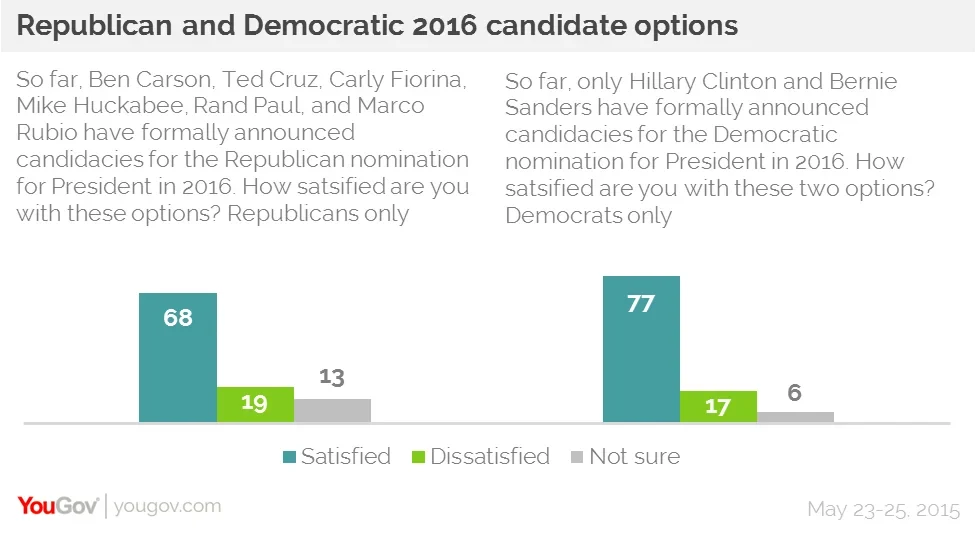 Clinton continues to hold a commanding lead among Democrats.
Economist/YouGov poll archives can be found here.
Editor's note: A previous version of this article misstated Rand Paul's home state. Rand Paul is a US Senator from Kentucky, not Tennessee.