Eleanor Roosevelt is the most popular choice to feature on the new $10 bill, but few want Hamilton in particular to be removed to make way for a woman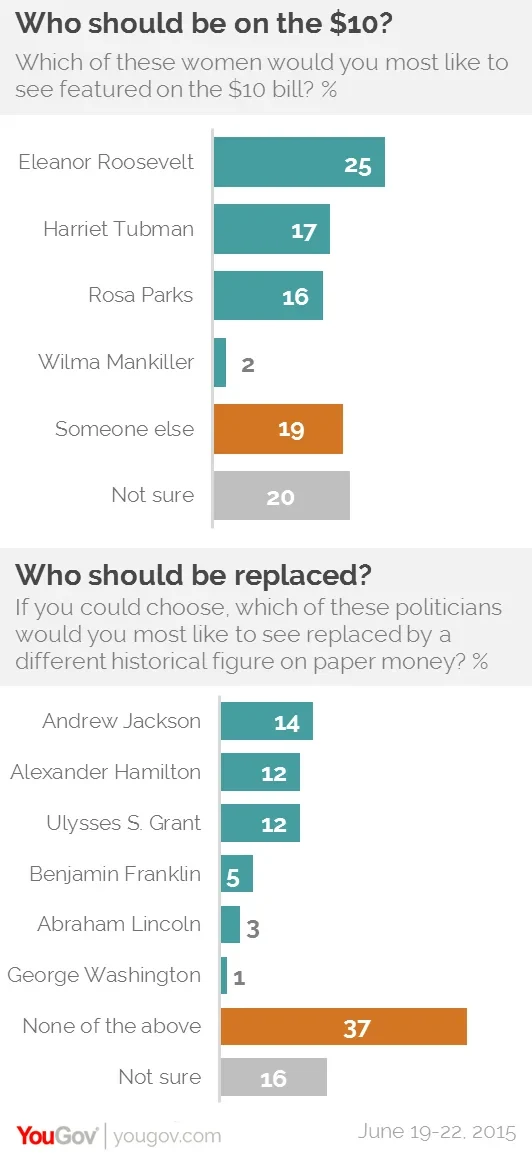 Last week the United States Mint announced that, starting in 2020, a woman will appear on paper money for the first time. Campaigners have been calling for a woman to appear on paper money for years, but the target had usually been Andrew Jackson on the $20 bill. Andrew Jackson was notorious for his opposition to banking and paper money, making the decision to remove the founder of the U.S. Mint and first Treasury Secretary Alexander Hamilton from the $10 bill a somewhat unusual choice.
The latest research from YouGov shows that Eleanor Roosevelt is the top choice to become the woman featured on the front of the redesigned $10 bill. 25% chose Roosevelt, 17% chose Harriet Tubman and 16% chose Rosa Parks. 2% opted for Wilma Mankiller, the first female chief of the Cherokee nation.
Eleanor Roosevelt is the top choice for almost every major demographic group, except Republicans and under-30s. 26% of Republicans picked Eleanor Roosevelt while 29% want 'someone else'. Among under-30s only 19% chose Eleanor Roosevelt while 23% opted for Harriet Tubman and 28% want Rosa Parks.
51% of Americans approve of the decision to put a woman on the $10 bill starting in 2020. When it comes to who should be replaced Alexander Hamilton is not who Americans want to lose his place on US currency. Andrew Jackson is narrowly the top choice to be replaced (14%), followed by Alexander Hamilton (12%) and Ulysses S. Grant (12%). Only 1% of the public think George Washington should be replaced on the $1.
Full poll results can be found here and topline results and margin of error here.