Donald Trump leads the GOP presidential field again this week, though controversial remarks about Sen. John McCain may have dented his popularity among Republicans
Donald Trump's rise in the Republican contest for the 2016 presidential nomination doesn't appear to have been slowed much – at least not yet – by the recent controversy over his criticisms of Arizona Sen. John McCain's war record last weekend. In fact, although Trump's favorable ratings among Republicans have declined, he is still ahead – and far ahead – when Republicans are asked to choose among the 16 currently announced candidates.
In last week's poll, Donald Trump received the highest favorable ratings of any candidate from Republicans, apparently helped by his tough position on illegal immigration. This week, however, Trump's favorable ratings dropped 11 points, and his unfavorable rating has risen 15 points.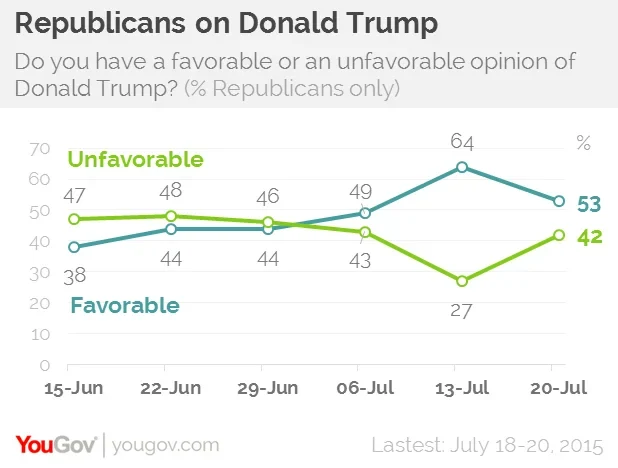 Florida Senator Marco Rubio is now the best-liked GOP candidate. 63% of Republicans view Rubio favorably, and just 17% are unfavorable. Newly-announced candidate Governor Scott Walker of Wisconsin also is rated more favorably than Trump.
Trump's 42% unfavorable rating from Republicans is the highest negative rating given to a GOP contender from partisans, though it is just about matched by New Jersey Governor Chris Christie's 39% negative assessment. More Republicans like Trump than like Christie, who gets a 46% favorable rating from members of his own party.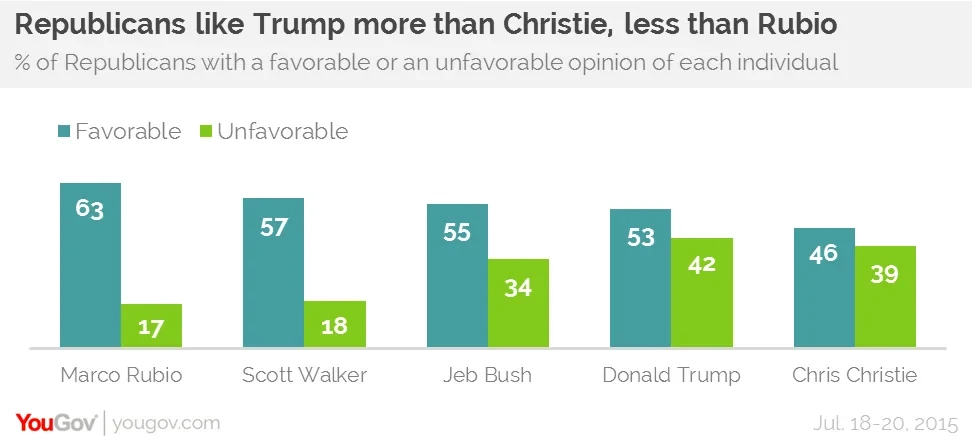 Former Florida Governor Jeb Bush's favorable ratings this week are similar to those of Trump, though fewer Republicans rate Bush unfavorably.
But there is clearly a core group of registered voters who identify as Republicans that has coalesced around Trump's tough talk and proposals. He is even more clearly in first place than he was two weeks ago when Republicans are asked to choose among the current candidates. Two weeks ago, in the Economist/YouGov Poll, 27% of registered voters who identified as Republicans chose Trump as their first or second choice for the nomination. This week, 28% say he is their first choice, and another 10% rank him second.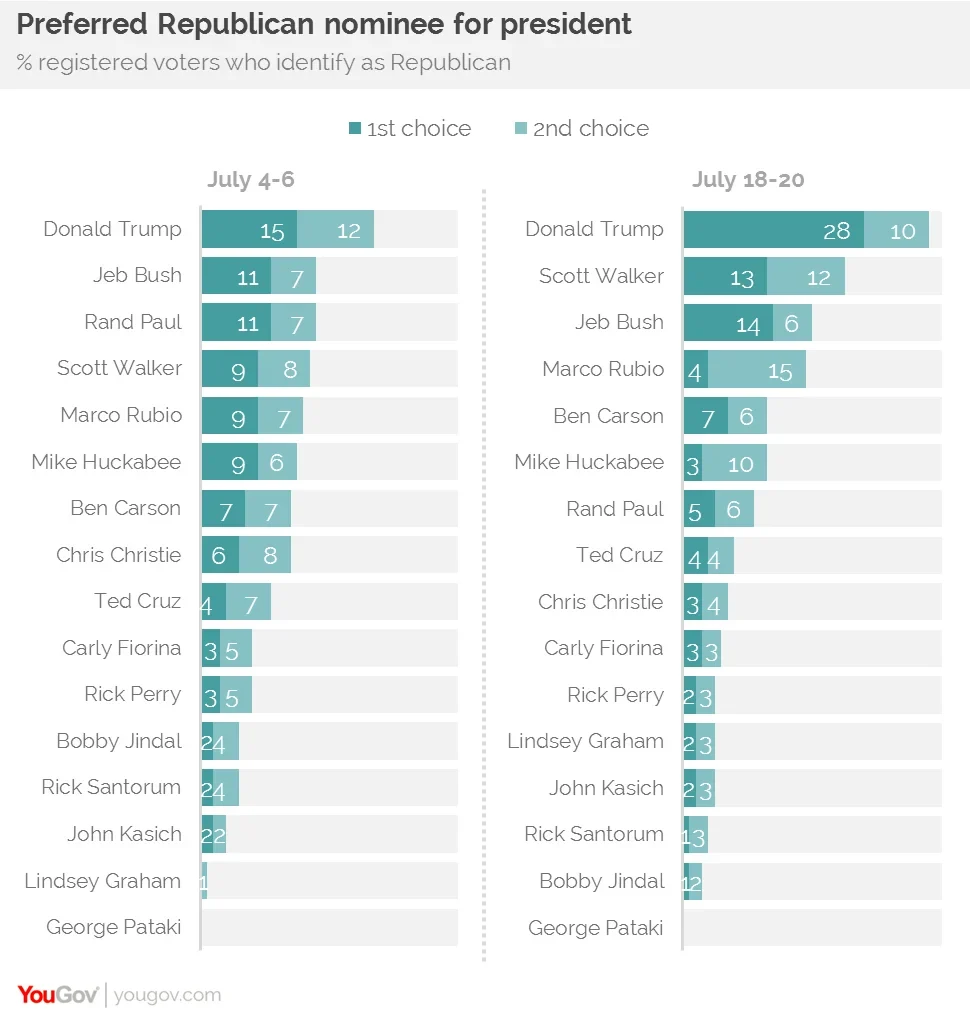 Bush and Walker are close together, but far behind Trump. Rubio and Walker are popular second choices for Republicans.
This week's poll began on Saturday, the same day that Trump criticized McCain's status as a war hero. There is no way of knowing how many respondents were aware of the controversy, or whether it affected – or will affect – them. The surge in support for Trump may have taken place before the controversy dominated headlines, as suggested by polling conducted by other organizations over the past two weeks (note: some of these included independents who leaned towards the Republican Party, unlike the Economist/YouGov poll, so the figures are not directly comparable).
Trump runs even better with older Republicans. One in three Republicans who served in the military or live in households with a veteran say Trump is their first choice for President, suggesting that at least some may not have been affected by the Trump-McCain controversy.
Donald Trump and John McCain
A separate YouGov poll completed Wednesday suggests a reason why the McCain controversy may not have affected Trump as much as some expected. Two out of three Republicans view McCain as a war hero. But fewer say they have a favorable opinion of him. In fact, Republicans in that poll gave both Trump and McCain similar ratings.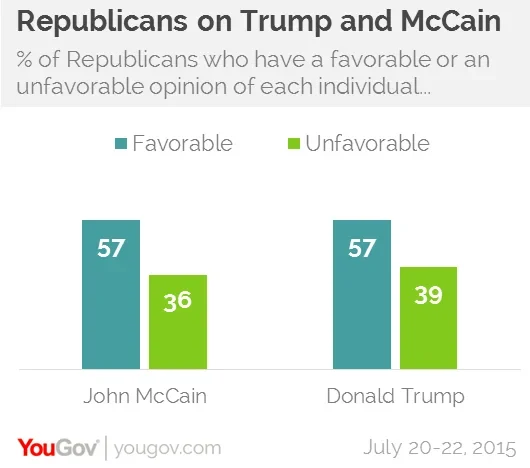 The differences between the Trump favorable ratings in the Economist/YouGov Poll and the daily poll are not significant.
In addition, while a majority of Republicans (54%) think Trump should apologize for this statement about Trump: "He's not a war hero. He's a war hero 'cause he was captured. I like people that weren't captured. OK? Perhaps he was a war hero, but now he's said some very bad things about a lot of people." 32% of Republicans believe he doesn't need to apologize. In fact, more Democrats than Republicans want Trump to apologize.
Even more striking, veterans and those currently in the military are more likely to have favorable views of Trump than to have favorable views of McCain. 41% say they have favorable views of McCain, while more than half are favorable to Trump.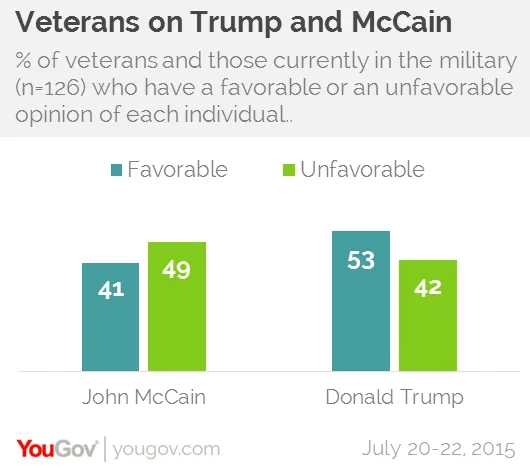 Veterans are divided on whether Trump owes McCain an apology.
While a core of Republicans appear to have coalesced around a Trump candidacy, the New York businessman has yet to cross the threshold of being viewed as a likely winner with many Republicans. More than three times as many Republican-identifying registered voters view Bush as the likely Republican nominee than say Trump is that person. 36% call Bush the likely winner, 11% choose Walker, and just 10% name Trump.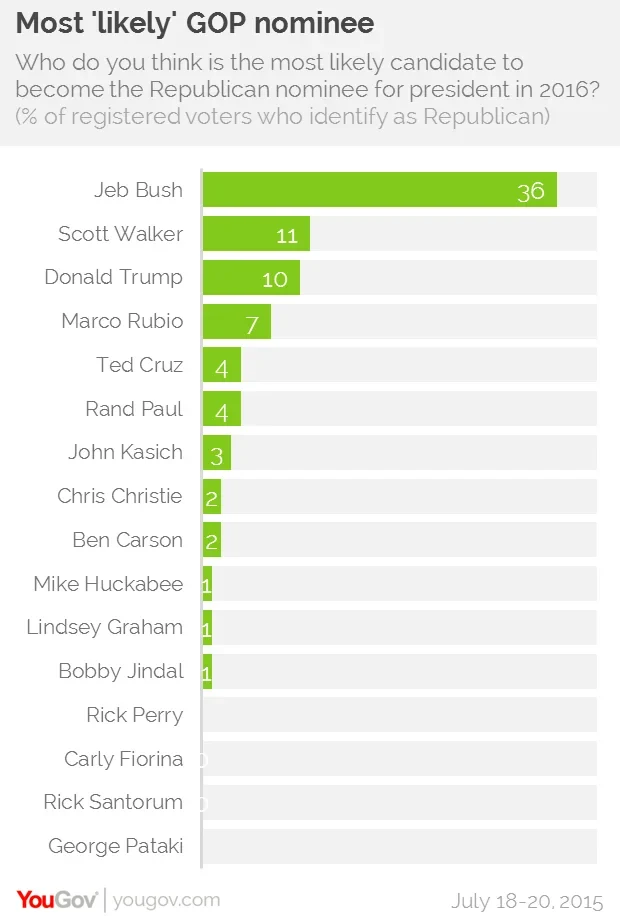 Most of those who favor Trump for the nomination don't think he is the most likely to win it.
The Economist/YouGov Poll
For the rest of this year, the Economist/YouGov Poll will move from a weekly poll to a biweekly one. But each poll will have a larger sample, doubling the total number of interviews from 1,000 to 2,000.
Some of the most interesting poll findings these days are about the 2016 election, and the presidential preferences of Republican and Democratic voters have dominated recent poll stories. A larger, less frequent poll will result in larger sample sizes for Republicans and Democrats, providing greater reliability for the results. The number of Republicans in each poll will rise to nearly 500 voters; the Democratic sample will be even larger. In addition, the Economist/YouGov Poll can explore the impact of current issues on a greater variety of the country's important groups.
Results from the first Economist/YouGov Poll in this format will be released on August 5th.
See the Economist/YouGov results
Economist/YouGov poll archives can be found here.
Full poll results for the McCain-Trump poll can be found here and topline results and margin of error here.