Most Americans expect that there will be another financial crisis in the next year and also think that crises will become more common
Just as the economic recovery from the 2008 financial crisis had begun to accelerate, economic events in China have thrown global stock markets into turmoil. The Federal Reserve, which had been inching closer to an interest rate rise, is now likely to further delay the move. Global trade levels have also begun to drop as China's economic growth continues to falter and the lower price of oil has cut significantly into American corporate profits. Doomsayers note that there is a small but potentially catastrophic chance that another financial crisis, this time made in China, throws the global economy into another period of contraction.
YouGov's latest research shows that 58% of Americans think that another global financial crisis is likely within the next year. 20% believe that a crisis is 'very likely' while 38% think that it is 'fairly likely'. Only 21% of Americans believe that another financial crisis is unlikely, while 22% say that they don't know.
Republicans (74%) are much more likely than either independents (55%) or Democrats (50%) to think that another crisis is likely. Democrats (28%) are also the most likely to believe that another crisis is unlikely.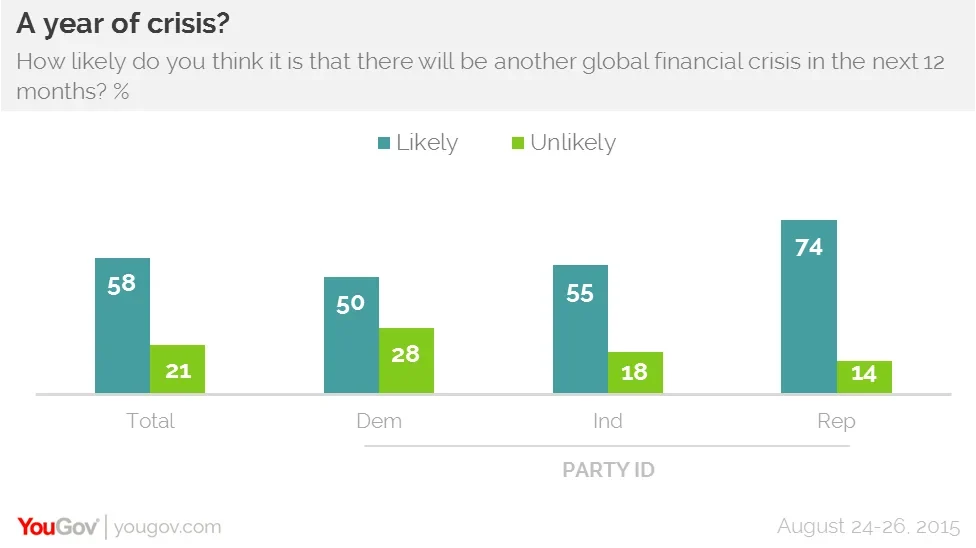 Most Americans (51%) also expect that financial crises will become more frequent over the coming 20 years. Again Republicans (62%) are the most pessimistic, but large numbers of Democrats (47%) and independents (48%) also believe that global financial crises will become more and more common over the next two decades.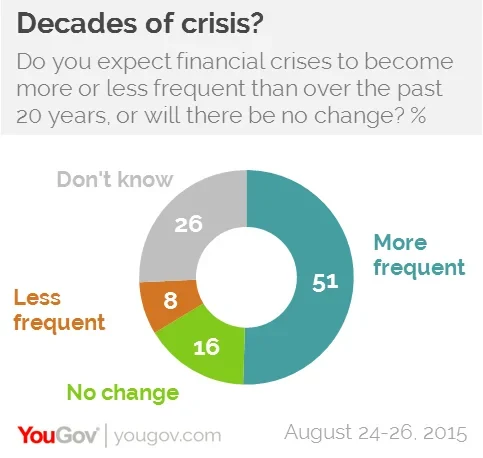 Despite the general economic pessimism, most Americans believe that global financial crises are not an inherent part of the global system.
55% of Americans believe that financial crises are a result of poor management on the part of governments and individuals. Only 19% of Americans say that these crises are a result of an inherent flaw in the financial system.