Republicans are divided on the benefits of free trade deals for the United States, while Democrats tend to be in favor
Hillary Clinton came out against the Trans-Pacific Partnership trade deal this week, but it's not obvious it will win her votes with mainline Democrats, according to new YouGov research.
Polling from earlier this summer suggested Democrats tended to favor free trade with foreign countries. Those with an opinion were even mildly favorable when asked about the Trans-Pacific Partnership, also known as the TPP, an agreement between 12 Pacific Rim countries. The latest poll suggests little has changed. Today, half (52%) of Democrats favor free trade, double the share who believe it is bad for the country (25%). In May, the numbers were 49-28% in favor. 38% say the TPP would be a good thing, against 22% who say it would be bad. But the largest group, 40%, have no opinion.
Republicans, meanwhile, are more divided than they were before. 42% say free trade deals have been positive for the U.S., while 39% say they have been bad. Republicans also divide 27-33% against the TPP. In May, 50% of Republicans said free trade was good for the country.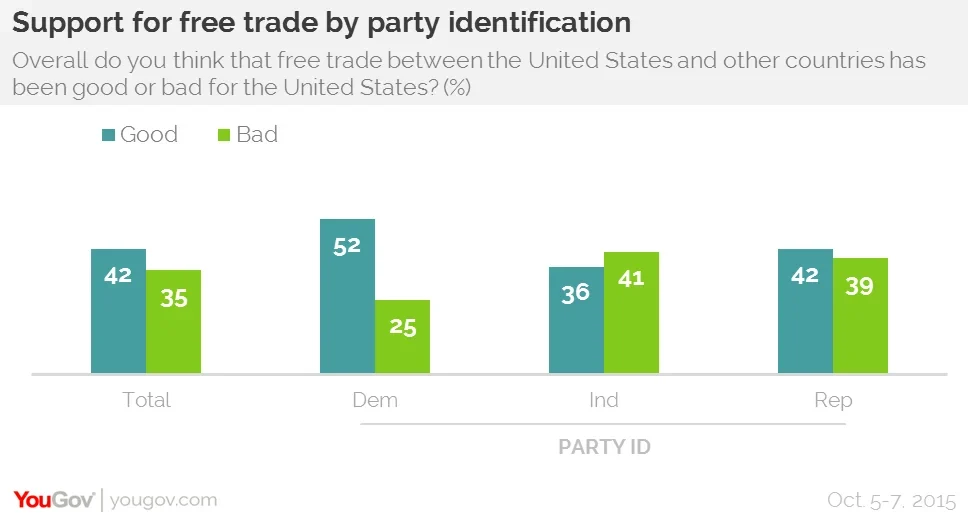 The new poll, conducted in the days immediately before Clinton's announcement, comes after a summer when President Barack Obama waged a bruising fight with Congressional Democrats over trade. Republicans have historically supported free trade deals, but Obama's involvement made many in Congress skeptical. The TPP is a trade deal between the United States and various pacific rim countries including Japan, Canada and Vietnam.
These findings may not say much about how the issue will play in the 2016 election. Very few Americans have a strong opinion on trade either way, and 86% say they have heard little or nothing about the TPP. The final text of the deal has not even been released. Americans were initially supportive of the Iran nuclear agreement, too, but that support eroded as the deal made its way into cable news and political talking points.
The TPP is strongly opposed by Congressional Democrats, activists, and unions – as well as Sen. Bernie Sanders, Clinton's surging rival for the Democratic nomination. If Clinton joins Sanders in vocal opposition to the deal, supportive and undecided voters may reevaluate their stance.
PA image
Full poll results can be found here and topline results and margin of error here.