Many Democrats say their opinion of Bernie Sanders improved after the first debate, but most believe Hillary Clinton performed best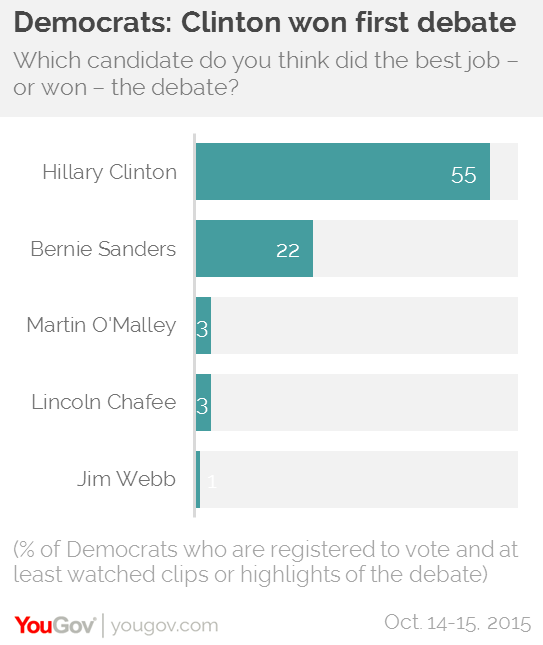 55% of Democrats who are registered to vote and watched at least highlights of Tuesday's Democratic primary debate in Nevada believe Hillary Clinton performed best, while 22% say Sen. Bernie Sanders won. The three other candidates who participated are far behind. 3% say former Maryland Gov. Martin O'Malley won the debate, the same number who say Lincoln Chafee won. Only 1% of Democrats in this group who watched believe Jim Webb performed best.
Sanders hasn't necessarily lost support. The number of Democrats who say they would prefer to see someone other than Hillary Clinton as the Democratic nominee is essentially unchanged from before the debate, at 32%. But Clinton appears to have picked up the support of a number of undecided voters, increasing her support from 44% to 52%.
While pundits were quick to declare victory for Clinton, several unscientific online polls, focus groups and an impressive post-debate fundraising haul have been used to argue it was Sanders who resonated most with Americans beyond the Beltway. Yet Democrats were apparently more impressed with Clinton, who is already viewed favorably by the vast majority of party identifiers.
42% of Democrats who watched said they came away with an improved opinion of Sanders, against only 7% whose opinion of him worsened. In comparison, 52% say their opinion of Clinton improved, while 9% say it got worse – making the net effect slightly higher for Clinton.
O'Malley is the only other candidate to have received a "net positive" with about a quarter of Democrats feeling better about him and 9% feeling worse. In contrast, more than a quarter of Democrats say their opinions of Chafee and Webb worsened.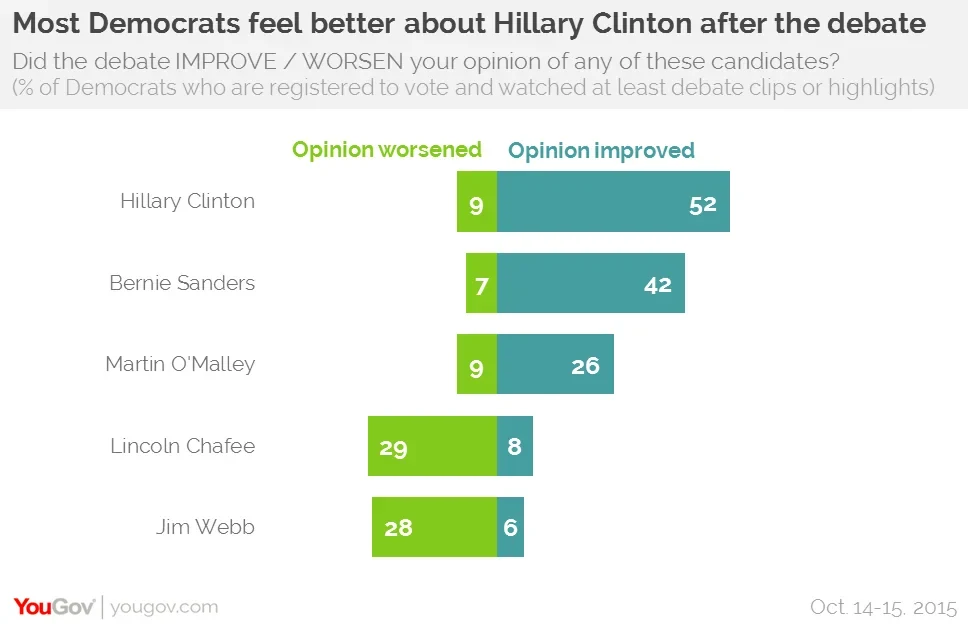 56% of Democrats watched at least highlights of the debate, which is comparable to the 59% of Republicans who did the same for their party's first debate in August. However, only 22% of Democrats watched "all" of the two-hour debate, compared to 36% of Republican in August.
Another debate winner may be its host network, CNN. 83% of Democratic audiences – and about half of Republicans who watched – approve of how Anderson Cooper and his colleagues moderated the event. 71% of Democrats look forward to the next debate, which will take place on November 14th in Iowa.
PA image
Full poll results can be found here and topline results and margin of error here.