Paul Ryan is popular among Republicans, and expectations are high that he will do a good job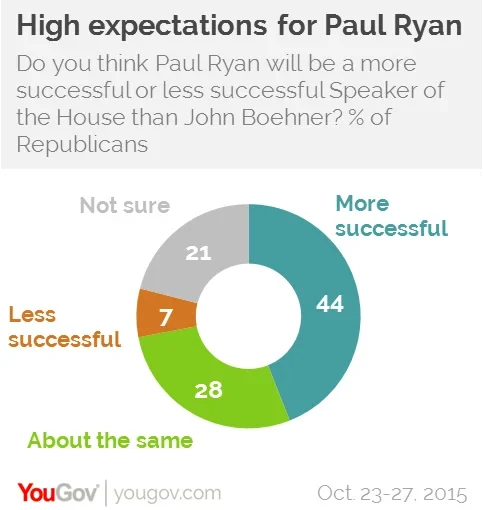 Wisconsin Congressman Paul Ryan will begin his job as Speaker of the House with positive ratings from Republicans, and with expectations that he will do a better job than outgoing Speaker John Boehner, according to the latest Economist/YouGov Poll.
Just 7% of Republicans say Ryan will have less success than Boehner, perhaps reflecting the continuing belief among Republicans that Boehner did the right thing resigning: 55% of Republicans believe Boehner's decision to resign was the right one, and only 10% disagree.
Ryan is much better liked by Republicans than Boehner is (in fact, more Republicans dislike than like Boehner). Among the public overall, Boehner is viewed unfavorably by a margin of more than two to one. Ryan gets mixed assessments. However, four in ten American adults say they don't know enough about Ryan to judge him.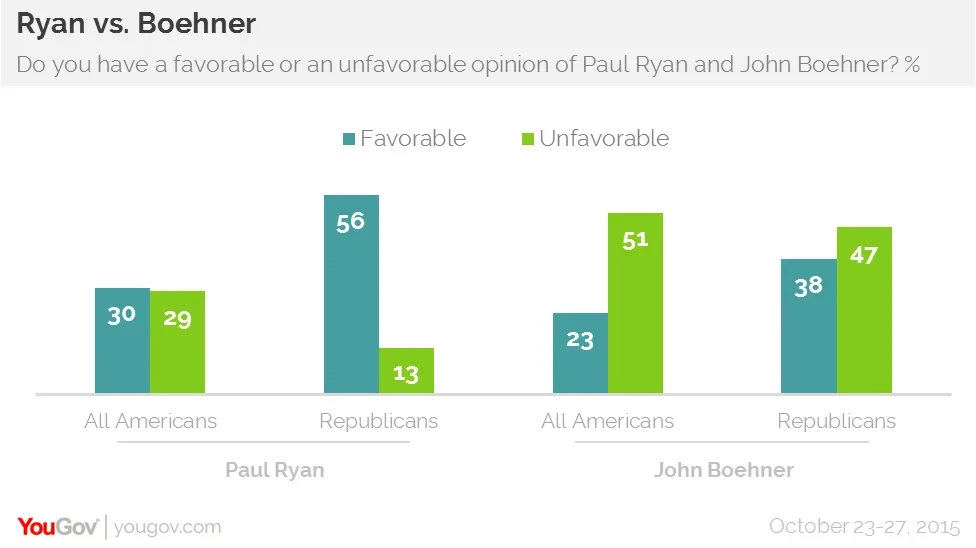 On many other questions about Ryan, large numbers of the public overall aren't quite sure what to think.
Just about half of Republicans say they want a Speaker who is more conservative than Boehner, and in fact, they think that is what they may be getting in Ryan. Less than a third think Ryan is moderate or liberal, and twice as many describe him as more conservative than Boehner than say the opposite. In fact, those who rated Boehner and Ryan on a liberal-conservative scale on average rate Ryan as more conservative than Boehner.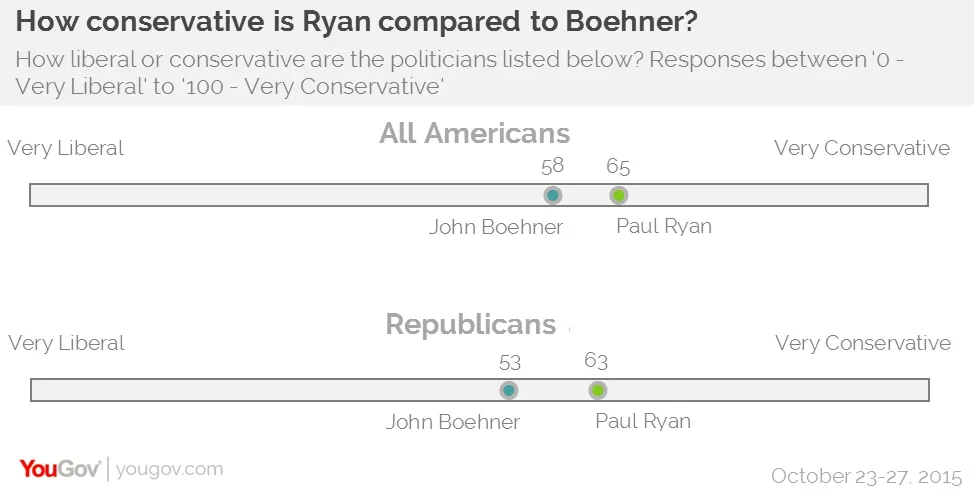 Democrats and independents who rated the men are more likely than Republicans to think each is conservative.
Ryan will have to overcome what many see as lost opportunities in Congress. 45% of Republicans (44% overall) say this Congress has accomplished less than most Congresses have at this point in their two-year term. While both Congressional parties get negative evaluations, Republicans in Congress are more likely to be viewed unfavorably by the public. And Republicans view their Congressional party more poorly than Democrats view theirs. More than a third of Republicans have an unfavorable opinion about their own party in Congress.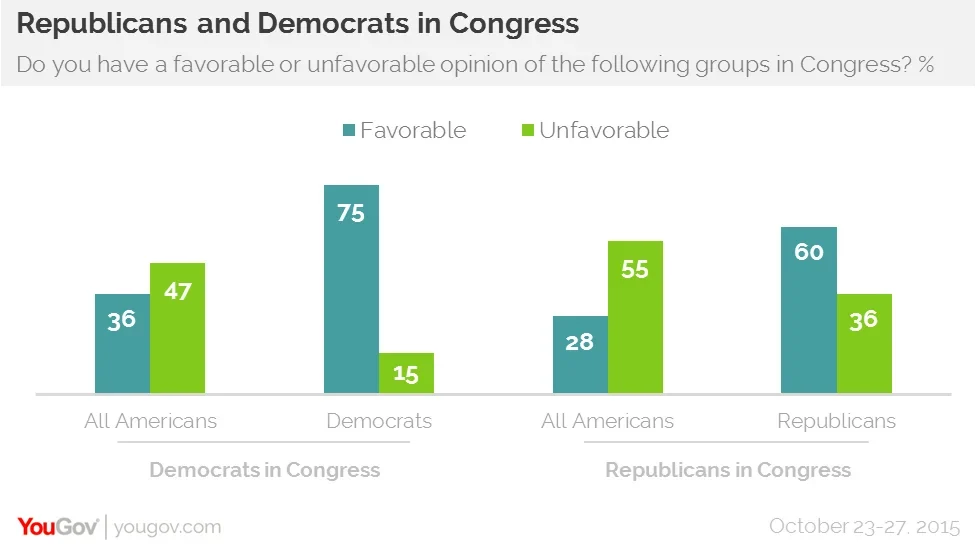 In contrast just 15% of Democrats feel negatively towards their party in Congress.
The poll also suggests that Ryan may have an opportunity. In recent years, Republicans have expressed a desire for leaders who will not compromise. But in this poll, there are suggestions that Republicans may be more willing to work with the opposition. Although Republicans are far less likely than others in the public to say they want a Speaker who compromises to get things done, in this poll they are evenly divided.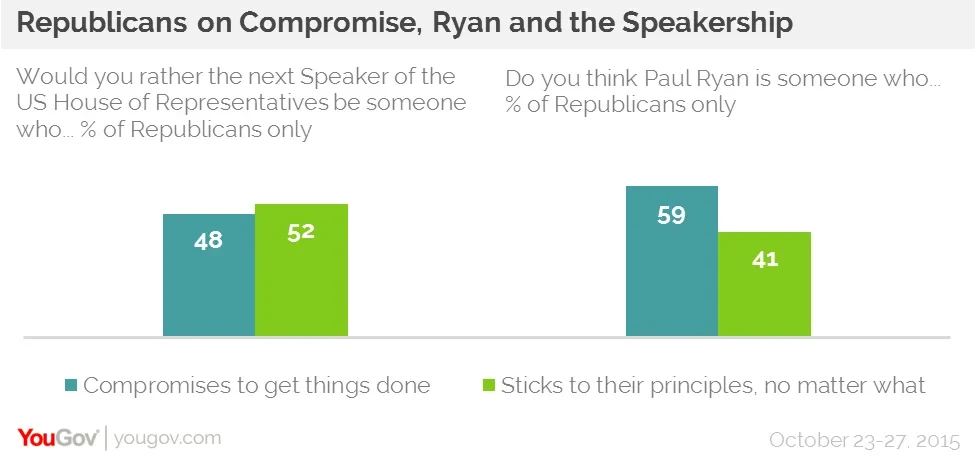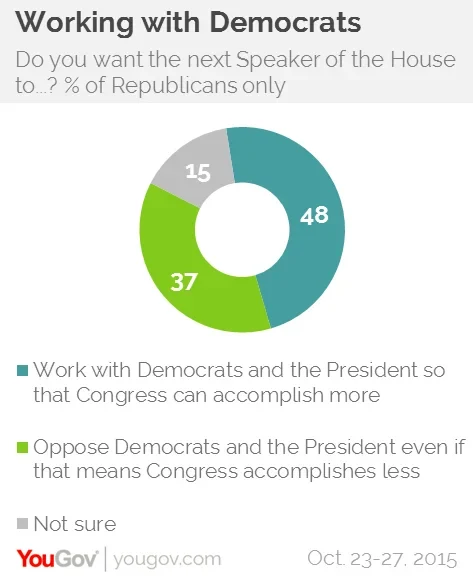 And more say they want the Speaker to work with Democrats and the President so that Congress can accomplish things than say the opposite. The strongest Republican supporters of the Tea Party like Paul Ryan – but they are the most likely to oppose compromising.
That may, however, be what they expect from Ryan. 59% of Republicans look on Ryan as someone who will compromise in order to get things done.
See the Economist/YouGov results
Economist/YouGov poll archives can be found here.