Is Ted Cruz an establishment politician or an outsider? It's complicated.
Pundits often split the Republican field into political "insiders", with political experience and (at least potentially) support from the Republican establishment, and "outsiders" – everyone else. The distinction makes sense to voters, too, at least in most cases.
Among the 'top tier' of Republican candidates (who topped the latest YouGov/Economist Poll), four out of five fit relatively easily into these categories, according to Americans who identify as Republicans or lean Republicans.
The overwhelming majority (80%) of Republicans say businessman Donald Trump is an outsider candidate – the same number who believe former Florida Gov. Jeb Bush is an establishment candidate. By smaller but clear margins, retired neurosurgeon Ben Carson is an outsider and Sen. Marco Rubio is an establishment candidate. For Sen. Ted Cruz, however, Republicans are split almost evenly: 35% say he's an insider, 41% say he's an outsider and 25% are unsure.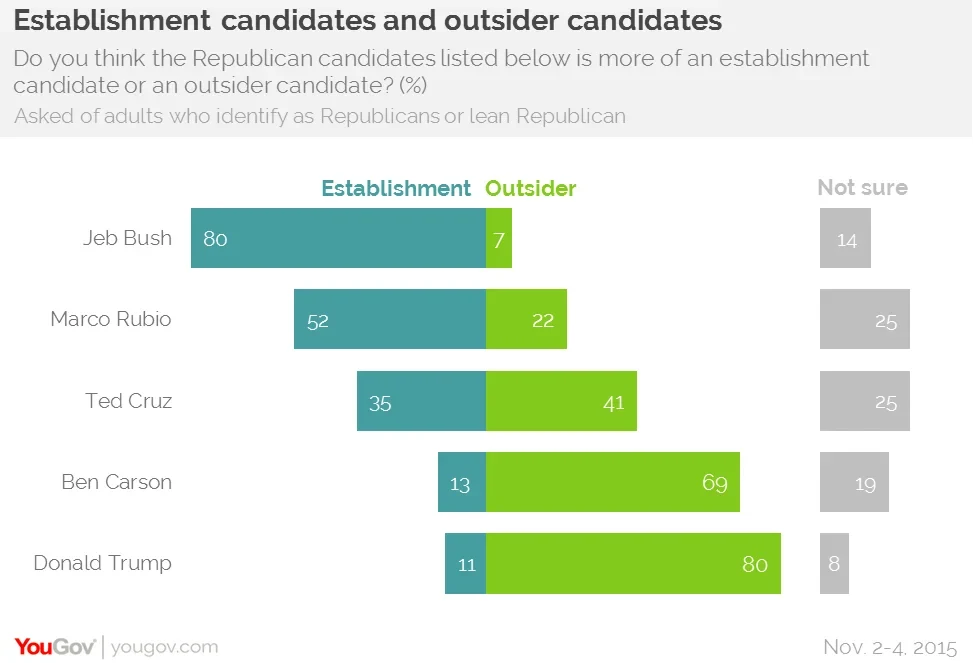 Cruz was elected to be Texas's freshman senator in 2012, but he has since built a reputation as a conservative firebrand willing to defy – even denounce – the GOP congressional leadership, making him unpopular with many of the party's establishment figures.
Some groups are more decided about Cruz than others: those who are older, male or more conservative are more likely to see Cruz as an outsider.
Rubio vs. Cruz
What is an outsider image worth?
Republicans clearly have an itch for non-establishment candidates. Asked directly which they would prefer in a presidential candidate, Republicans and Republican-leaning voters go for the outsiders by 55% to 18% (another 18% say it doesn't matter and 9% don't know). And in the vast majority of polls for the Republican primary race, two true outsider candidates – Trump and Carson – take the two top spots.
Having outsider credentials isn't necessarily everything. Cruz and Rubio are both widely preferred to a more establishment candidate, Bush, in head-to-head match-ups. However, when asked to choose between Rubio and Cruz, Republicans lean very slightly towards Rubio (38-34%).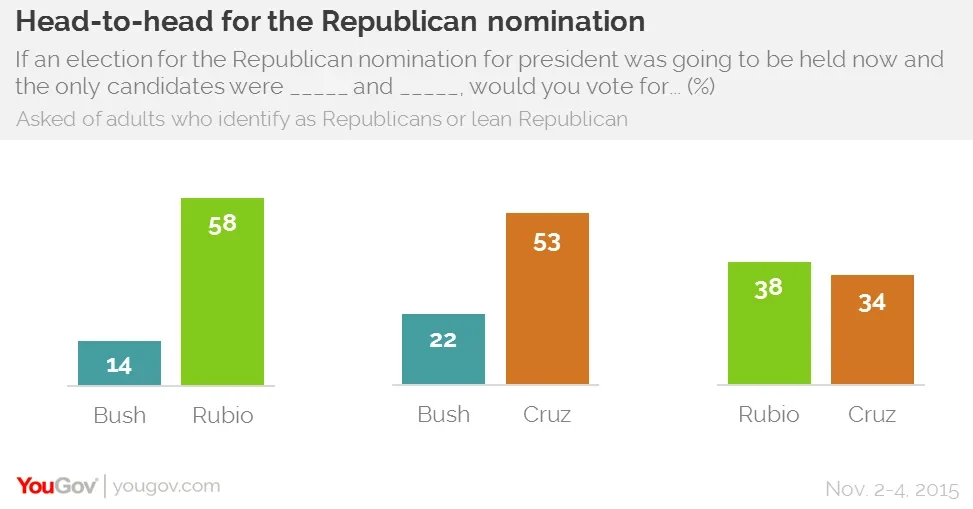 Rubio also receives higher favorability ratings than Cruz – and Trump – among Republicans, a gap that has grown since the beginning of the campaign. And Rubio is seen as more electable, with 60% of Republicans in the latest YouGov/Economist Poll taking the opinion that the Rubio "could possibly win" a general election, versus 47% for Ted Cruz.
Correction (11/6/15): Due to a labeling error an initial version of this article referred to the base for several questions as "registered voters who are Republican or lean Republican". In fact, the figures include non-registered individuals as well. Text and graphics have been amended to reflect the change, and the PDFs linked below will be updated.
PA image
Full poll results can be found here and topline results and margin of error here.