Most Democrats think Clinton won the second debate, and foreign policy is one her strengths among Democratic voters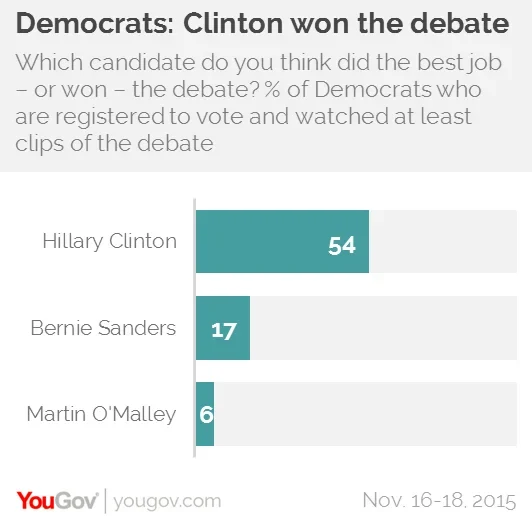 The most recent Democrat debate took place in the immediate aftermath of the terrorist attacks in Paris. CBS, the moderators of the debate, decided to tack on questions about foreign policy and terrorism at the last minute to address the recent attacks. Hillary Clinton, former secretary of state and one-time supporter of the Iraq War, clashed over Middle Eastern policy, with Hillary Clinton going a step further than President Obama in calling for the 'defeat' not 'containment' of ISIS, while Vermont Senator Bernie Sanders argued that the Iraq War is largely to blame for the rise of ISIS.
45% of Democrats who are registered voters say that they watched at least clips of the debate, though only 11% say that they watched the entire debate. Of this group Hillary Clinton is regarded to have won, with 54% saying that Clinton won the debate, while 17% say that Bernie Sanders won. 6% say that Martin O'Malley won the debate.
Despite the persistent unpopularity of the Iraq War among Democrats, support for which is often believed to have played a large role in Clinton's defeat in the 2008 primaries, foreign policy is a selling point for Hillary Clinton among potential Democratic primary voters. 66% of potential Democratic primary voters say that Hillary Clinton would do the best job of handling foreign policy, compared to only 14% who think Bernie Sanders would be best. In comparison when it comes to Wall Street, opinion among Democratic voters is evenly split, with 39% saying that both Hillary Clinton and Bernie Sanders would be best at handling Wall Street and the big banks.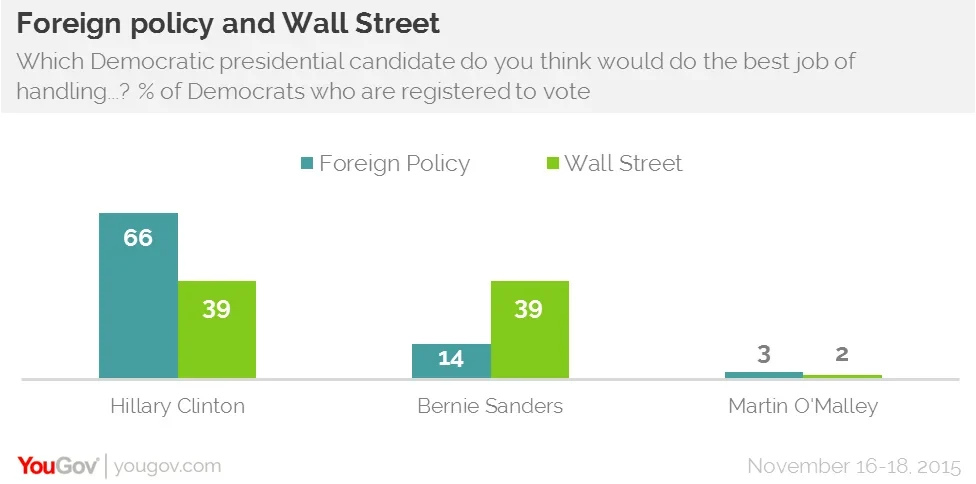 37% of Democratic registered voters who had watched at least clips of the debate say that their opinion of Hillary Clinton improved after the debate, with 27% saying the same for Bernie Sanders and 17% for Martin O'Malley. This is a less dramatic change than for the first debate, when 52% said that their opinion of Clinton improved after her performance.
Full poll results can be found here and topline results and margin of error here.