Most Americans don't view the armed group in Oregon as terrorists, but Americans do tend to think they pose a threat to the safety of the country
Since January 2nd an armed group, Citizens for Constitutional Freedom, has occupied federal offices at the Malheur National Wildlife Refuge. Despite violating federal and state laws, as well as proclaiming their willingness to kill and be killed, law enforcement has so far left the encampment untouched. The protests began after a failed appeal by local ranchers convicted of arson who had argued that the law which stipulated a mandatory minimum of five years in prison for the offense, was unconstitutional.
The latest research from YouGov shows that while only 22% of Americans view the armed group who have taken over the federal offices in Oregon as terrorists, the public do tend to perceive them and similar groups as a threat to the safety of the United States. 44% say that they are dangerous while 33% say that they are not dangerous. There is a significant split on this issue, however, as while most Democrats (61%) say that right-wing armed groups are dangerous, most Republicans (51%) disagree.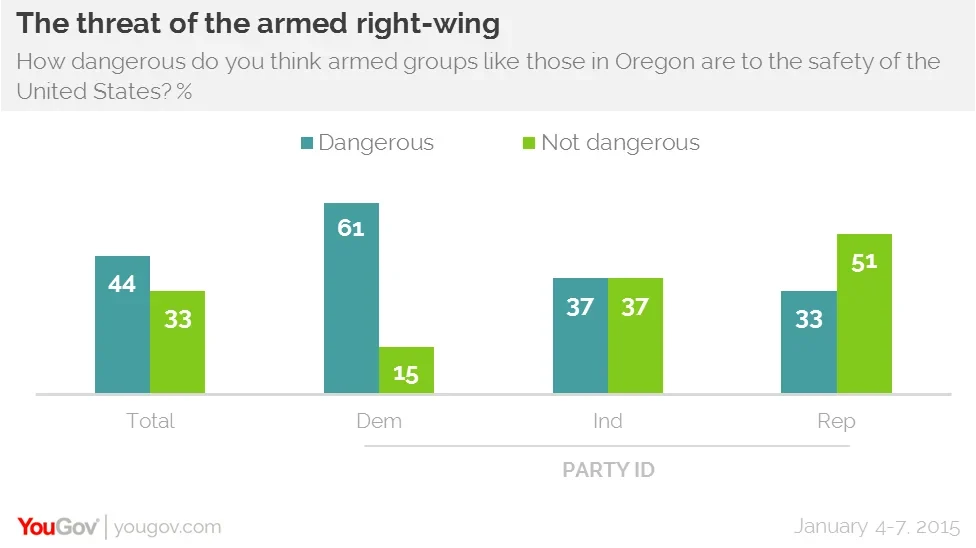 So far the police have not tackled the armed occupation violently, a situation which has drawn comparison to the forceful police response to protests and law-breaking in Baltimore, New York and Ferguson after public outrage at the killing of unarmed black men by police.
Despite the contrast, Americans only narrowly tend to say that the police would respond more aggressively (37%) if the group seizing federal property were black. 30% say that the police would have behaved similarly and 10% believe that the police would have been less aggressive towards black armed protestors.