Most Americans see Obama's tears over child gun deaths as acceptable, and many see politicians as too emotionally reserved
During a speech announcing new executive action to expand federal enforcement of controls over the sale of guns, President Obama dropped his guard for a moment when he began to tear up discussing children killed by gun violence. His display of emotion attracted criticism from some quarters, but Obama has said before that his failure to enact stricter gun control is one of the great regrets of his presidency.
YouGov's latest research shows that most Americans (65%) think that it was acceptable for Obama's facade to crack as he discussed child gun deaths. Only 21% of Americans say that it was unacceptable that the president ended up shedding a few tears. Democrats (89%) are the most likely to sympathize, but most independent (56%) also do. Even Republicans tend to say that the presidential display of emotion was acceptable (45%) rather than unacceptable (40%).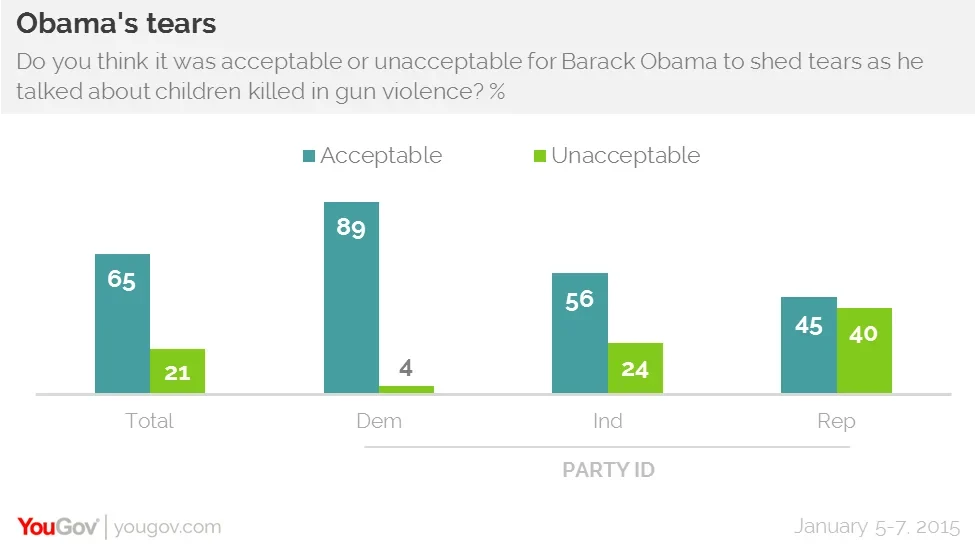 When it comes to the emotional availability of politicians Americans generally tend to say that politicians are too emotionally reserved (37%). Only 19% say that they display an appropriate level of emotion publicly, while 12% believe politicians wear their hearts on their sleeves too often.
For Obama specifically the public tend to say that he is 'about right' with his emotions (39%) but this is largely a result of 67% of Democrats thinking he behaves well. Among Republicans 35% think that he is too open with his emotions and 22% say that he is too reserved. Only 15% of Republicans think that the President hits the right note emotionally.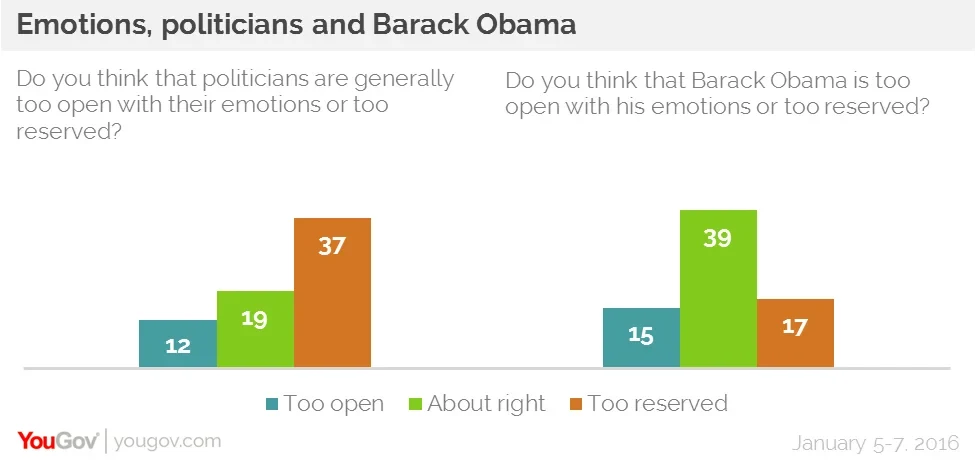 Answering for themselves, Americans narrowly say that they tend to conceal their emotions (47%) rather than show feelings easily (39%). Republicans (47%) are somewhat more likely than Democrats (38%) to say that they show their feelings easily, but the biggest difference is between men (30%) and women (47%).
Full poll results can be found here and topline results and margin of error here.