Americans are divided on whose responsibility it is to stop the US-Mexico drug trade, and many think corruption is common among law enforcement on both sides of the border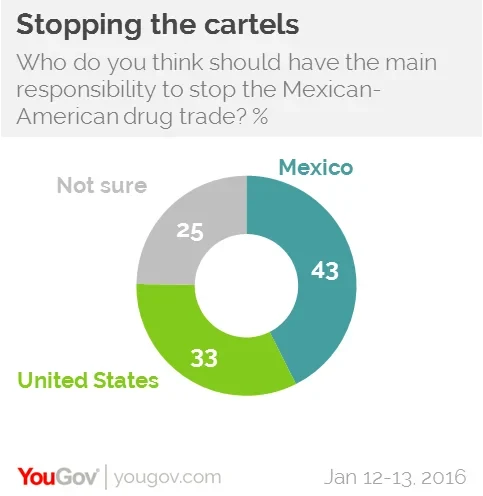 On January 8th Joaquin Guzman, popularly known as El Chapo, was recaptured by Mexican authorities. Last year Guzman had escaped, for the second time, from a high security Mexican prison after a tunnel was dug from a nearby house to his shower. Guzman heads the Sinaloa cartel, which is widely considered to be the most powerful drug organization in the world. Until now Mexico had refused to extradite Guzman to the United States to face federal charges, but Mexican officials have now begun the process to extradite him north.
YouGov's latest research shows that Americans largely support (65%) the extradition of El Chapo to the United States to face federal drug and murder charges. Only 8% of Americans oppose his extradition.
Guzman's recapture is unlikely to do much, if anything, to actually stop the flow of drugs into the United States and the guns and money into Mexico. Cooperation between Mexican and Americans authorities to stop the illicit trade has waxed and waned over the years. American officials have urged Mexico to do more to stop the cartels while Mexican officials have noted that the trade is dependent on America's ravenous appetite for drugs, as Americans are the world's largest consumers of drugs.
Americans themselves are divided on the issue, but people tend to say that ending the trade is mainly the responsibility of the Mexican government (43%) rather than the American government (33%). The only group which tends to say that it is the responsibility of the American government (44%) rather than the Mexican government (39%) are people in households with incomes over $100,000 a year.
Most Americans have doubts over how effective anti-cartel enforcement can be, on both sides of the border. The overwhelming majority of Americans (84%) say that it is common for the cartels to successfully bribe or intimidate Mexican law enforcement. Most Americans (60%) also say that it is common for American law enforcement officials to be bribed or intimidated by the cartels, though only 23% say that it is 'very common' compared to 67% in Mexico.