42% of Democrats have a favorable opinion of the ideology, compared to 29% of the public as a whole
Presidential candidate Bernie Sanders has embraced the "socialist" label during his campaign for president, but Democrats haven't become more positive about socialism, according to a new YouGov poll.
Nearly half (48%) of all Americans have an unfavorable opinion of socialism, the poll finds. This is essentially unchanged from a survey conducted in May 2015, when 51% expressed negative feeling about the ideology. 29% now hold a favorable opinion of socialism, up only slightly from 26% over the same period.
Views among Democrats have not changed much either, though Americans who identity with the party have more favorable than unfavorable opinions of socialism by 42% to 34%. 24% are unsure. The percentage with unfavorable opinions has actually increased by 11 points since a survey that was conducted in October.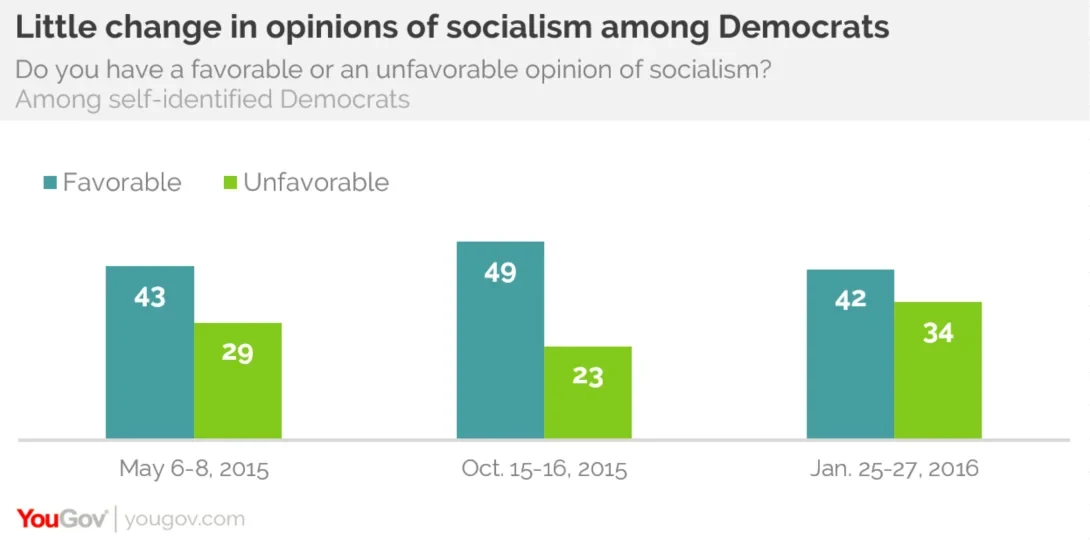 There have been modest movements in favor of socialism among the youngest and oldest age groups. Positive views towards socialism remain a minority opinion, but among 18 to 29-year-olds the split has gone from 36% favorable and 31% unfavorable in May 2015 to 43% favorable and 26% unfavorable today. Negative opinions among Americans aged 65 and up fell from 70% to 60% over the same period.
Overall, views remain starkly divided by age.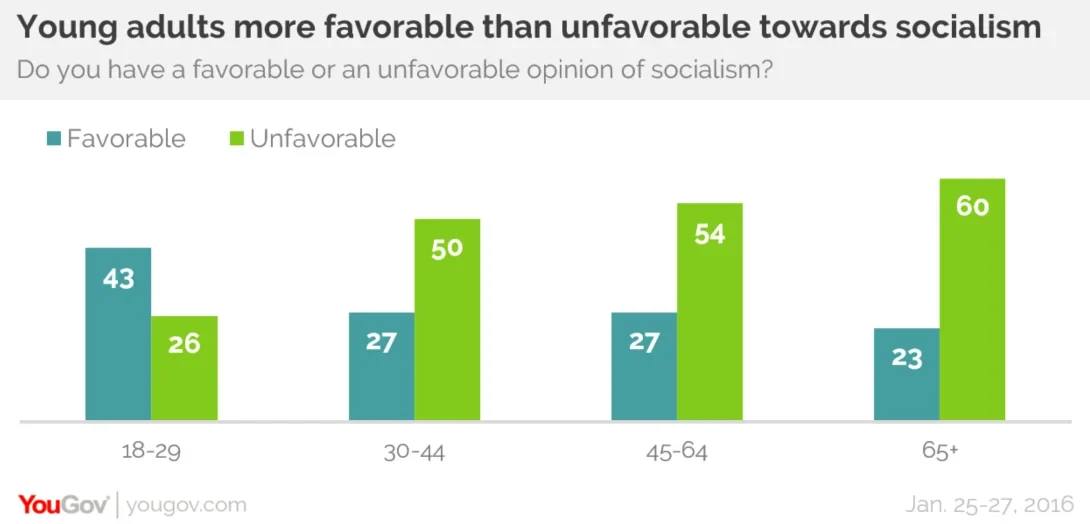 In November, Bernie Sanders delivered a speech aimed at clarifying what he means when he says he is a "democratic socialist", drawing a link between his views and the outlooks of Martin Luther King, Jr. and Franklin Delano Roosevelt.

Only 18% of Americans say it is specifically the "democratic socialist" label that would make them less likely to vote for the Vermont senator. The number is lower among Democrats and Independents (15%) than Republicans (25%). 23% of Democrats even say the phrase makes them more likely to back Sanders. But most Americans say the label makes no difference – 39% wouldn't support Sanders anyway, and 13% would support him regardless.
Support for Bernie Sanders in the Democratic primary has grown in recent months, from 35% in early December to 41%. In the latest YouGov/Economist survey he was the only candidate from either party with a positive net-favorability rating (+4).

PA images
Full poll results can be found here and topline results and margin of error here.