Most Americans think that Obama should nominate a replacement for Justice Scalia instead of letting a new president do it in 2017
Antonin Scalia, one of the most prominent conservative legal thinkers and a major influence on the Supreme Court, died this weekend at a hunting resort in Texas. Scalia's death leaves a vacancy on the Supreme Court during the last year of the Obama presidency, offering Democrats the chance to replace one of regular conservative votes on the bench with a moderate or even a liberal jurist. Republican leaders have already made clear that they will seek to block any nomination and have called upon President Obama to hold off on nominating any replacement and to let the eventual victor of the 2016 presidential election fill the space.
YouGov's research shows that just over half of Americans (53%) are hostile to the arguments that Obama should wait to nominate a replacement for Antonin Scalia. 34% say that he should not nominate someone. Nearly two-thirds of Republicans (64%) say that he should wait, but even then a quarter (26%) believe that Obama should nominate a new Justice. Independents (46%) and a large majority of Democrats (84%) also think that Obama should make a nomination.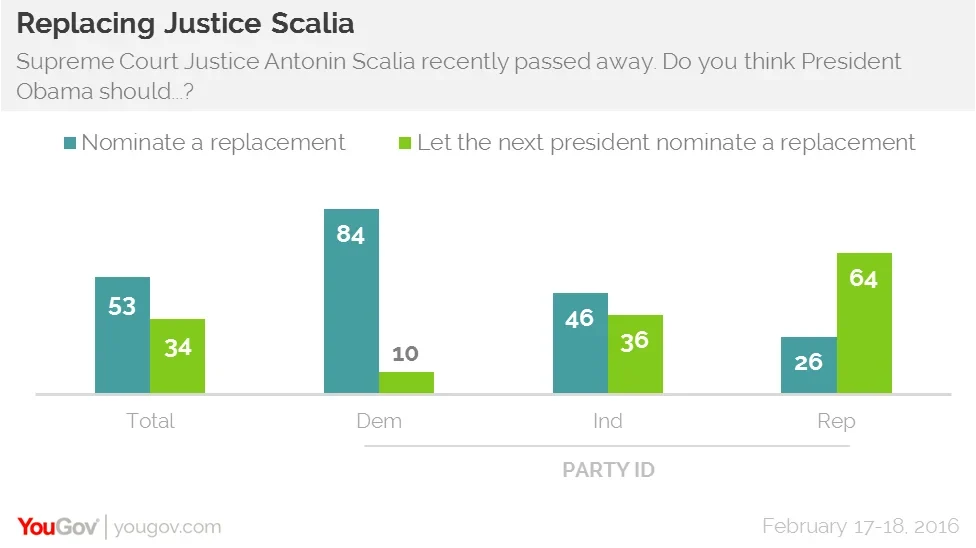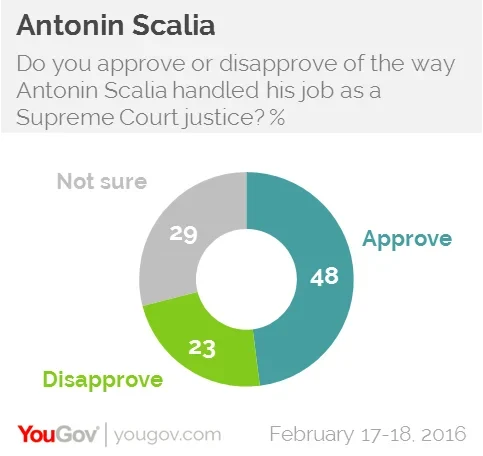 Overall Americans tend to approve (48%) rather than disapprove (23%) of Antonin Scalia's time on the Supreme Court. Opinion varies widely, though Democrats are somewhat more divided on his legacy than many might expect. 28% of Democrats approved of his time on the court while 42% disapproved. Among Republicans 74% approve (55% strongly) and only 5% disapproved.
Full poll results can be found here and topline results and margin of error here.