While most Republicans disavow violence at political rallies just over a quarter do say protestors deserve to get 'roughed up'
Last week a Trump campaign event was cancelled in Chicago due to clashes between protestors and supporters. This isn't the only violent incident at Trump rallies, as protestors disrupt Trump events and have been attacked by Trump supporters. A recent incident in North Carolina led to disciplinary action against five police officers after they arrested a protestor who was punched by a Trump supporter, and not the man who punched him.
YouGov/HuffPost's latest research shows that while a large majority of Americans (65%) and Republicans (55%) say that protestors at political rallies do not deserve to get 'roughed up', a significant minority of Republicans (27%) do think that protestors are rallies deserve to be 'roughed up'. Most Americans (59%) do, however, think that it is acceptable to remove protestors from rallies.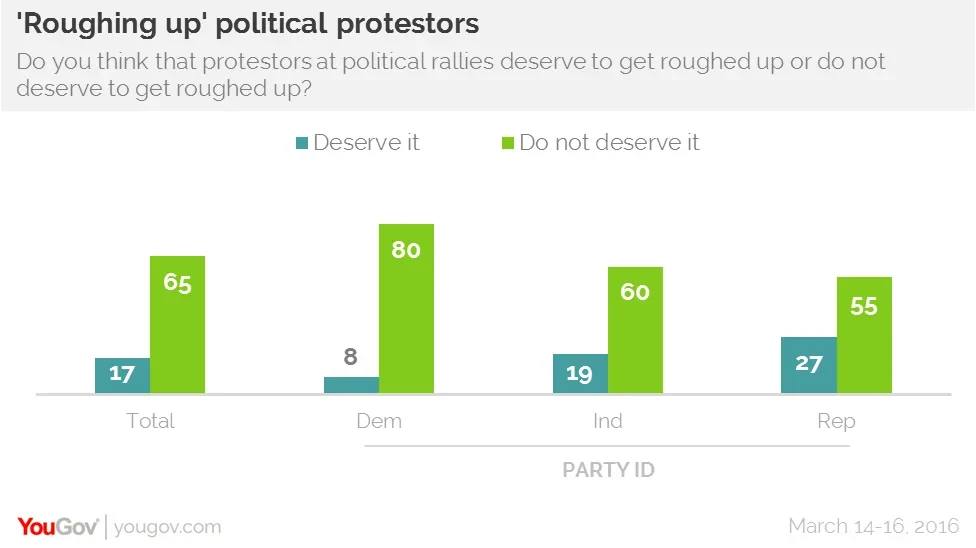 Americans narrowly say that the protestors (44%) are to blame for the recent violence at Trump campaign events, though 37% place most of the blame on Trump himself. Unsurprisingly responses differ widely according to political affiliation. While 58% of Democrats primarily blame Trump, 70% of Republicans blame the protestors.