The following is a summary of the latest YouGov/Economist Poll, conducted April 8-11, 2016. The YouGov/Economist Poll is released on a biweekly basis.
Preferred 2016 presidential nominee among likely Democratic primary voters:
Hillary Clinton: 49% (-4 from March 26-29)

Bernie Sanders: 41% (+1)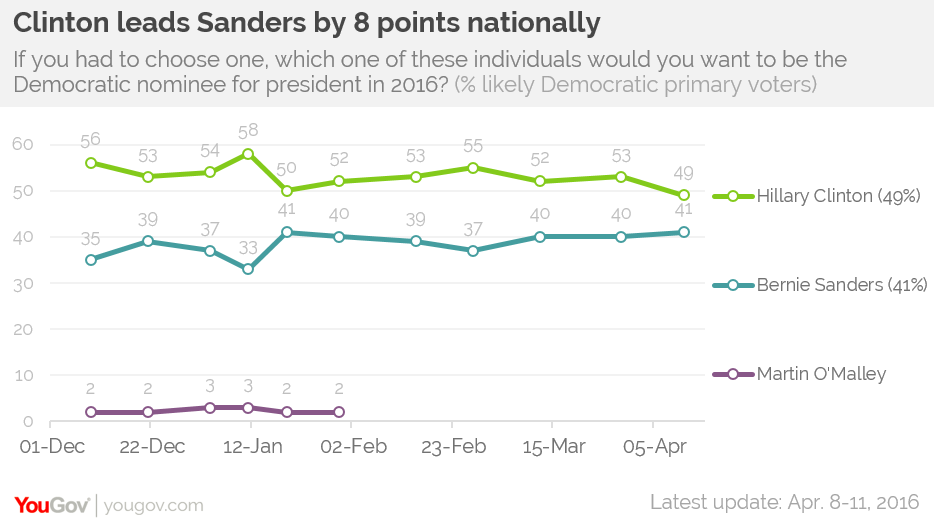 Two weeks ago she led Sanders by 13 points (53%-40%). This is the smallest gap separating the two Democrats in YouGov/Economist polls so far this primary.

Preferred 2016 presidential nominee among likely Republican primary voters:
Donald Trump: 53% (+5)

Ted Cruz: 25% (-4)

John Kasich: 18% (0)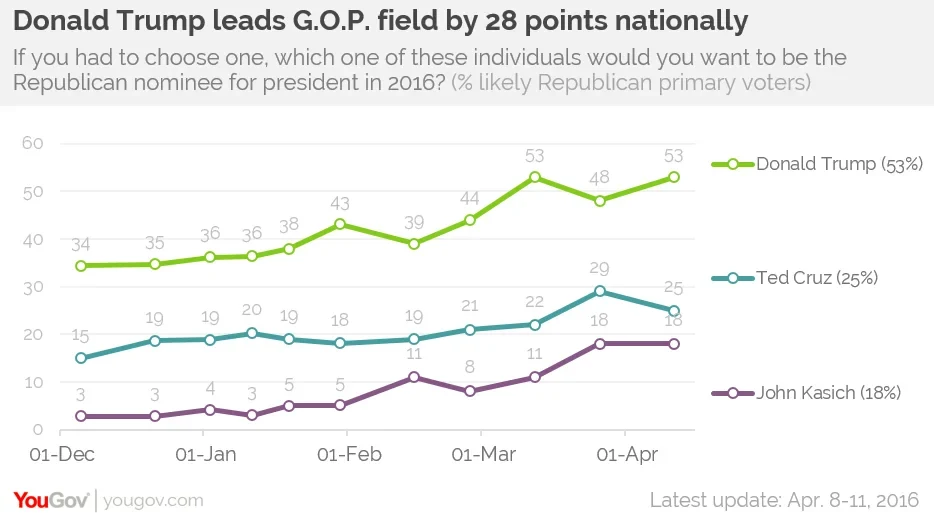 Trump's 53% ties his previous high water mark in support, first achieved in the March 10-12 YouGov/Economist poll.
Approval of Obama as president among all adults:

Approve: 47% (-1)

Disapprove: 51% (+3)
Direction of the country among all adults:
Right direction: 26% (0)
Disapprove: 62% (+1)

---
Other highlights:
65% of Democrats say it is a "good thing" for the the Democratic Party that the primary is still going on. Only 14% say it is "bad."

81% of Democratic primary voters say Hillary Clinton is qualified to be president, including 72% of Bernie Sanders supporters.
The majority of Democratic primary voters want the winner of the nomination to be someone who won either the most delegates (22%) or votes (35%).
Republican primary voters are divided on whether the continuing primary is good for their party (39% good to 41% bad).
Four in five (79%) Republican primary voters want the Republican Party to select the nominee from one of the three candidates still in the race, even if no candidate wins enough delegates to clinch the nomination before the convention.
68% of Americans (including 69% of Republican primary voters) believe violent protests are likely at the GOP convention if Donald Trump does not win the nomination.
See the Economist/YouGov results
Economist/YouGov poll archives can be found here.