The vast majority of Americans don't think they have a negative impact on the environment, but one in four say they are doing something for Earth Day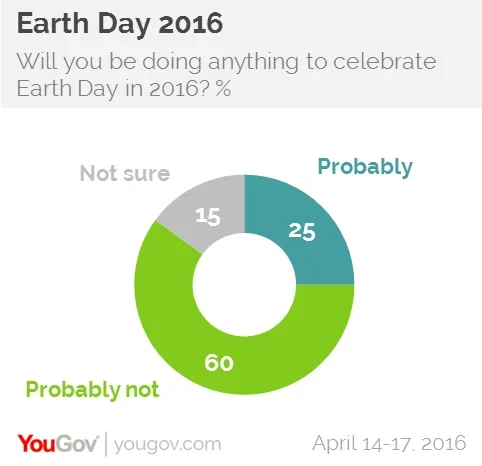 Each year on April 22nd people in 193 countries participate in events, large and small, to support the cause of environmental protection. The event first took place in 1970 and was invented in the United States by a coalition of environmental activists. As well as major demonstrations and 'blackouts', where residents turn off all electricity for an hour, many communities host smaller events where volunteers gather together to collect litter or help make simple upgrades to limit energy usage.
The latest research from YouGov shows that a quarter of Americans say they are either definitely (7%) or probably (18%) going to do something for Earth Day. Of that 25%, the most popular response for what they'll be doing is trying to use less electricity (50%) followed by not driving on Earth Day (27%). Under-30s (35%) are the most likely to say that they are probably doing something for Earth Day, while over-65s (11%) are the least likely).
Despite the fact that, per capita, Americans have one of the world's highest carbon dioxide emission rates, Americans are quite optimistic about the impact they personally have on the environment. Only 13% believe that they personally have a negative impact on the environment. 50% say that their impact is neutral, while 18% believe they make a positive impact. The youngest Americans are the only ones more likely to say that they have a negative (20%) rather than positive (18%) impact. Over a third of Americans older than 45, however, believe that their life is environmentally beneficial.