This is a summary of a YouGov/Economist Poll, conducted May 20-23, 2016.
Trial heats among registered voters:
Hillary Clinton: 42% (no change from May 6-9)
Donald Trump: 41% (+1)



Bernie Sanders: 48% (NC)
Donald Trump: 39% (NC)

Preferred 2016 presidential nominee among likely Democratic primary voters:
Hillary Clinton: 51% (+2)
Bernie Sanders: 41% (-2)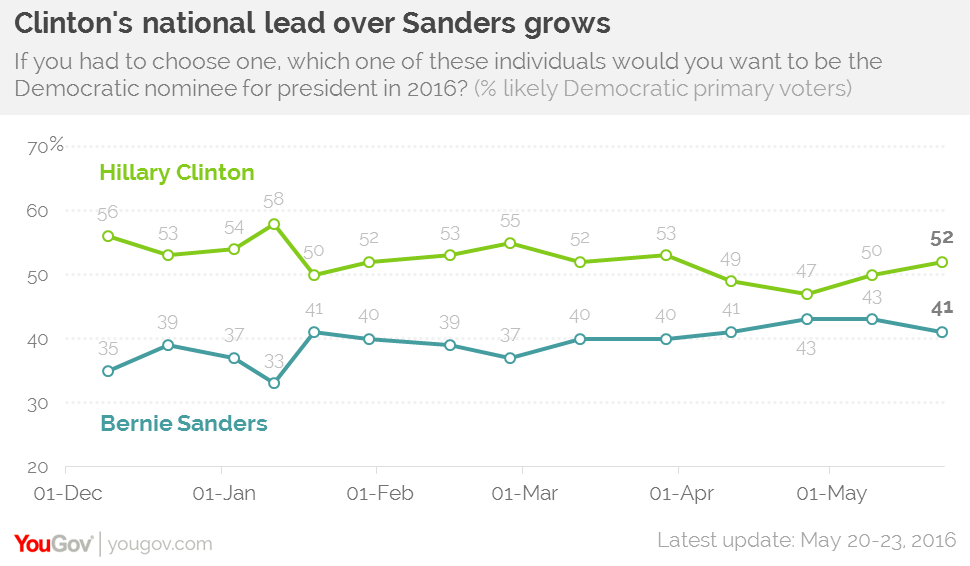 (Among all adults...)
Approval of Obama as president:

Approve: 47% (0)
Disapprove: 48% (-1)

Approval of Congress:
Approve: 12% (+2)
Disapprove: 60% (-1)
Direction of the country:
Right direction: 27% (+4)
Disapprove: 64% (-2)
---
Other highlights:
The Democratic primary

Only half (50%) of Sanders supporters pick Clinton over Trump in the general election trial heat, down from 55% last week. Most of the remainder choosing "Not sure," "Someone else" or "I would not vote" – only 11% pick Trump.
One third (33%) of Sanders supporters believe Sanders is more likely than Clinton to end up the nominee.
About half (51%) of Democratic primary voters, including 78% of Sanders supporters, say the Democratic National Committee (DNC) has been biased towards Clinton
46% of Americans say violence is "likely" at this summer's Democratic national convention.

Donald Trump's tax returns


Asked whether Donald Trump should release his tax returns, 61% of US adults say yes, and only 21% say no.

Zika Virus

58% of Americans are concerned about the possibility of a Zika virus epidemic in the United States. It was 54% in a survey conducted April 22-26.
38% want the US government to spend more on Zika virus research; 34% want no change in spending, and 7% want less spending.

Women in the military

60% favor and 30% oppose allowing women to join military combat units, where they would be directly involved in ground fighting.

Government

72% of Americans believe the government is run to serve "a few big interests" rather than the benefit of all.
68% believe the government wastes "a lot" of tax money.
61% believe "quite a few" of the people running the government are "crooked".
For additional questions and detailed demographic breakdowns, see the full questionnaire here.
The Tracking Report can be found here.
Economist/YouGov poll archives can be found here.