Most Americans say that Trump's comments about Gonzalo Curiel were racist, but most Republicans disagree
Donald Trump courted further controversy last week after he slammed Judge Gonzalo Curiel, who is presiding over a class action lawsuit against him, because of his Mexican ancestry. Trump claimed that Curiel, who was born in Indiana to Mexican parents, would not give him a fair trial because of Trump's policy of building a wall between the US and Mexico. The complaint, which Trump has doubled down on, was widely criticized and even prominent Republicans condemned the statement as racist.
The latest research from YouGov shows that only 20% of Americans think that Donald Trump was right to complain that Judge Gonzalo had a 'conflict of interest' because of his Mexican ancestry. Most Americans (57%) think Trump was wrong in his complaint. Even Republicans are divided on whether Trump's complaint was right or wrong, with 43% saying it was right but 39% saying that it was wrong.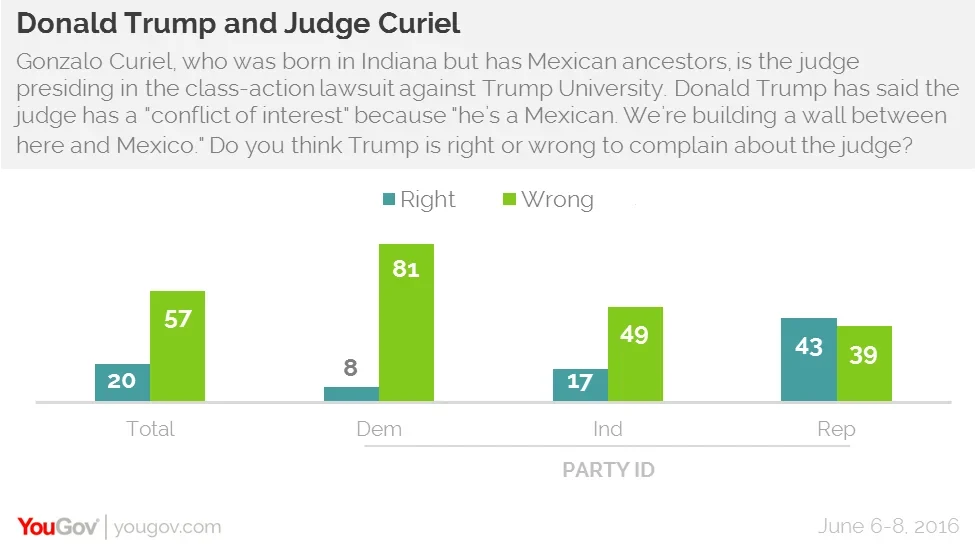 What a large majority of Republicans do agree on, however, is that Donald Trump's comments weren't racist. Only 22% of Republicans say that the comments were racist. In comparison 81% of Democrats and 44% of independents say that the comments were racist.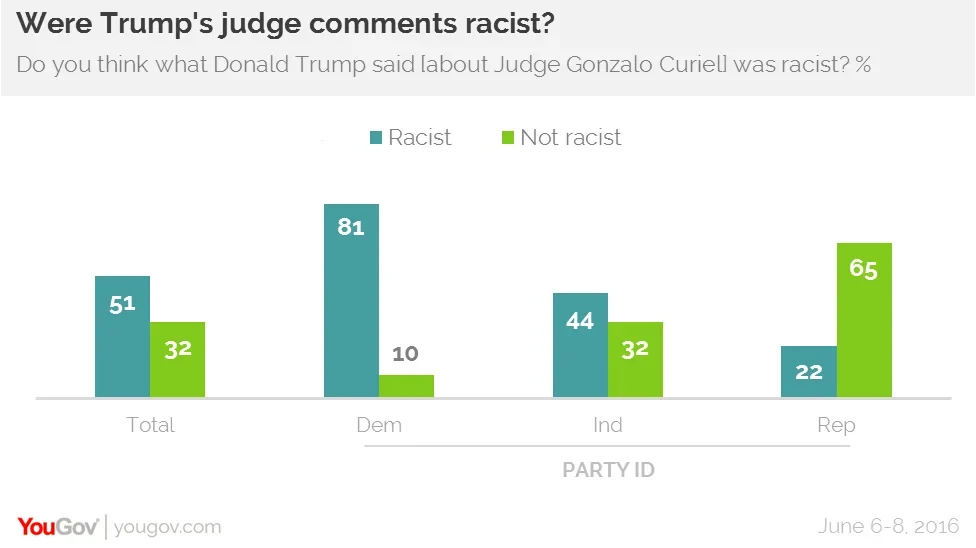 Hispanics themselves widely viewed the remarks as racist (69% to 15%), while whites were divided with 43% saying it was racist and 40% saying it was not.
Donald Trump himself has stood by his comments but has sought to defend them by saying that they were 'misconstrued' by his opponents and said that a person's heritage doesn't necessarily mean they cannot be impartial.
Full poll results and margin of error can be found here.