Most Americans, including nearly two-fifths of Democrats, think Hillary Clinton's personal e-mail usage is a serious problem. But the number hasn't risen much since the story first broke.
Hillary Clinton faced bad news at the end of May after a State Department review of her use of a personal e-mail account to conduct government business. The State Department review stated that she had not sought permission to use the personal e-mail account, and would not have received permission if she had. This contradicts her previous claims that the State Department had allowed the arrangement.
A YouGov poll conducted after the revelation shows that most Americans (62%) do think that Hillary Clinton's personal e-mail usage while Secretary of State is a 'very' or 'somewhat' serious problem. Even 39% of Democrats believe that it is a serious issue, though 55% of Democrats do not regard it as serious. Most independents (67%) and Republicans (87%) regard it as a serious issue. However these figures signify only modest changes since soon after the email story broke in March 2015, when 58% of all Americans, 37% of Democrats, 60% of independents and 87% of Republicans.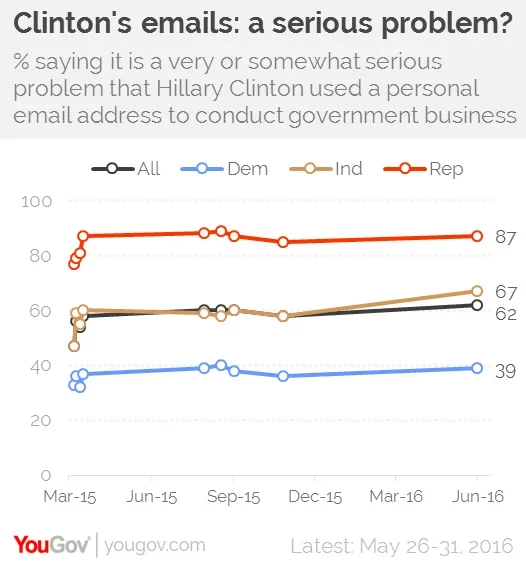 There has been some growth in the proportion of Americans who consider the issue "very" serious, from 32% to 43%.
Most Americans (58%), including 28% of Democrats, also think that Hillary Clinton did do something wrong by using her personal e-mail for government business. Just under half of Democrats (47%) think that she did not do anything wrong.
The e-mail scandal is not the only controversy that Hillary Clinton is dealing with, nor is it the only scandal that either of the main presidential candidates are facing. Overall, however, people's reactions to the various news stories differ little except being divided along largely partisan lines.
When Americans are asked how much each of six major candidate controversies bother them, allegations of sexual harassment against Donald Trump is the most likely to bother people a lot (46%) while Hillary Clinton's refusal to release transcripts of her paid speeches is the least likely (35%). Nevertheless, while only 18% of Democrats are bothered a lot by her refusal to release transcripts, 55% of Republicans are. Similarly while 67% of Democrats are bothered a lot by allegations of sexual harassment against Turmp, only 21% of Republicans say the same.