This is a summary of a YouGov/Economist Poll conducted June 18-20, 2016. The sample is 1300 general population respondents with a Margin of Error of ±3.9%.
Trial heats among registered voters:
Hillary Clinton: 43% (-1 from June 2-5, 2016)*
Donald Trump: 39% (-2)
Gary Johnson: 4% (New)

*Note: This week YouGov included a named response option for Gary Johnson. In previous weeks, respondents who wanted to choose Gary Johnson had to first select "Someone else" and write in Johnson's name.
(Among all adults...)
Approval of Obama as president:

Approve: 47% (+1)
Disapprove: 48% (0)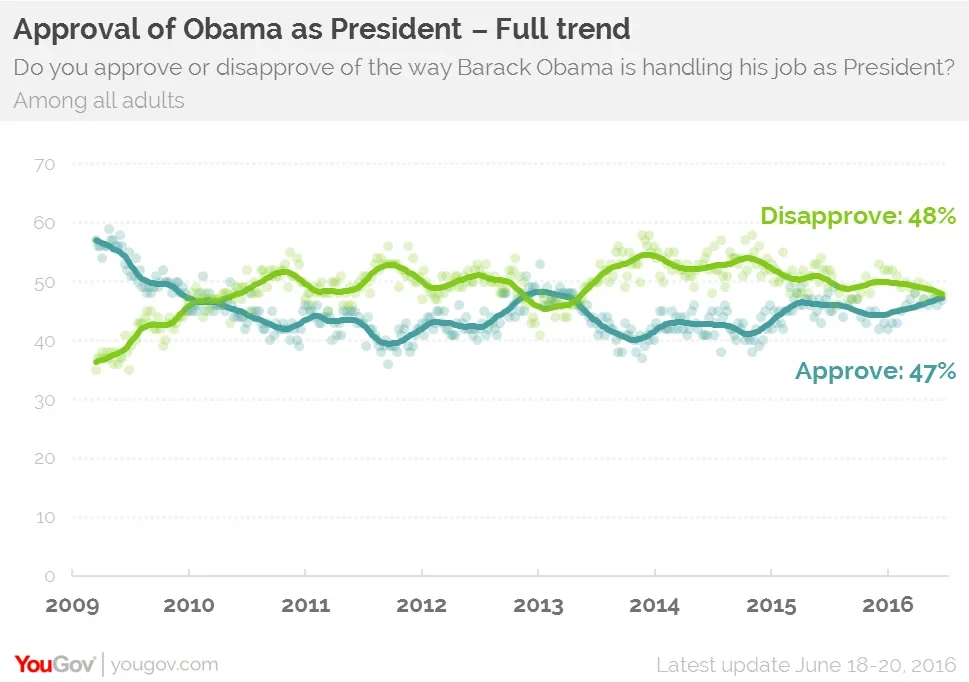 Among registered voters, 47% approve of Obama and 49% disapprove.
Approval of Congress:
Approve: 11% (-1)
Disapprove: 64% (+2)
Direction of the country:
Right direction: 26% (+1)
Disapprove: 63% (0)
---
Other highlights:
The Democratic primary

55% of Democratic primary voters now say they want Hillary Clinton to be the Democratic nominee, up from 51% two weeks, before she clinched the nomination. 42% still support Bernie Sanders, however.
57% of Sanders supporters say they would support Hillary Clinton in a match-up with Donald Trump. 10% pick Trump, 8% pick Libertarian candidate Gary Johnson, and 22% say "Someone else".
Guns and Orlando
Barack Obama receives the highest approval rating for his response to the Orlando shooting: 43% approve to 37% disapprove. For Hillary Clinton: 37% approve and 36% disapprove. Views of Donald Trump are more negative: 32% approve, 47% disapprove.
Majorities of Americans express support for a range of gun control measures, including an assault weapons ban (56% support to 33% oppose), limits on the size of magazine clips (59% to 29%) and a national gun registry (69% to 23%). Many of these measures have received similar support in the past.
Other gun control measures receive less support: by 48% to 38% Americans oppose a ban on people carrying concealed guns in public, and by 48% to 41% they oppose limiting the number of guns people can buy
56% support and 21% oppose "legislation that would prohibit people on a government watch list from buying guns even if people have no way of challenging being on a terror watch list".
Women in the draft
64% favor allowing women to join military combat units, something 26% oppose
By 46% to 37% Americans favor requiring women to register with the Selective Service when they turn 18. While men support this 61%-29%, women are divided, 39% in favor and 41% against.
---
For additional questions and detailed demographic breakdowns, see the full questionnaire here.
The Tracking Report can be found here.
Economist/YouGov poll archives can be found here.