The latest wave of the YouGov/CBS News 2016 Battleground Tracker polled likely voters in Colorado, Florida, North Carolina and Wisconsin
Hillary begins the general election season with early – and in some cases razor-thin – leads over Donald Trump in four key states, according to the latest wave of the YouGov/CBS News 2016 Battleground Tracker.
The race is effectively tied in Colorado, where Clinton holds only a marginal one-point lead over Donald Trump, 40%-39%, among likely voters. Barack Obama won the state twice, but it had previously only voted Democratic once in presidential elections going back to 1964. However, Clinton leads by 44% to 42% in North Carolina, a state Obama won in 2008 but lost narrowly in 2012.
She leads by 3 points, 44% to 41%, in Florida, and 5 points, 41% to 36%, in Wisconsin. The Badger State hasn't gone red since 1984, but George W. Bush lost by less than half a percentage point in 2000 and 2004.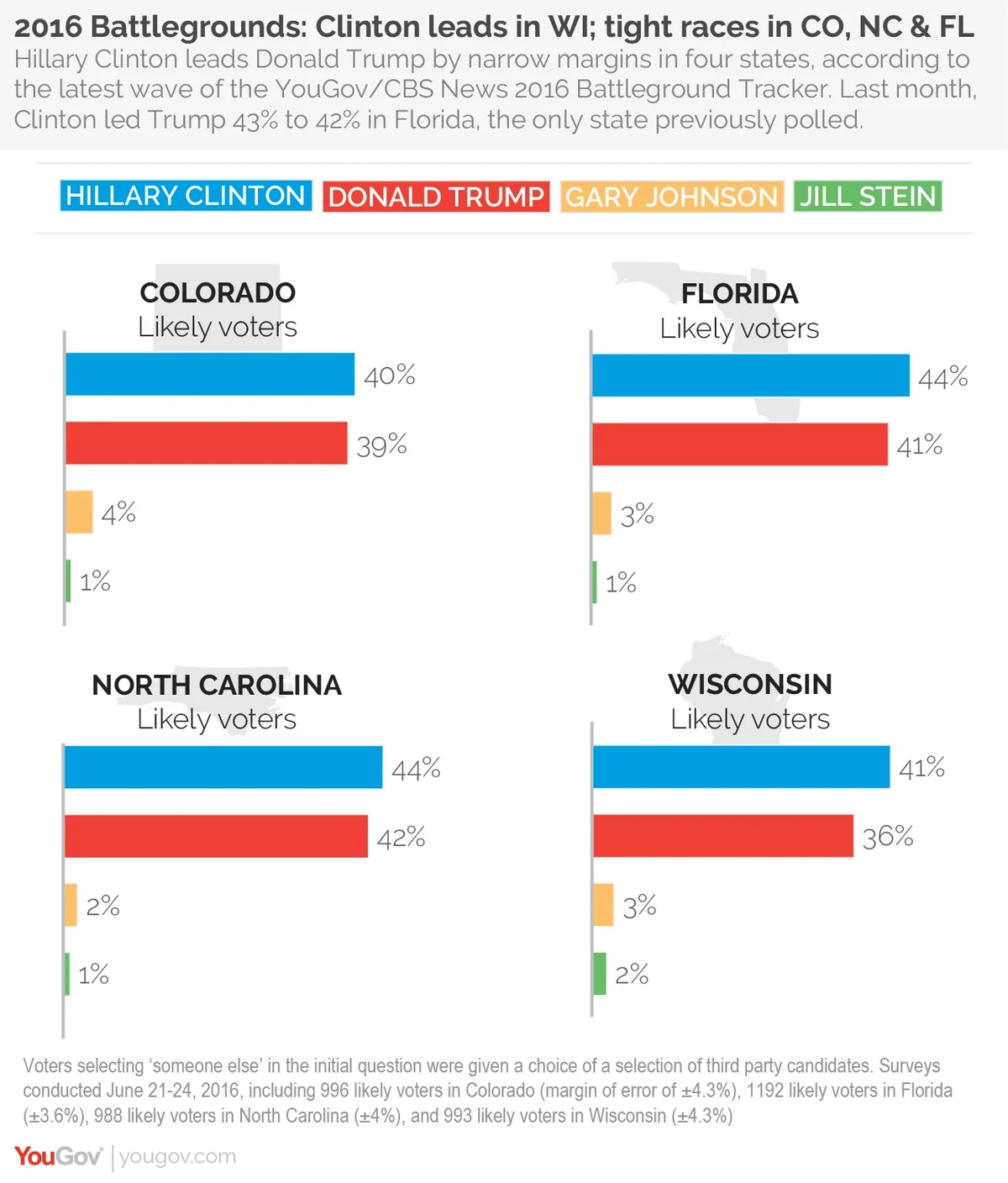 Gary Johnson, the Libertarian Party's nominee, and Jill Stein, the Green Party's presumptive nominee, were also included in the poll. Johnson and Stein were named in a follow-up question for voters who chose "Someone else" in an initial question.
Florida is the only state where general election vote intentions have been polled previously for the Battleground Tracker. In the previous wave, carried out May 16-19, Clinton led Trump by one point, 43% to 42%.
As it is early in the campaign season, these figures illustrate more of a starting point for the opposing campaigns than a prediction of the final outcome.
The polls also reveal potential vulnerabilities for both candidates going forward. While voters in these states are more likely to see Clinton as someone prepared to be Commander in Chief and take a "common sense" approach to governing, they do not see her as someone likely to "bring change to Washington".
Meanwhile Trump is seen as sometimes "extreme", but, importantly, is more likely than Clinton to be described as someone who "could fix the economy" and who "has the right approach to terrorism". Trump holds this advantage on terrorism – 49% say he has the right approach, versus 43% for Clinton – even in Florida, where 54% say he did not show compassion towards the victims of the recent Orlando shooting. 63% believe Clinton showed compassion. Additionally, 55% of Florida voters express support for law enforcement conducting "increased monitoring" of Muslim communities in the United States and 65% believe "too little" is being done in the country to combat the threat of terrorism.
Senate races
The Battleground Tracker also provides an early look at some of the nation's key Senate races, each of which could help decide whether the Democratic Party retakes control of the chamber.
In Colorado, a generic Democratic candidate for Senate beats a generic Republican by only one point, but incumbent Democrat, Sen. Michael Bennett boasts 60% approval. Republican incumbents in North Carolina and Florida, also up for reelection, do not fare as well: only 40% approve of Sen. Richard Burr of North Carolina, and 44% approve of Florida Sen. Marco Rubio, who recently announced he would be running to hold onto his seat. In both states, a generic Democratic candidate for Senate beats a generic Republican by five points (42% to 37%). Wisconsin Sen. Ron Johnson receives 51% approval but a generic Republican trails the Democrat by six points.
Both polls were conducted June 21-24, 2016 for the CBS News 2016 Battleground Tracker. A detailed description of the methodology used to carry out the surveys can be found here.
See additional questions and demographic breakdowns for Colorado, Florida, North Carolina and Wisconsin.