The vice president is going to Pennsylvania to campaign for Hillary Clinton. This makes sense.
Yesterday I looked at how Barack Obama could be a surprisingly useful surrogate for Hillary Clinton with white voters, in light of their (now postponed) plans for a joint rally in Wisconsin. It was also announced that Vice President Joe Biden would be joining Clinton for the pair's first joint campaign event, in none other than Scranton, Pennsylvania.*

This also makes sense. Besides the fact that it's Joe Biden's hometown, it's also just the sort of place where Trump would need to do well if he was truly scrambling partisan allegiances with appeals to less-educated white voters in the country's industrial heartland – a group of voters often referred to with the shorthand "white working class" – many of whom have traditionally voted Democratic. There are a lot of people like this in Scranton.
And according to YouGov data from May through June, these voters tend to like Joe Biden – at least more than they like Barack Obama or Hillary Clinton.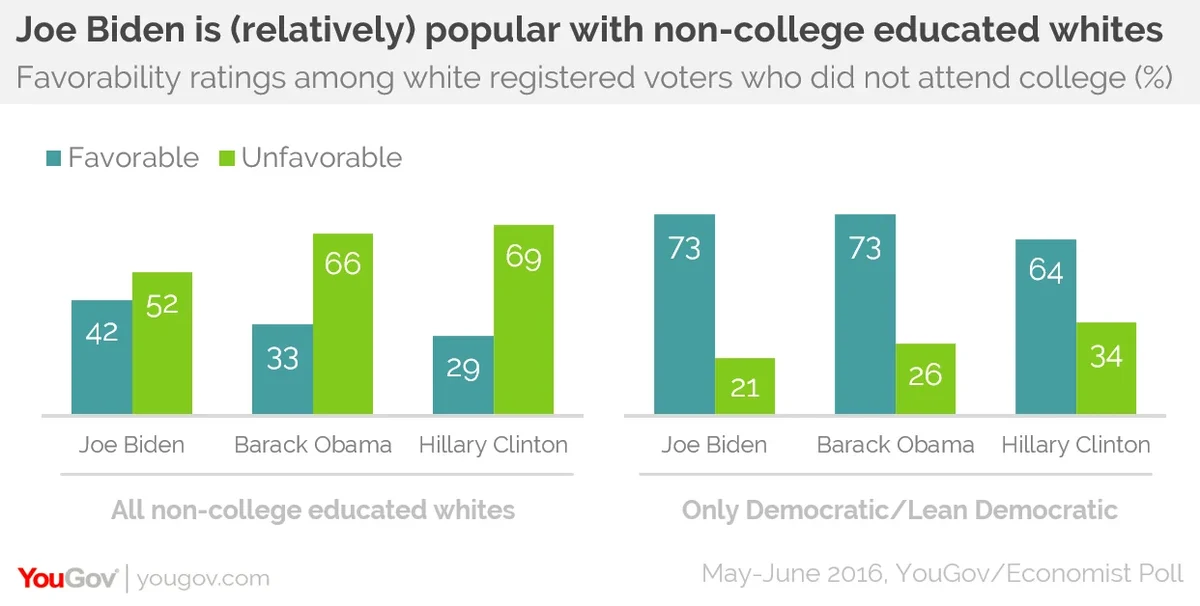 For now, anyway. The gap may narrow as Joe Biden returns to being seen as a more partisan figure among non-Democrats. Among voters who identify as Democrats, or as independents who lean Democratic, the difference in popularity between Obama and Biden almost vanishes, though both are still receive better ratings than Clinton does.
(For comparison, Donald Trump's rating with non-college white voters is 57% favorable to 41% unfavorable. Among non-college whites who at least lean Democratic, it's 25%-74% – not great, but better than the 11%-88% he gets from Democrats overall.)
*Author's note: The July rally that led to this article was cancelled following the shootings in Dallas, but Clinton and Biden will be campaigning in Scranton on Monday, August 15th.