This is a summary of a YouGov/Economist Poll conducted July 9-11, 2016. The sample is 1300 general population respondents with a Margin of Error of ±4.2% (4.5% for registered voters).
GENERAL ELECTION (among registered voters):
If the 2016 presidential election were being held today and the candidates were Hillary Clinton, the Democrat, Donald Trump, the Republican, Gary Johson, the Libertarian, and Jill Stein, from the Green Party, who would you vote for?
Hillary Clinton: 40% (-2)
Donald Trump: 37% (0)
Gary Johnson: 5% (+1)
Jill Stein: 2% (-1)
Someone else: 4%
Not sure yet: 9%
Probably won't vote: 4%
2-way follow-up: Respondents who selected Gary Johnson, Jill Stein, or 'someone else' were asked the following question 'Which candidate do you prefer more, Hillary Clinton or Donald Trump?' Below those responses have been added to the support for Clinton and Trump from the initial question.
Hillary Clinton: 45% (-2)
Donald Trump: 43% (+1)
Someone else / Not sure yet / No preference: 8% (-1)
Probably won't vote: 4% (+2)

CONGRESS (among registered voters):
If the election for Congress were being held today, and you had to make a choice, would you be voting for...
The Democratic Party candidate: 43% (-2)
The Republican Party candidate: 36% (0)
Other: 3% (0)
Not sure: 14% (+1)
I would not vote: 4% (+1)
Approval of Obama as president (among all adults):
Approve: 47% (+2)
Disapprove: 45% (-2)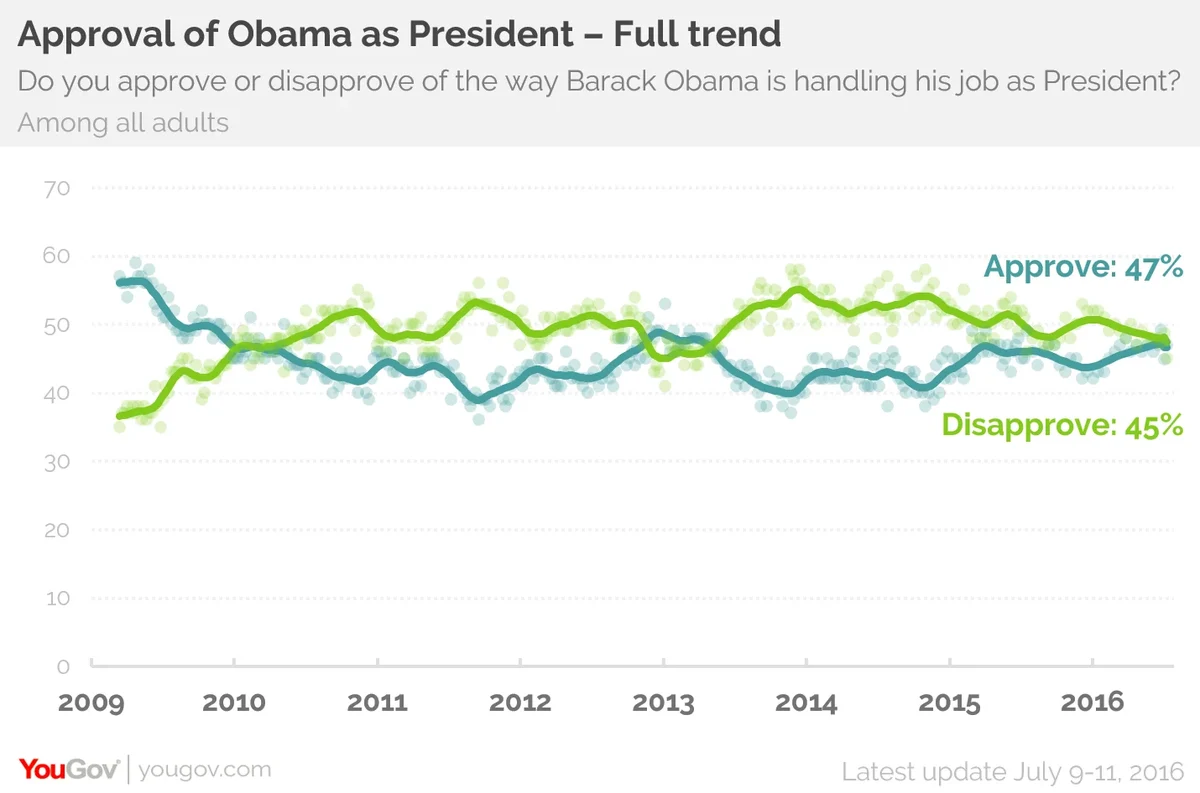 This is is the first time Obama's approval rating has been in net-positive territory in the YouGov/Economist Poll since July 2015.
Among registered voters, 45% approve of Obama and 51% disapprove.

Approval of Congress:
Approve: 15% (+5)
Disapprove: 61% (-3)

Direction of the country:
Right direction: 23% (-3)
Disapprove: 67% (+3)
---
Other highlights:
Presidential election
54% of Americans now expect Hillary Clinton to defeat Donald Trump in November, up from 52% last week. Only 26% expect Trump to win, including just 66% of Trump's own voters.
Bernie Sanders endorsed Clinton on Tuesday, but his supporters in this poll say he should not have, by 46% to 38%. 35% of these same voters say an endorsement would make them feel less favorably toward Sanders.
Vice President
Favorability ratings are given for a number of different potential vice presidential candidates, this week including Indiana Gov. Mike Pence. Republicans view Pence favorably by 29% to 12%, but 59% still have no opinion.
By 78% to 12% Republicans would prefer Trump to pick someone who has political experience over an outsider
Democrats are divided 39% to 39% over whether Clinton should pick someone who appeals more to liberal voters or someone who appeals more to moderate voters

Police shootings and race relations
Americans are divided on Black Lives Matter: 35% support and 34% oppose. In April it was 31%-32%.
Only 25% of Americans say blacks are treated equally to whites by police. 63% say they are not.
By 46% to 35% Americans tend to think the deaths of Philando Castile and Alton Sterling are part of a broader pattern in how police treat black men, rather than isolated incidents. Following the funeral of Freddie Gray April 2015 the split was 42%-33%.

Clinton Email Scandal
62% of Americans say Clinton's use of private email as Secretary of State is a "serious problem" – though this is identical to the percentage who said so in a YouGov poll from the end of May.
55% now say Clinton did something "illegal", up from 48% in May.
Americans are more narrowly divided over whether FBI director James Comey was right to recommend no criminal charges for Clinton: 42% agree with the decision, while 49% disagree. Opinions are largely divided along partisan lines (76% of Democrats agree; 87% of Republicans disagree), but independents tend to disagree with the decision not to press charges by 52% to 35%.
The public is also split on whether Republicans in Congress should investigate Clinton independently: 45% say they should, 41% say they should not.
---
Additional questions and detailed demographic breakdowns: PDF
Topline summary: PDF
The Tracking Report: PDF