The latest wave of the YouGov/CBS News 2016 Battleground Tracker polled likely voters across eleven competitive states, with an additional focus on Iowa, Ohio and Michigan
Hillary Clinton and Donald Trump are nearly tied in several crucial swing states days ahead of the Republican National Convention, according to the latest wave of the YouGov/CBS News 2016 Battleground Tracker.
Clinton's lead is at its widest – four points – in Ohio, a swing state no winning Republican presidential candidate has ever lost. The GOP convention is being held in Cleveland, Ohio this week, where Donald Trump will be formally nominated. On the other hand, Clinton leads by only three points in Michigan, 42% to 39%, a state Bernie Sanders won in a stunning upset during the Democratic primary. Barack Obama won the state by nearly 10 points in 2012, and it hasn't gone to the Republican Party candidate since 1988. Trump and Clinton are also virtually tied in Iowa, 40% for Trump and 39% for Clinton, an increasingly purple state that Obama won twice but George W. Bush won by a razor-thin margin in 2004.
For the Battleground Tracker YouGov also interviewed a sample of 3,383 likely voters across 11 battleground states: Colorado, Florida, Iowa, Michigan, North Carolina, New Hampshire, Nevada, Ohio, Pennsylvania, Virginia, and Wisconsin. Barack Obama won all eleven states in 2008, and lost only North Carolina in 2012, but Clinton is neck-and-neck with Trump, 41% to 40%.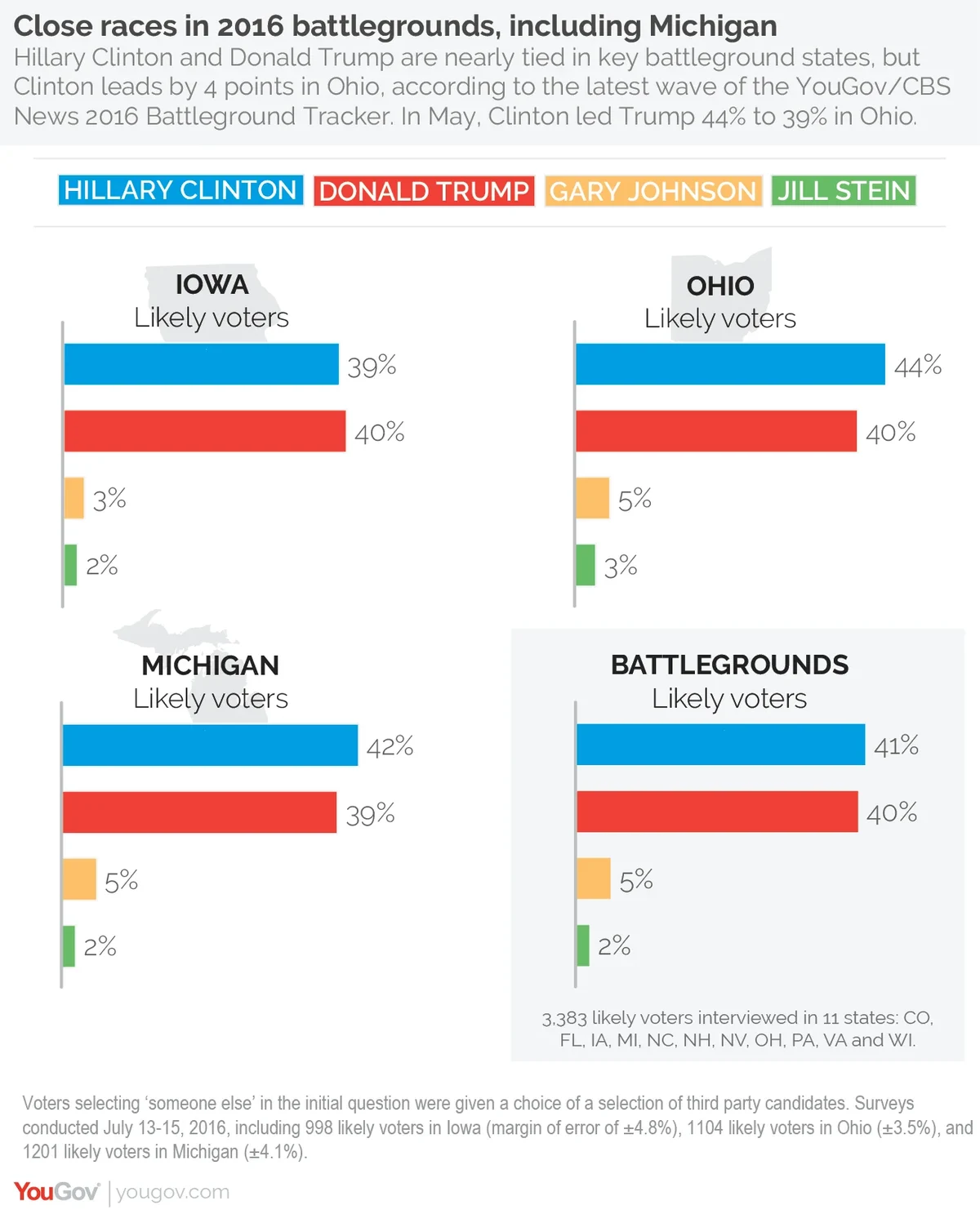 Whether undecided or opting for a third party, unusually large number of voters continue to pick some other option than the major party nominees. However, with support ranging between 3% and 5% for Libertarian Gary Johnson and between 2% and 3% for likely Green Party nominee Jill Stein, both remain well short of the 15% threshold required to participate in the presidential debates. Clinton earns the support of 84% of Democrats across the battleground states, slightly more than Trump at 78%, but Trump leads among independents with 42% to 28% for Clinton – and 10% for Gary Johnson.
The survey comes one week after FBI director James Comey accused Hillary Clinton of "extreme carelessness" in her her use of private email as Secretary of State, while recommending no criminal charges. In the 11-state survey, 54% express dissatisfaction with the Justice Department's handling of the Clinton emails issue.
Clinton is also at a deficit when it comes to fixing the economy (37% for Clinton to 45% for Trump), bringing change to Washington (24%-51%) and showing independence from "big donors" (18%-48%). She and Trump are roughly tied on picking nominees for the Supreme Court (43%-42%) and "looking out for people like you" (37%-39%), while Clinton leads on race issues (49% to 30%).
Mike Pence
These surveys were conducted before it was confirmed that Donald Trump's vice presidential pick would be Indiana Governor Mike Pence, but a follow-up survey was conducted in the eleven battlegrounds following the announcement of the pick. Overall, Pence remains little-known and his short term impact would appear marginal. By 34% to 28% slightly more swing state voters approve than disapprove of the pick, but 38% aren't sure yet how they feel. He is just as likely to make voters less likely to vote for Trump (16%) as to make them more likely to do so (17%), while 62% say their vote is unchanged.

The choice does appear more popular with the Republican base, some of whom have been reluctant to back Trump. Conservatives approve of Pence as Vice President by 62% to 9%, and 29% say the pick makes them more inclined to vote for Donald Trump. Only 5% say it makes them less likely to vote for the GOP nominee.
Senate races
The Iowa and Ohio polls also tested the water in two potentially competitive Senate races. In Iowa, incumbent Republican Sen. Chuck Grassley leads Democrat Patty Judge by eight points, 45% to 37%. In Ohio the race is much closer: Sen. Rob Portman, another incumbent Republican, leads former Ohio Governor Ted Strickland by only one point, 41% to 40%.
Interviews were conducted July 13-15, 2016 for the CBS News 2016 Battleground Tracker. Additional VP survey conducted July 15-16. A detailed description of the methodology used to carry out the surveys can be found here.
See additional questions and demographic breakdowns for Iowa, Ohio, Michigan, the 11-state survey and the VP follow-up.