Even many Republicans are dissatisfied with how Donald Trump has handled criticisms by a Gold Star family
Donald Trump initially responded to criticism from the Khan family the way he has always responded to attacks – he hit back. But a new YouGov poll finds the reaction may have been ill-advised for these two parents, whose son was one of a handful of Muslim-American soldiers killed in Iraq and Afghanistan.
Overall, just 19% of Americans approve of the way Donald Trump has handled remarks by the Khizr and Ghazala Khan, who slammed the Republican nominee in a primetime speech at the Democratic National Convention – and then again, in numerous media appearances after Trump said Khizr had "no right" to criticize him and wondered aloud if his wife Ghazala Khan "wasn't allowed" to speak.
55% disapprove of how Trump has dealt with the Khans, including 40% who disapprove "strongly". Unsurprisingly, self-identified Democrats overwhelmingly reject the response, but it is also panned by independents, who disapprove by 53% to 18%. Even among Republicans, opinion is split: only 36% approve of Trump's behavior, while 32% disapprove and 32% are unsure.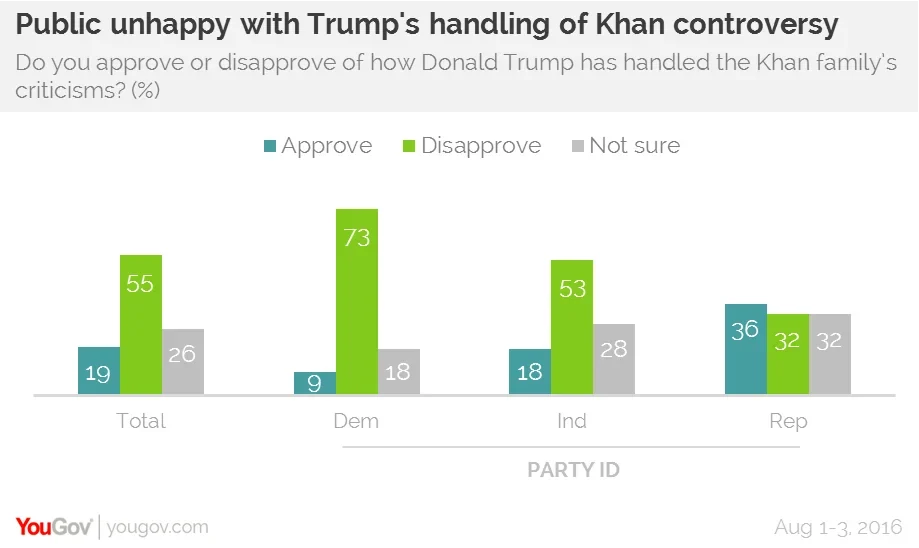 The disapproval also cuts across other traditionally Republican-leaning groups, including college-educated whites (18% approve to 60% disapprove – 51% strongly) and even whites with no college degree (26%-46%).
45% of Americans say it was appropriate for the Khans to speak at the DNC, which took place July 25-28, while 25% say it was inappropriate and 30% are unsure. 78% of Americans report that they have heard something the controversy between Trump and the Gold Star family, while 38% watched at least part of the speech that sparked it.
The poll also shows how many Americans continue to harbor doubts about the patriotism of Muslim-Americans, despite the Khan family's sudden prominence. Only 42% of the public believe most Muslims in the country are "patriotic Americans who believe in American values", while a majority are either unsure (30%) or reject the idea altogether (28%). This is an increase in pro-Muslim sentiment since March of this year, when only 36% agreed that most Muslim-Americans shared US values, but remains below the proportion with the same view in February 2015 (46%).
YouGov's post-convention polling suggested the race had moved slightly in Clinton's favor, though much of the Khan controversy – including some of the bipartisan criticism directed at Trump – spilled into the following week, after the fieldwork for the poll was completed.

Full poll results and margin of error can be found here.