A third of Republicans expect Clinton to win, and a quarter aren't ready to pack their party's nominee
Republican presidential nominee Donald Trump ended what was a very bad week with members of his own party less convinced he can win the general election against Democrat Hillary Clinton. At this stage in an election cycle, partisans usually are sure their nominee can win, but the latest Economist/YouGov Poll finds just about a third of Republicans expecting a Clinton victory in November, nearly double the percentage who thought that a week ago.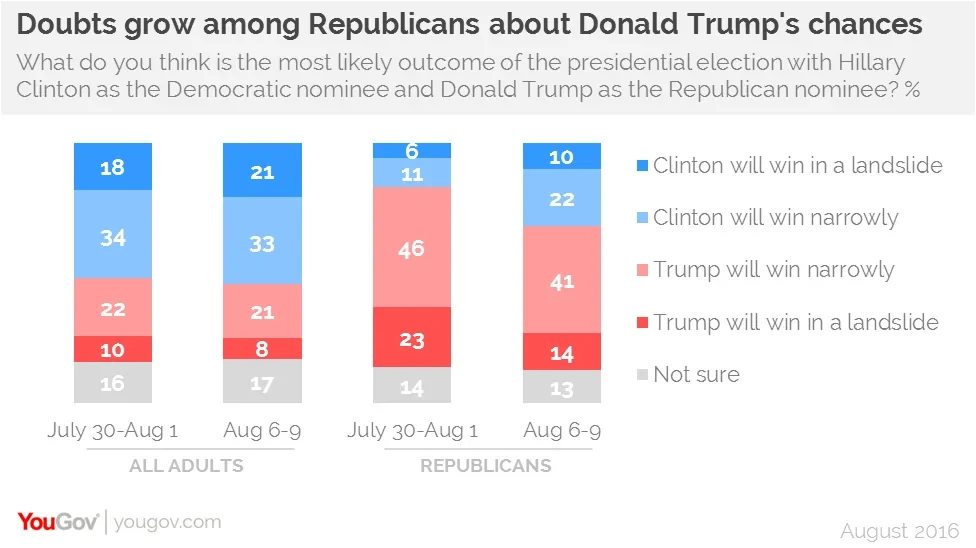 Last week, after both party conventions, 69% of Republicans expected a Trump victory. A majority still believe that, but the percentage has dropped 14 points after what is being called Trump's "terrible, horrible, no good, very bad" week. 81% of Democrats expect a Clinton victory.
Although Republicans have seen a number of prominent members of their own party desert Trump in recent weeks, most remain faithful to the party's standard bearer. Three in four say they will vote for him, just about as many as said that last week. However, GOP support for Trump is lower than Democrats' support for Clinton: 87% of Democrats say they will vote for Clinton in November.
Clinton's six point lead over Trump becomes a seven-point margin when those favoring third party candidates are asked to choose between the two major party nominees. One in five registered voters don't choose either major party candidate. Just 6% say they are truly undecided; 12% pick Libertarian Gary Johnson or Green Party candidate Jill Stein. Most selecting a third party choose Johnson.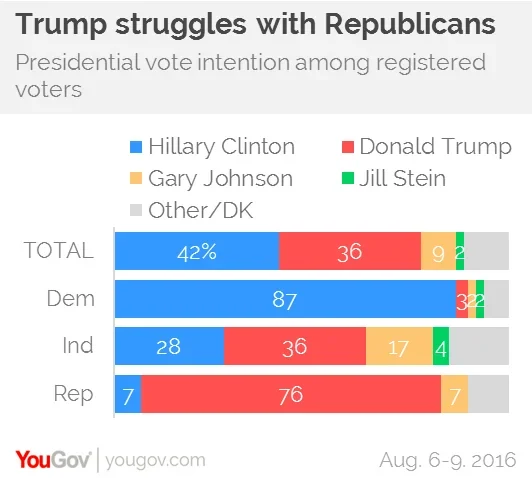 Stein's vote in this poll has been cut in half in the last week, as the Democratic primary voters who favored Vermont Senator Bernie Sanders against Clinton are slowly increasing their support for Clinton. Last week, 19% of Sanders supporters said they would vote for Stein in a four-way contest; that percentage is now just 10%. Clinton gained ten points from them: 59% of Sanders supporters say as of today they will vote for Clinton. Last week, just after the Democratic Convention, only 49% said that. Also last week, 40% of Sanders supporters said they were upset that Clinton was the nominee. This week, just 25% say that. Nearly half are (at least) satisfied.
Men and women continue to exhibit a split in presidential preference. Trump maintains a three-point lead with men, while women favor Clinton by 12 points.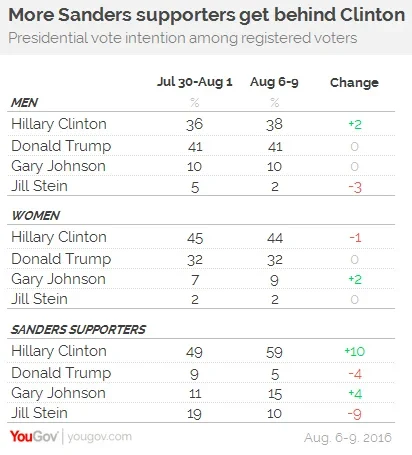 Throughout the summer, Clinton has maintained her lead at least in part because of public perception that she is much better suited than Trump for the job of President. Nearly twice as many continue to describe her as having the "qualifications to be president" than say that about Trump. And while half or more are uneasy about each candidate's ability to handle terrorism and the economy, more are uneasy about Trump's ability than about Clinton's on each. Last week, Clinton also held an advantage when it came to handling Russia. This week many more are confident in her ability to handle the responsibility of controlling nuclear weapons.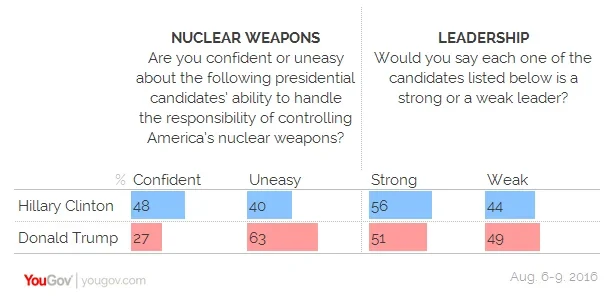 In addition, while Trump has called Clinton "weak," Americans disagree. Even more describe her as a strong leader than say that abut Trump. Trump marginally outscores Clinton when the public is asked whether the word "tough" describes each of them, though majorities see each that way. 59% say "tough" describes Clinton; 65% believes it describes Trump.
Much of this campaign, however, is a campaign of negatives. Majorities have an unfavorable view of each of the candidates. 57% are have unfavorable opinions of Clinton, 63% are unfavorable towards Trump. 53% view Clinton as "corrupt," while 60% think Trump is "dangerous." And neither does well on some characteristics that sometimes matter in elections: only about half see each of the nominees as "patriotic," while majorities think neither is "religious."