Half of Americans think that detainees at Guantanamo should either face trial or be released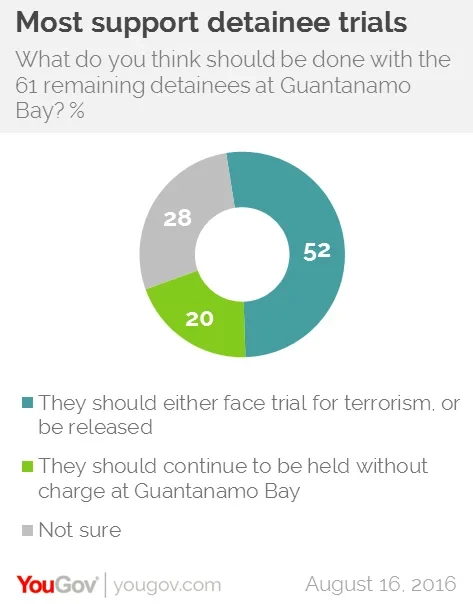 On Monday the Obama administration made the largest single release of Guantanamo Bay detainees since the start of his presidency, when 15 detainees were released to the United Arab Emirates. There are now 61 detainees left in Guantanamo Bay, some of whom have been held there for 14 years without being charged with any crimes. Republicans quickly attacked the decision, saying that it put Americans at risk.
YouGov's live survey research shows that 52% of Americans think that the remaining 61 detainees in Guantanamo Bay should either be put on trial for terrorism or should be released from detention. Only 20% of Americans think that the remaining 61 detainees should continue to be held in Guantanamo Bay without charge.
Despite the limited support for continued detention at Guantanamo Bay, Americans are divided over whether opening the detention center there was a mistake in the first place. 34% say that it was a mistake, while 37% say that it was not a mistake. Democrats tend to say it was a mistake (45% to 21%) but Republicans ovewhelmingly do not think it was a mistake (66% to 10%).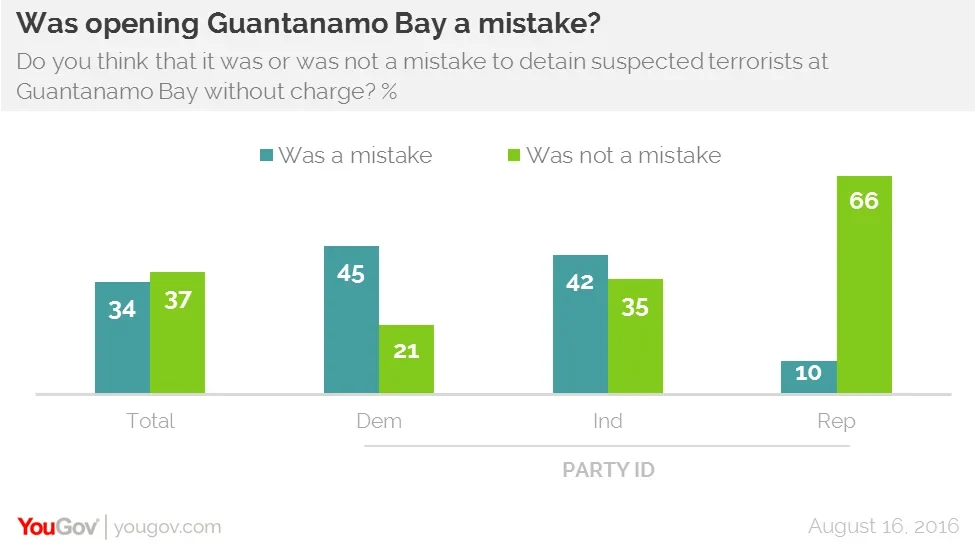 When it comes to the release of the 15 detainees, specifically, Americans are similarly divided. 36% approve of the release while 35% disapprove. 29% are not sure.