59% of Americans oppose a burqa ban, compared to 62% support among Germans
This summer many European countries have been embroiled in debate over the extent to which Muslim women should be able dress in traditional clothing. While a number of French towns were banning the 'burkini', a swimsuit which fully covers the torso and hair of a woman, the Scottish Police Service announced a standard hijab for female Muslim officers. In Germany the country's Interior Minister has called for a ban on burqas in certain public places.
YouGov's latest research shows that opinions toward the burqa ban vary significantly on either side of the Atlantic. While 62% of Germans support a ban on burqas and niqabs, only 27% of Americans support one. 59% of Americans oppose a burqa ban.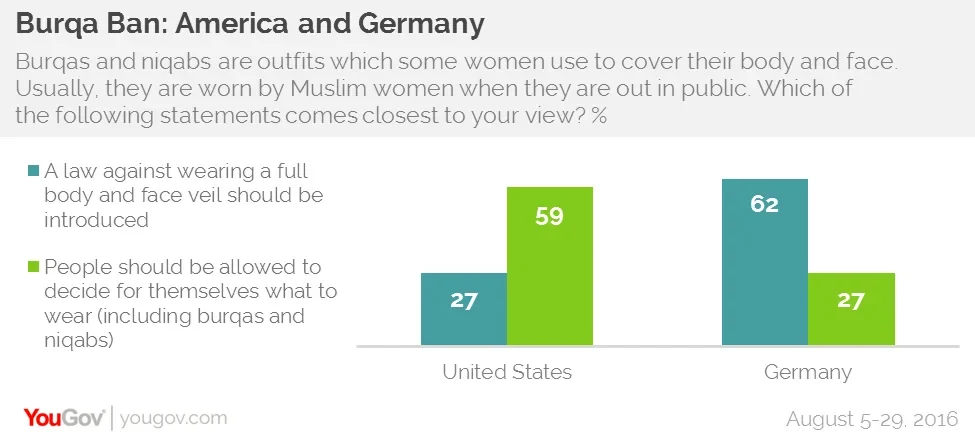 Germany isn't the only country to show strong support for a burqa ban. In 2013, 61% of the British public supported a ban.
Opposition to the burqa ban is strongest among Democrats (66%) and independents (61%) but even Republicans narrowly oppose a ban, 46% to 43%.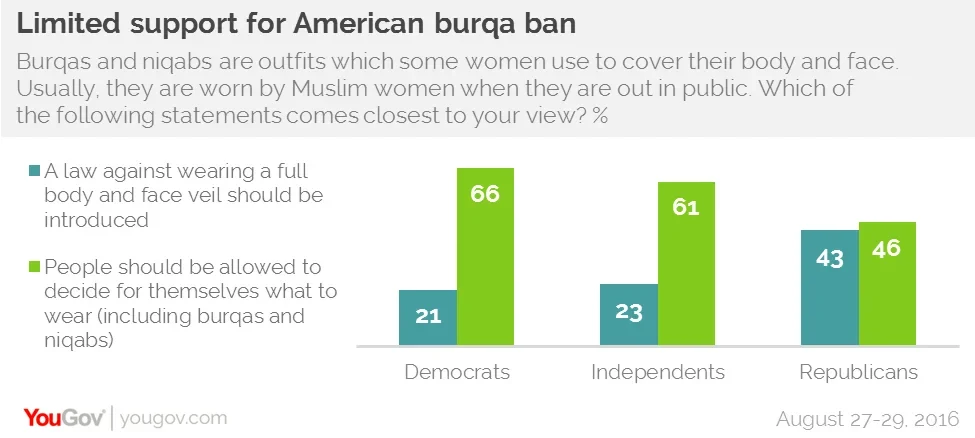 When Americans are asked about the discrimination Muslims face, 47% say that they face a lot of discrimination in the United States while 34% say that they do not. In March, 55% said that Muslims face a lot of discrimination. While 50% aren't sure enough to compare to Europe, 20% of Americans say that Muslims face more discrimination here while 30% say they face more in western Europe.