New data finds that nearly half of US adults wouldn't be comfortable around a stranger wearing Snapchat's Spectacles
Just a few days ago, Snapchat announced plans to launch Spectacles, a camera-equipped pair of sunglasses capable of recording 10-second videos that are directly uploaded to the app. Comparisons to Google Glass began immediately, with many critics mentioning that Google's headset struggled, in part, due to privacy concerns.
New data from YouGov shows that Snapchat's first piece of hardware faces similar challenges. 55% of women, for example, indicate that they wouldn't feel comfortable around a stranger wearing Spectacles, while 39% of men said the same. Furthermore, 40% of women expressed the same level of discomfort at the thought of hanging out with a friend who happens to be wearing the device.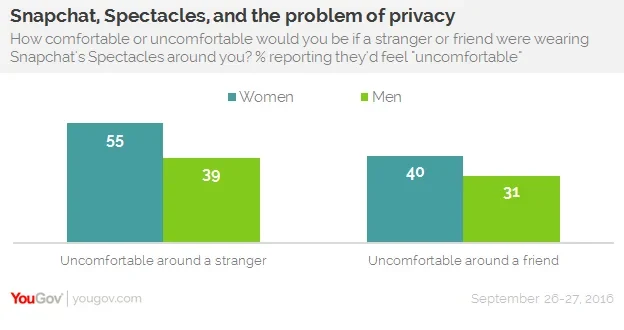 Data from the same survey suggests that, at the expected price of $129.99, very few Americans are interested in purchasing Spectacles. Even Snapchat users show little excitement about the new product.
Snapchat, officially now known as Snap, Inc., notes that Spectacles will feature lights that activate when the camera is recording to "show friends you're Snapping."
It remains to be seen if Spectacles can catch on with the youth, overcome privacy concerns, and avoid the same fate as Google Glass. Marketers, no doubt, are watching how Snapchat's 60 million daily active users in the U.S. and Canada respond.