New data from YouGov confirms that women are significantly more likely to prepare instead of improvise, and value hard work over natural talent
One of the many tensions to emerge from the 2016 presidential election deals with how a candidate should best approach a nationally televised debate. "I think Donald just criticized me for preparing for this debate," Mrs Clinton said. "And yes I did. You know what else I did? I prepared to be president." Voters agreed: 71% of those who watched the debate said Clinton prepared enough, compared to just 39% for Donald Trump.
New data from YouGov suggests that this may be a wider contrast than just between these two presidential candidates – it seems to be a significant difference between men and women.
When asked if they tend to prepare for things or improvise as needed, 74% of US adult women said the former, while only 60% of their male counterparts agreed. At the same time, 32% of men indicated that they tend to improvise, compared to just 17% of women.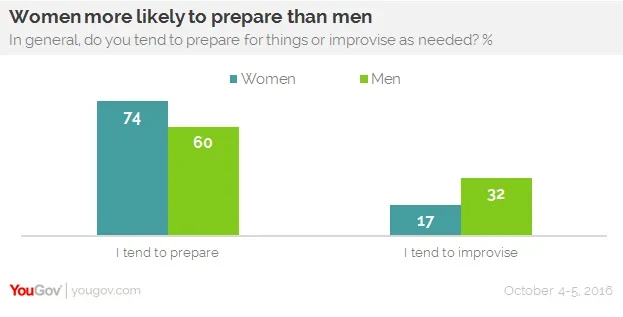 Although both genders believe hard work is better than natural talent, women are 10 percentage points more likely than men to value the former trait over the latter. Meanwhile, American men are nine points more likely than women to think natural talent is better than hard work.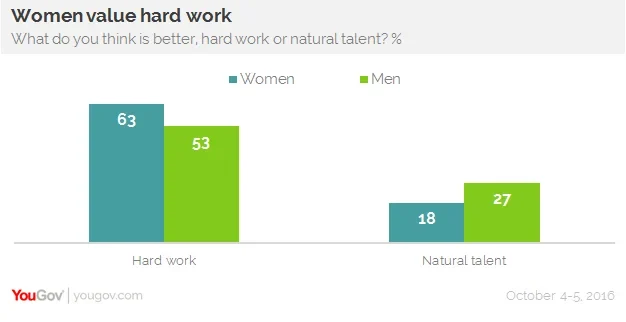 Further research shows that 60% of women have more respect for a person who prepares for a job interview than someone able to improvise her way through one. The same is true for 53% of men. When asked to recall their time at school, 43% of women said they always studied before a test or exam, compared to just 26% of men who indicated they did the same.