The latest wave of the YouGov/CBS News 2016 Battleground Tracker polled likely voters in Nevada, Utah, and a sample of 13 battleground states
With less than a month to go before Election Day, Democrat Hillary Clinton has expanded her lead in Nevada and across a group of 13 competitive states that were polled as a group for the latest wave of the YouGov/CBS News 2016 Battleground Tracker. Meanwhile Republican Donald Trump is fending off a strong independent challenge in Utah, the nation's reddest state in 2012.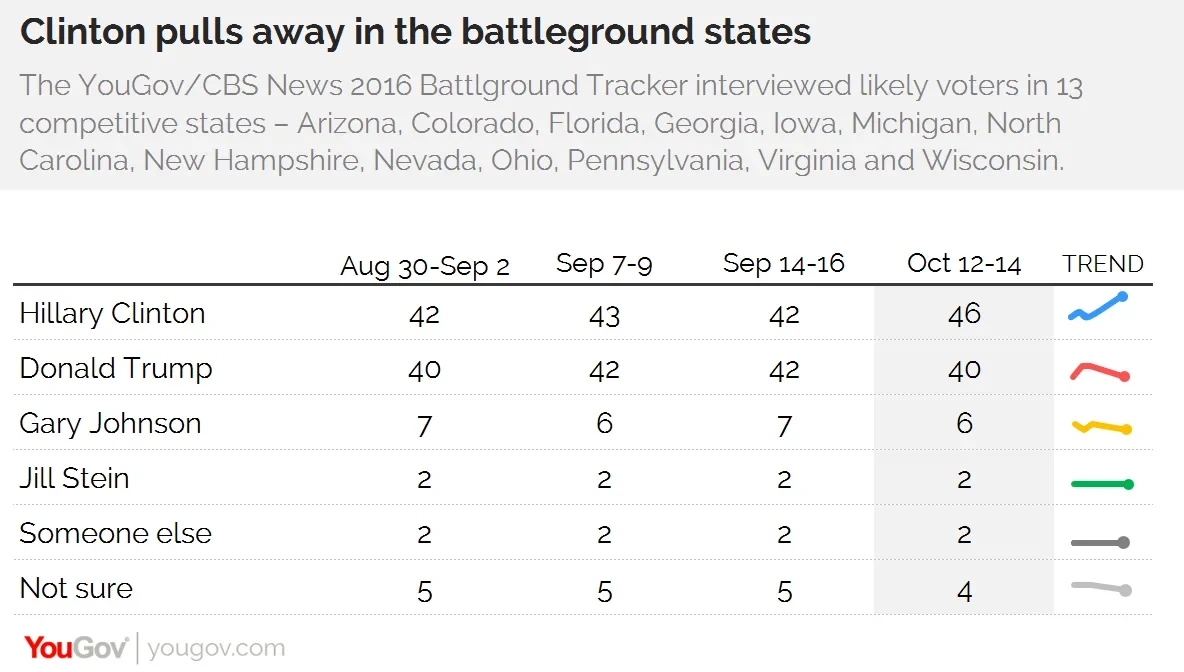 The sample includes respondents from 13 competitive states, including traditional battlegrounds like Ohio and Florida as well as states that have grown purple more recently, like Georgia and Arizona. Overall, Obama won the popular vote across these states by 50% to 48% in 2012, narrower than his 3.9-point lead nationwide. Currently, Clinton leads Trump with likely voters by 46% to 40% across the battlegrounds. Her six-point lead is a marked improvement from mid-September, when, soon after she was briefly taken off the campaign trail due to a bout of pneumonia, Donald Trump pulled into a 42%-42% tie with the Democrat. The key to Clinton's new lead is her gains among women. In September, she led by only five points among women. Now, she leads by 15.

In August, Nevada looked like it may be a challenge for Clinton, despite its Democratic lean in 2008 and 2012 (Barack Obama won the state both times). Then, Clinton led by only two points, 43% to 41%. Now, the Democrat has improved her standing with Hispanics and picked up support from undecideds, pushing her support to 46%, a six-point lead over Republican Donald Trump among likely voters. 70% of the state's Hispanic voters now back Clinton, while Trump wins only 26%. That margin, along with an even larger lead among African-Americans (91-4), helps Clinton counterbalance Trump's 12-point edge (48-36) among white voters.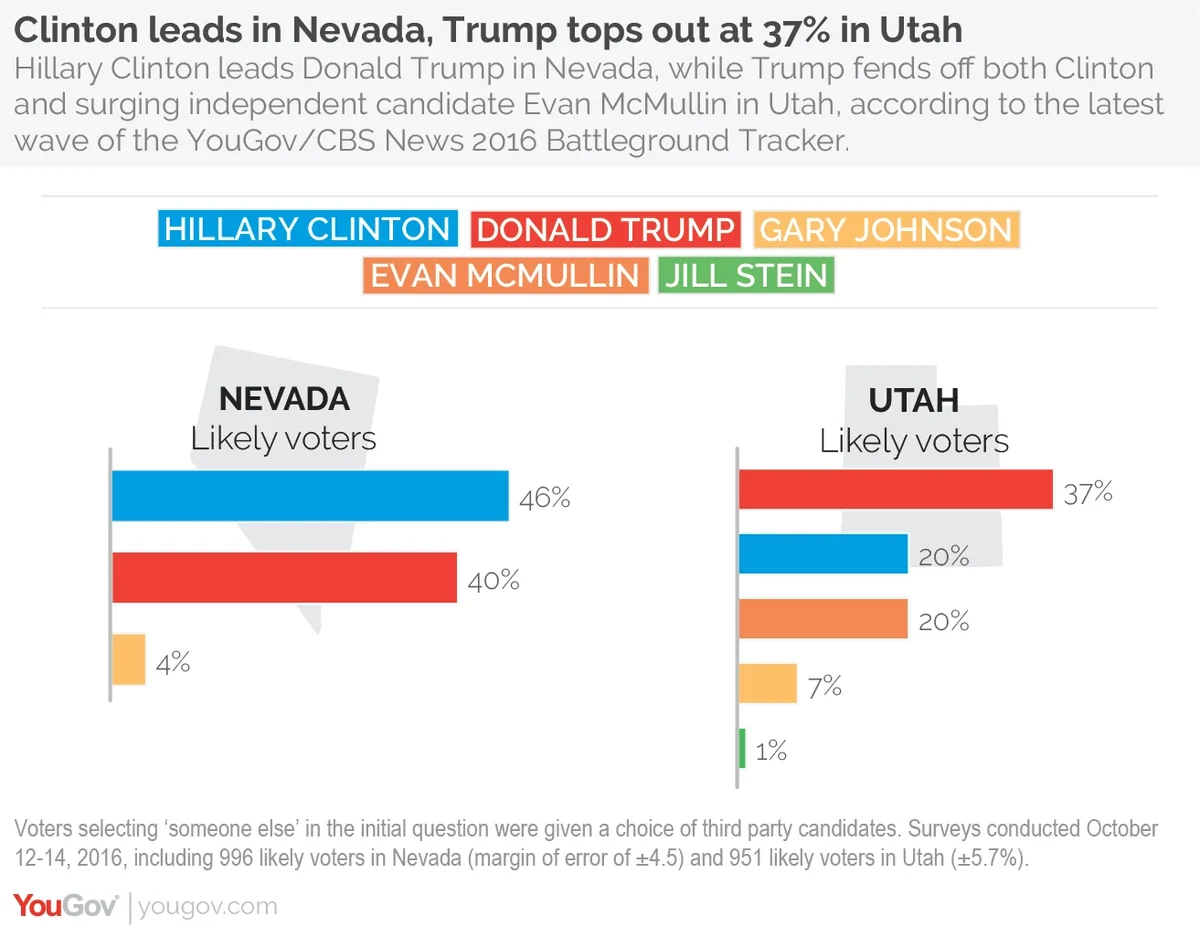 Among likely voters in Utah, Trump's support is 37% – barely half the support Mitt Romney earned in 2012. Romney, the first Mormon presidential nominee for a major US party, benefited from overwhelming support among the state's Mormons, who make up a majority of Utah voters.
This time around, Mormons are split: 37% back the Republican nominee, while 28% support independent candidate Evan McMullin, a 40-year-old former Republican staffer and ex-CIA officer, as well as a member of the Mormon church. Only 11% of Mormons back Hillary Clinton, while 7% support Gary Johnson. That support is enough to lift McMullin to 20% overall (only 4% of non-Mormons back him), matching Hillary Clinton and putting him ahead of Libertarian Gary Johnson.
Mormon leaders have been expressing concern about the Republican nominee, and it could be having an impact on the ground in Utah. 61% of Mormon voters in Utah say the endorsements of the LDS church matter at least some to their presidential vote, and 47% say the same about the endorsement Mitt Romney – who has been an outspoken Trump critic.
There is also a huge generational divide in Utah. McMullin's support among younger Mormons lifts him to 33% among voters under the age of 30, putting him in first place, six points ahead of Clinton. Among under-30s Donald Trump is actually in fourth place, receiving only 13% support and trailing two points behind Gary Johnson. However, voters over 65 years of age overwhelmingly back the Republican, giving him a 44-point lead over Clinton.
Senate race in Nevada
Nevada could also be one of the states to decide Senate control, with one of the few open seats where Democrats have been on defense.
Currently the race is tied, with Congressman Joe Heck, the Republican, and former state Attorney General Catherine Cortez Masto, the Democrat, each earning 39% support. In August, Heck edged Cortez Masto 38% to 35%. There are signs the vote could break further in Cortez Masto's favor if voters are unwilling to split their tickets: among undecideds in the Senate race Clinton leads 47% to 30%.
Heck has also recently come under fire from some members of his own party, after he withdrew his endorsement of Donald Trump following the release of the bombshell "Access Hollywood" tape. Indeed, only 12% of Nevada Republicans think party leaders who are opposing Donald Trump are doing it out of principle – 53% say they are doing it because they are afraid of losing votes. 73% of Republicans want the GOP to back their presidential nominee. Even so, Heck wins the support of 82% of Republicans, compared to 80% who back Trump and 73% of Democrats who back Cortez Masto.
Interviews were conducted October 12-14, 2016 for the CBS News 2016 Battleground Tracker. A detailed description of the methodology used to carry out the surveys can be found here.
See additional questions and demographic breakdowns for Utah, Nevada and the 13 battlegrounds.