The latest wave of the YouGov/CBS News 2016 Battleground Tracker polled likely voters in Arizona, Colorado, North Carolina and Pennsylvania. A separate group of voters across 13 competitive states were asked about the recent FBI announcement.
As the presidential campaign draws to a close, Democrat Hillary Clinton maintains narrow leads in two key battleground states, while Republican Donald Trump has the edge in a third, according to the latest wave of the YouGov/CBS News 2016 Battleground Tracker. Pennsylvania, however, may have moved out of reach for Trump with just over a week to go before election day.
All four of the states included in the Battleground Tracker this week have been polled before, and, overall, the picture is of a surprisingly stable presidential race. In North Carolina, Clinton leads Trump by three points, versus a four-point lead in early September. In Arizona, Trump leads by two points, just as he did in early August. Clinton's formidable eight-point lead in Pennsylvania is identical to her lead their two weeks ago, as well as the month before that. One possible exception is Colorado, where Clinton leads by three – a slight improvement from a one-point lead in late September and the same back in June.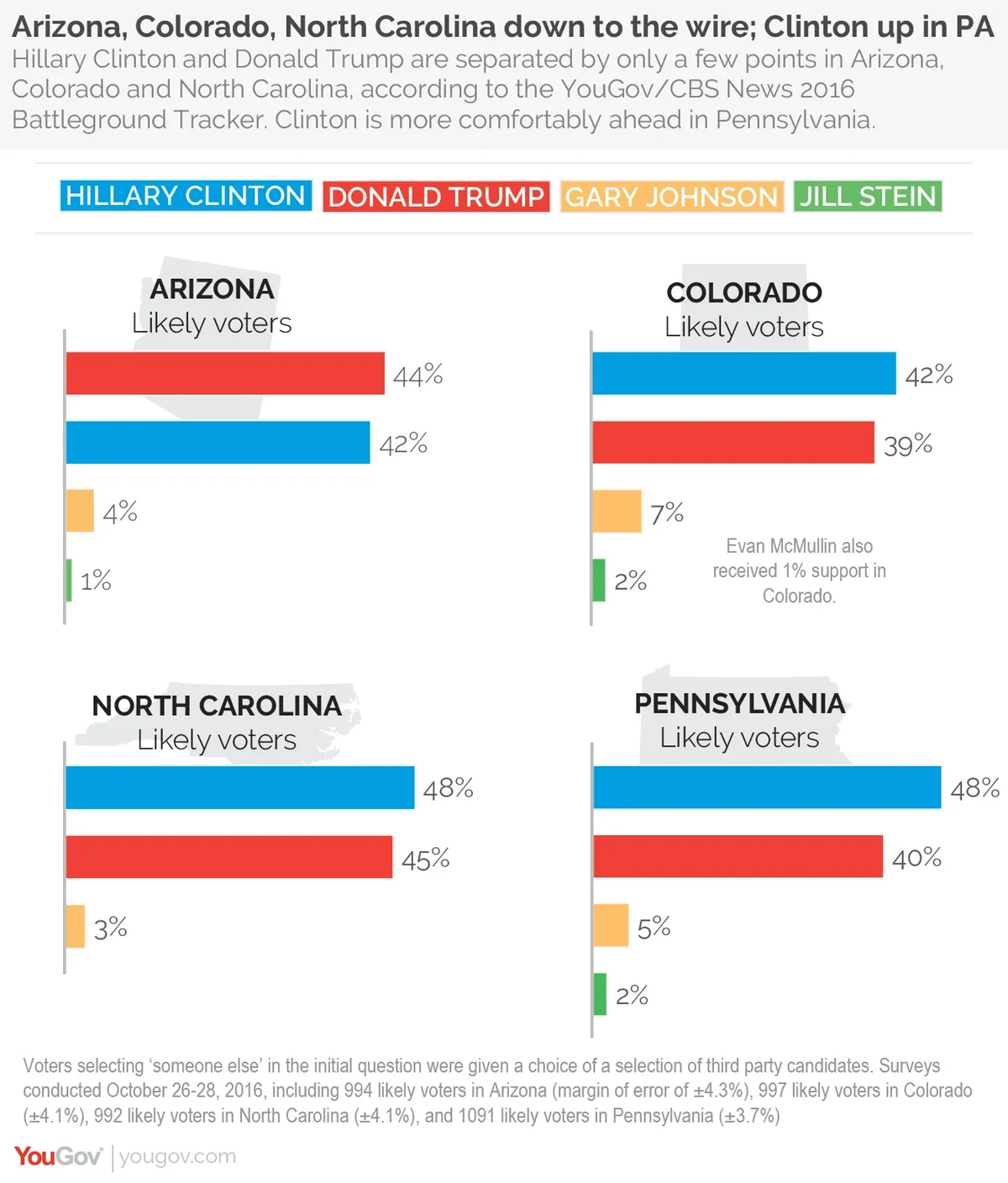 However, there are generally fewer undecideds than before as well as fewer minor party supporters. In Pennsylvania, for example, the share of likely voters either unsure who they will support or backing one of the third party candidates has fallen from 17% to 12%. In North Carolina, the number has fallen from 11% to 7%.
There remains a particularly large number of undecided and minor party supporters in Colorado, 18% overall, though this is down from 21% a month ago. Coloradans remain particularly attracted to Libertarian Gary Johnson, who garners 7% support, while 2% opt for Green Party candidate Jill Stein and 1% back Evan McMullin, an independent conservative candidate who is surging in neighboring Utah.
FBI announcement
One question that looms over this data is Friday's revelation that the FBI would be reviewing new emails that may be pertinent to the investigation of Hillary Clinton's private email use as Secretary of State. While the details are still emerging, the news resurfaced a controversy that has been damaging for Clinton in the past. In light of this, over Friday evening and Saturday morning YouGov recontacted likely voters from 13 competitive states who had previously been surveyed in mid-October, when 46% backed Clinton and 40% backed Trump.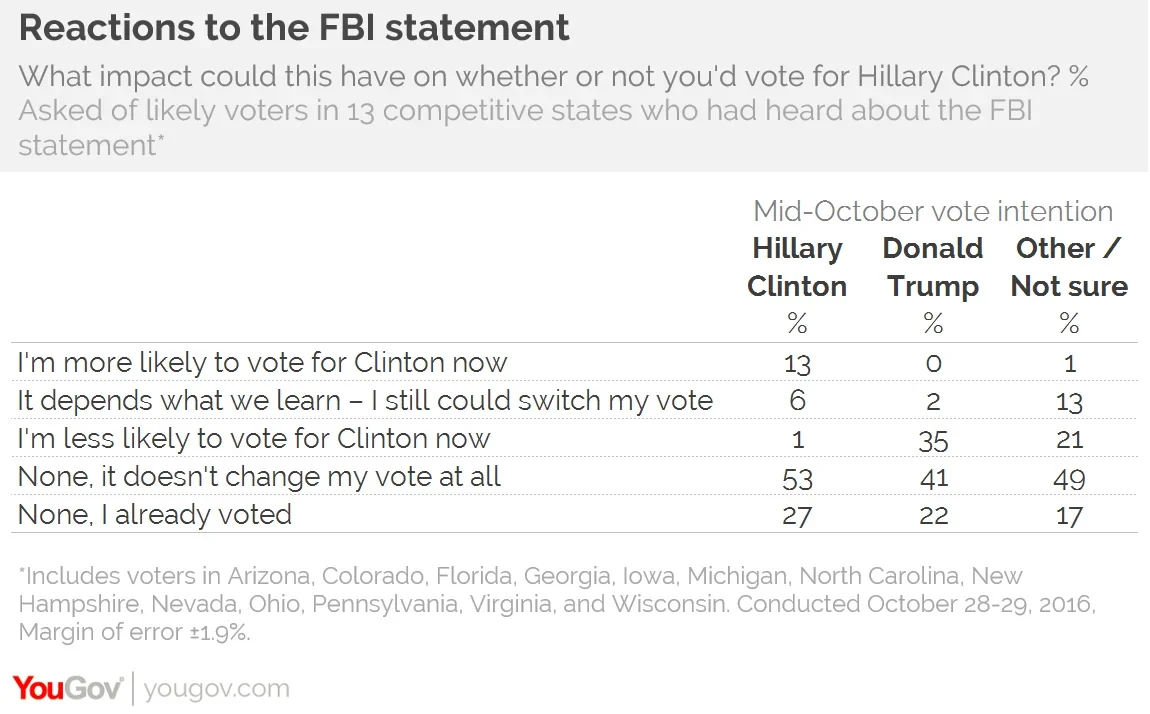 Roughly four in five (79%) of these voters had heard something about the controversy. So far, the impact of the news appears to be minimal: only 1% of those who said they intended to vote for Clinton two weeks ago now say the controversy has made them "less likely" to vote for Clinton. Another 6% say it "depends what we learn". Meanwhile most of these voters say the news won't affect their vote at all, and, importantly, 23% of voters overall – including 27% of those who said two weeks ago they would vote for Clinton – have already voted.

Early voting and vote by mail
Early voting and vote by mail are also important factors to consider when thinking about the polls Colorado, North Carolina and Arizona, all of which were conducted before the FBI news broke (Pennsylvania does not have no-excuse early voting).
In Arizona, 40% have already voted. Among those who have, the race is tied 46% to 46%. By election day in 2012, two-thirds of Arizonans had already voted.
North Carolina has fewer in-person early voting polling places than in 2012, which data suggests may be reducing early voting overall, but early voting and vote by mail remains common. There, the Battleground Tracker estimates 29% have already voted, and these voters tilt towards Clinton by 51% to 45%. It also seems likely that will grow: while 53% of Trump supporters in North Carolina who have not already voted plan to vote on election day, 66% of Clinton's remaining supporters plan to do so before that.
In Colorado, meanwhile, all registered voters automatically receive a mail-in ballot, and, according to the Battleground Tracker, 28% have already sent their completed ballots back. Of this group, 55% report voting for Clinton, with only 37% for Trump. Here, Johnson receives only 4% support and Stein 1%. It's unclear whether this indicates a lasting advantage for Clinton or whether it was only her most committed supporters who have sent in their ballots early.
Senate races
All of the four states polled for the Battleground Tracker are also holding elections for the U.S. Senate, and at least two of them – North Carolina and Pennsylvania – are among the competitive races that will likely decide which party controls the chamber. However, even in Arizona and Colorado the races are closer than might be expected, though there remain a significant number of undecideds.
Senator John McCain of Arizona, a Republican incumbent and former presidential nominee, is leading Rep. Democrat Ann Kirkpatrick by just 5 points, 43% to 38%, with 11% undecided and 8% voting for "someone else". Notably, almost all of these "someone else" voters are Donald Trump supporters, who may be frustrated with McCain since he withdrew his endorsement of Trump following the "Access Hollywood" tape revelations. Currently, only 67% of Trump voters and 74% of Republicans more generally express support for McCain.
In Colorado, the incumbent is a Democrat, Senator Michael Bennet. Sen. Bennet also holds a five point lead over his challenger, Republican Darryl Glenn. This may reflect the more conventional partisan divisions in the state: Bennet takes 89% of Clinton supporters, Glenn 83% of Trump supporters. Overall, 10% remain undecided.
Nevertheless, the two "competitive" races live up to the name.

North Carolina's race, between Sen. Richard Burr, the Republican incumbent, and Deborah Ross, the Democratic challenger, is neck-and-neck at 44% to 44%. Notably, among those who are undecided in the Senate race, Clinton leads by 48% to 27%. However, Ross has actually gained less ground than her opponent since September, when she numerically led Burr 41% to 40%.
In Pennsylvania, the Democrat has actually made up ground. Kathy McGinty now leads incumbent Republican Sen. Pat Toomey by a slim, three-point margin, 44% to 41%. In early October, the race was tied 42% to 42%. McGinty has benefited from Democratic voters coming off the sidelines, with 80% now backing her, up from 75%, as well as an increased lead among women voters. Yet undecided voters in Pennsylvania's Senate race are not obviously Democratic-leaning: they split 41% for Clinton and 40% for Trump when asked their presidential vote intentions.
Interviews were conducted October 26-29, 2016 for the CBS News 2016 Battleground Tracker. A detailed description of the methodology used to carry out the surveys can be found here.
See additional questions and demographic breakdowns for Arizona, Colorado, North Carolina, Pennsylvania, and the 13-state recontact survey.