Republicans and Democrats disagree significantly on whether Comey was right to send his letter to Congress, but there is consensus that federal officials are not trustworthy
One week away from election day and an already surprise-laden election has been rocked by an otherwise unassuming letter from FBI Director James Comey to Congress that recent discoveries from an unrelated investigation into Anthony Weiner may prompt the FBI to re-open the investigation into Hillary Clinton's e-mails. Weiner, who is currently being investigated for sexting with an underage girl in North Carolina, is currently in the process of being divorced by Huma Abedin, one of Hillary Clinton's closest aides.
YouGov's latest research shows that America is nearly evenly divided on whether FBI Director James Comey was right to inform Congress. 42% say he was right to do so, but 40% say he was wrong. Unsurprisingly two-thirds of Democrats say that he was wrong, while 82% of Republicans say he was right.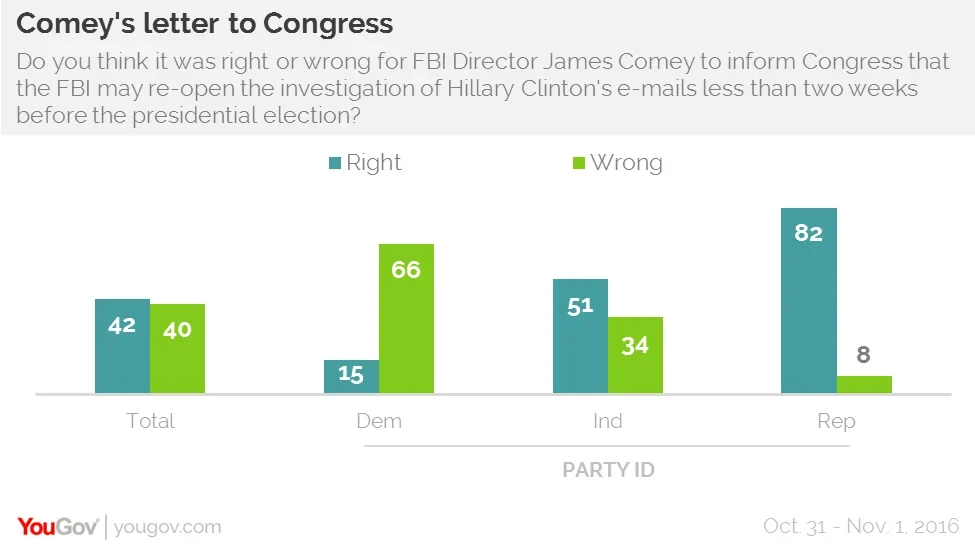 One rare area of consensus across party lines in this unusually bitter election concerns the general trustworthiness of federal officials. Most Americans (56%) say that federal officials cannot be trusted to act in a political neutral way, with 51% of Democrats and 59% of Republicans agreeing.