Even most Republicans are against the children of Donald Trump serving in the administration at the same time as running his business
Traditionally, incoming presidents place their private wealth under the control of a 'blind trust', meaning that someone else invests their wealth into companies and assets which the president does not know about. President-elect Trump has broken with precedent, and instead is giving up control to his children, who are also set to be involved in his administration. The involvement of the Trump children in his administration, at the same time that they run his company, has raised questions of potential conflicts of interest.
YouGov's latest research shows that only 17% of Americans are happy with the idea of Donald Trump's children serving as advisors and running his business. 30% say they should pick between the two roles, while 36% say they should have nothing to do with government at all. Democrats are, unsurprisingly, most hostile to the Trump children's involvement, but even Republicans have concerns. 31% of Republicans are OK with the planned arrangement, where his children have two roles, but 39% think his children should pick between business and politics. Only 18% of Republicans feel his children should not be involved in government at all.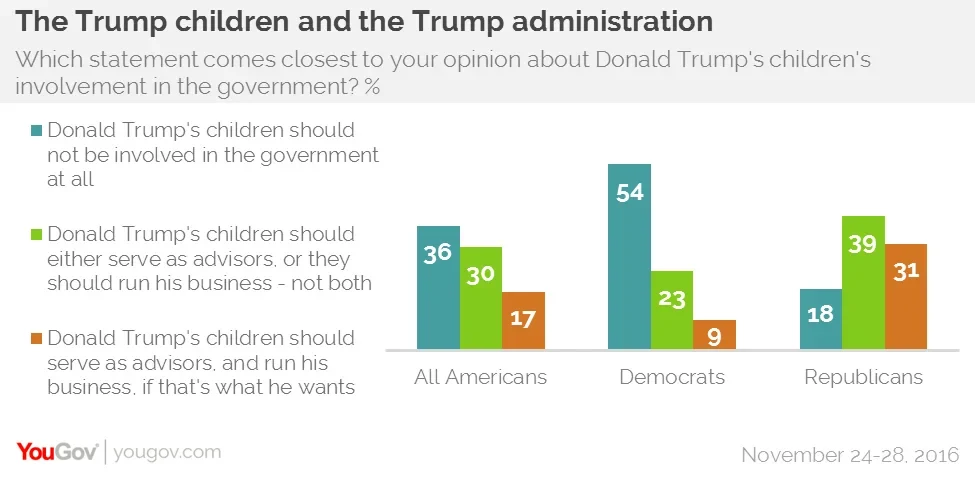 Most Americans (55%) are OK with Donald Trump's children running his business instead of him using the traditional blind trust. Only 27% of Americans disapprove, and even among Democrats disapproval (50%) of his planned arrangement does not hugely outweigh approval (35%).
Nevertheless, most Americans (54%) also think it is likely that Donald Trump will use his position as president to enrich himself. This is true of most Democrats (76%) and independents (52%) and just under one-third of Republicans (30%).