Attitudes are generally the same towards Cuba after Castro's death, except among Republicans who are now more supportive of diplomatic relations with Havana
The death of Cuba leader Fidel Castro hasn't yet brought change to American opinion about that island nation, according to the latest Economist/YouGov Poll. But even before Castro's death, the public seemed ready to move ahead to normalize relations with Cuba. But the death of Castro may have moved some Republicans, who were opposed to normalization beforehand, to favor change.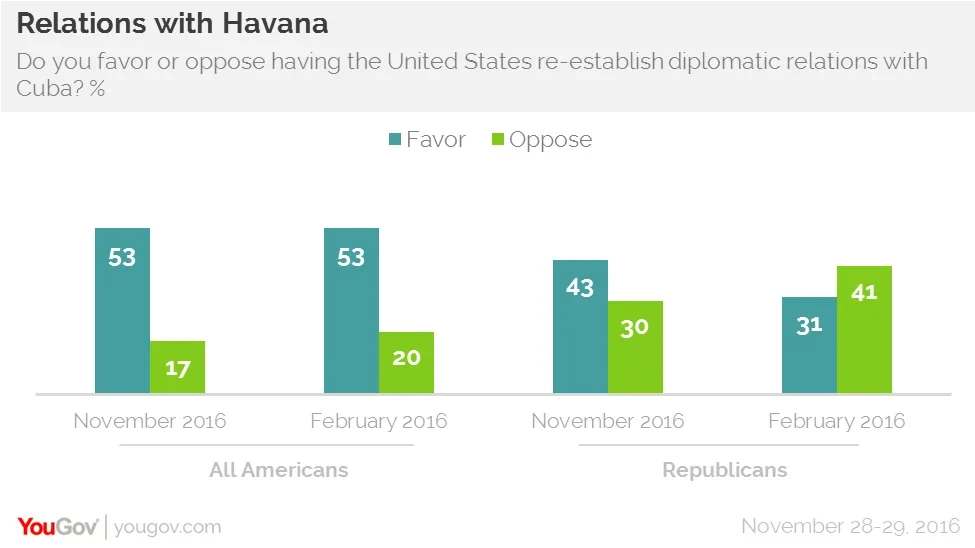 A majority of Americans supported re-establishing normal relations with Cuba in February, and support, then and now, extended to nearly all groups, except Republicans. But Republicans now favor normalization by a 13 point margin (43% in favor, 30% opposed). Nine months ago, 41% of Republicans were opposed, and just 31% supported the move.
Donald Trump has suggested he might reverse some of the policies toward Cuba adopted by the Obama Administration. But for the most part, even his supporters are in favor of normalization, though narrowly. By 40% to 31%, those who voted for Trump in the presidential election favor the re-establishment of diplomatic relations. And by 42% to 34% Trump voters favor an end to the U.S. embargo. That's a position supported by the public overall by more than three to one.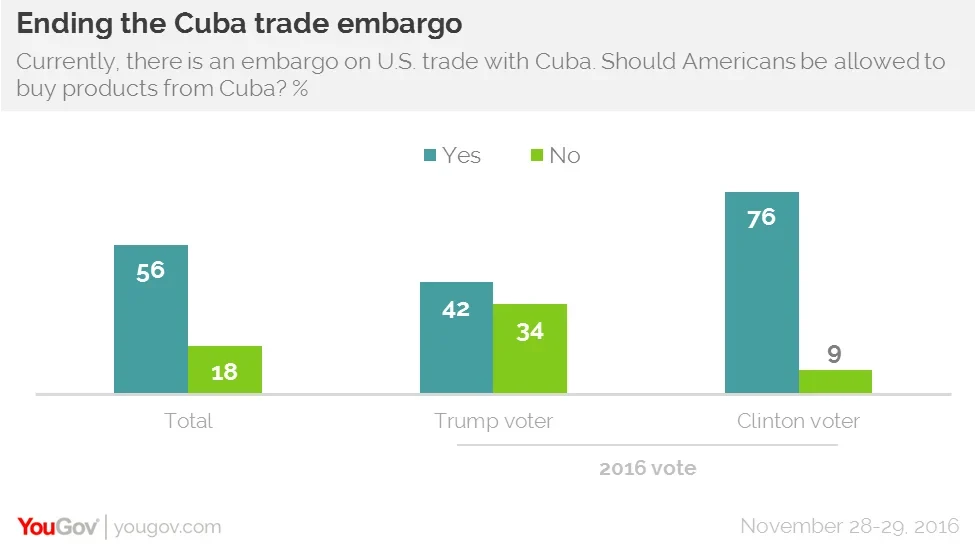 Americans believe that Cubans are open to the United States. Although more describe Cuba as unfriendly to the U.S. than think it's a friendly country, only 12% would call it an enemy (Trump supporters are less positive: 24% of them say Cuba is an enemy of the United States). But views of the Cuban people are much more positive, especially among Trump supporters. While 44% of the public believes Cuban people have favorable images of the United States, more than half of Trump supporters believe that is the case.