Americans tend to back Trump's Carrier deal, and optimism about employment prospects has brightened considerably
President-elect Donald Trump made two distinctive moves last week: negotiating a deal that saved 800 jobs at the Indiana Carrier plant, and breaking with more than 35 years of diplomatic tradition by accepting a call from the President of Taiwan. According to the latest Economist/YouGov Poll, the first gets positive marks from the American people, with many supporting tax breaks for businesses to keep jobs in the U.S. as well as threats of high tariffs for businesses who take jobs out of the United States. But the second raises concerns from many of Trump's own supporters who would prefer improving relations with China or keeping a low profile, rather than openly siding with Taiwan.
Expectations for the coming Trump Presidency continue to be mixed, as he has had a difficult time consolidating support, as other Presidents-elect have been able to do. As many people are pessimistic as optimistic about the next four years. And some of the concerns expressed throughout the campaign continue to be expressed. Nearly half in this week's poll say Trump lacks the temperament for the job, and think he is not qualified at all, not much different from what the public was saying during the campaign. 47% dislike him as a person. More than half don't expect that he will be able to keep his promises, and half don't think he even will try.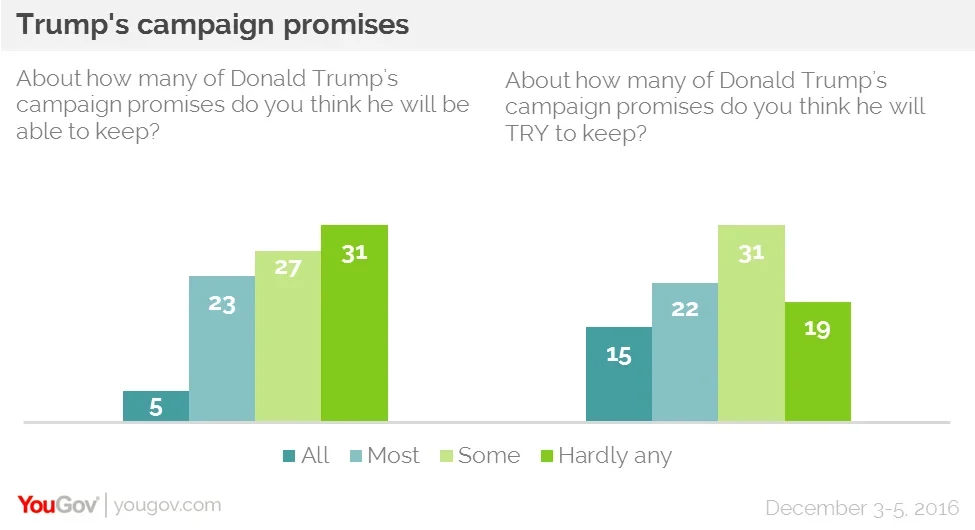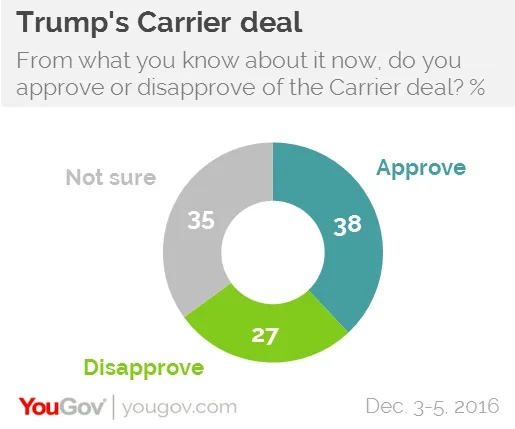 But support for President-elect Donald Trump's actions in the Carrier case – and the use of tax breaks and threats of tariff hikes -- are supported by the public, though many people are not quite sure what to think. In fact, more than one in four say they have heard nothing at all about the deal. But among those with an opinion of the arrangement with Carrier, more approve than disapprove. By two to one, Americans approve the use of special tax breaks to convince companies to keep jobs in the U.S. And by an even greater margin they approve of imposing stiff tariffs or taxes on companies that relocate Americans' jobs to other countries.
Opinions about the deal are heavily influenced by partisanship. Those who voted for Trump overwhelmingly approve, but Clinton supporters don't. But while Clinton voters narrowly oppose tax breaks for companies, they also favor high tariffs and taxes on companies that relocate jobs to other countries. By nearly three to one, Americans agree that this arrangement could lead to other companies trying to negotiate tax breaks with other state and lo9cal governments. There is concern that other companies might try to use the threat of shifting jobs overseas to get tax breaks from state governments, like Carrier's Indiana tax break.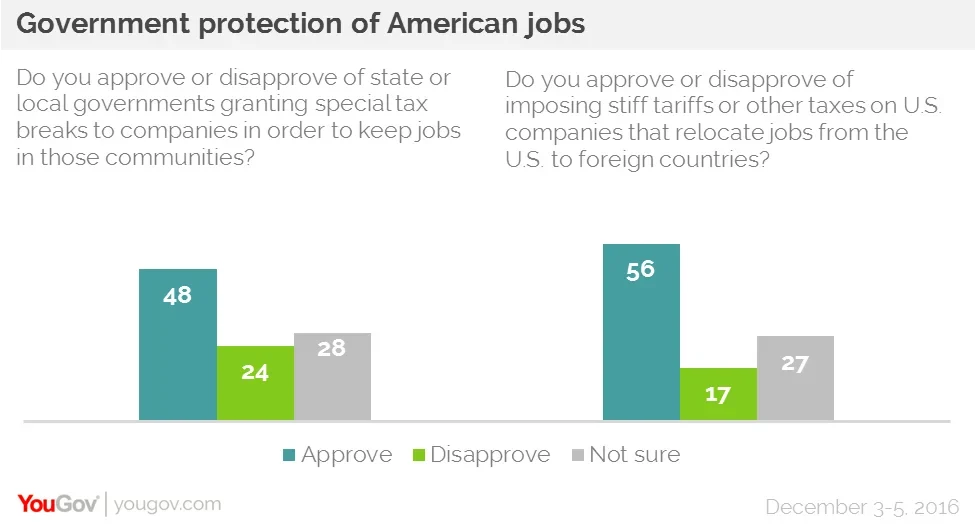 But support for this particular deal, and the continued positive economic news (with the unemployment rate at its lowest since 2007), has yet to change the public's economic concerns all that much: in the latest Economist/YouGov Poll, Americans are as likely to say the economy is getting worse as to think it is getting better, and just 29% say there will be more jobs six months from now as there as today.
A majority of those who think there will be more jobs voted for Donald Trump. Over the last eight years, there has been a large decline in the percentage that see fewer jobs six months from now than there are today. Then, half expected jobs to be disappearing. Today, just 19% think that. But the overall percentage expecting job increases is not much different than it has been several times in the last year.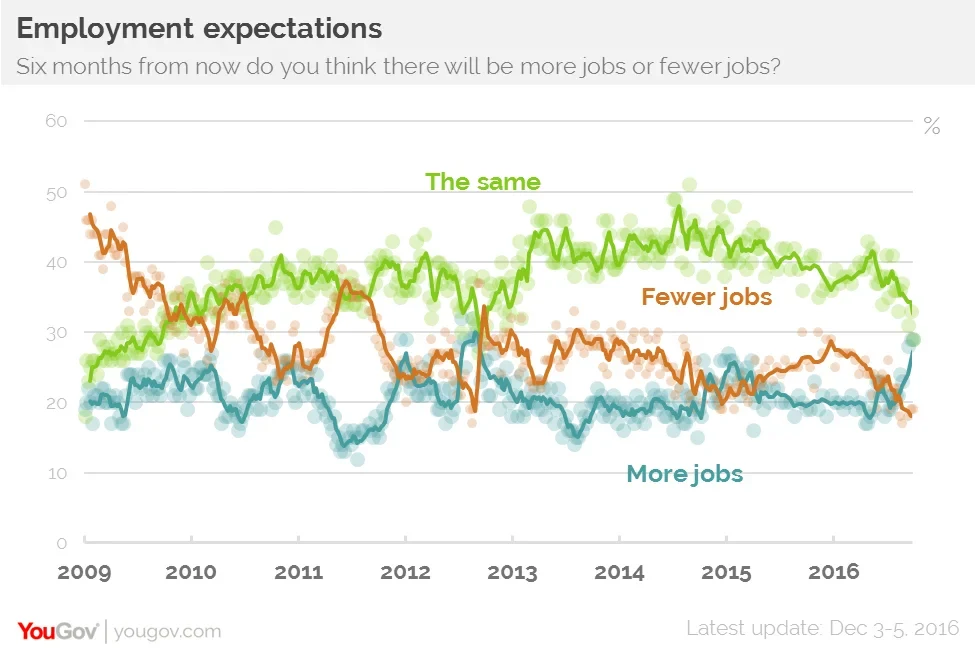 As for Mr. Trump's conversation with Taiwan's President Tsai, a break with more than 35 years of U.S. diplomacy, Americans continue to prioritize good relations with the mainland over normalizing relations with Taiwan. While Trump voters are somewhat more interested in having the U.S. tale a strong stand so that China does not attempt to take over Taiwan by force, a plurality support the continuation of the One China policy, and less than a third would be willing to support Taiwan if it hurts U.S. relations with the mainland. Among the public overall, that path is favored by fewer than one in five.