Unlike last year, African-Americans are now more likely to say the Academy does a good job of nominating people and films than a bad job
After two years of #OscarsSoWhite, this year the Academy of Motion Picture Arts and Sciences has given seven of its 20 acting nominations to people of color.
The results of the latest Economist/YouGov Poll underscore this change: black actors and their films are among the public's favorites, and there has been a turnaround in how African-Americans view the job the Academy does in choosing Oscar nominees.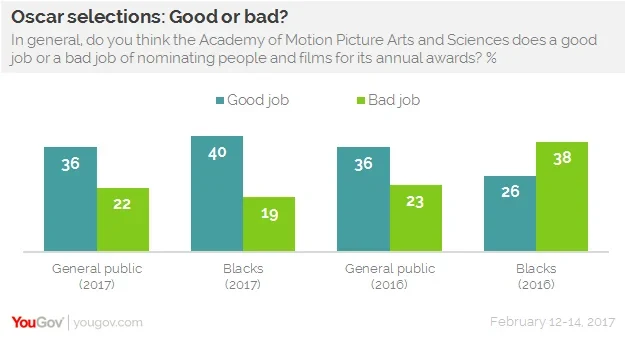 African-Americans are more attentive to the Oscars. 27% follow the awards closely — nearly twice as many as the 15% of whites who say this. They are also more likely than whites to have seen at least one of this year's nominees.
In the last three years, the public has become less interested in the Oscars. This year, more than half the public (54%) say they don't follow the Academy Awards at all. In 2014, 44% said this. There was an uptick in interest in 2015, but the trend line has continued downward since then.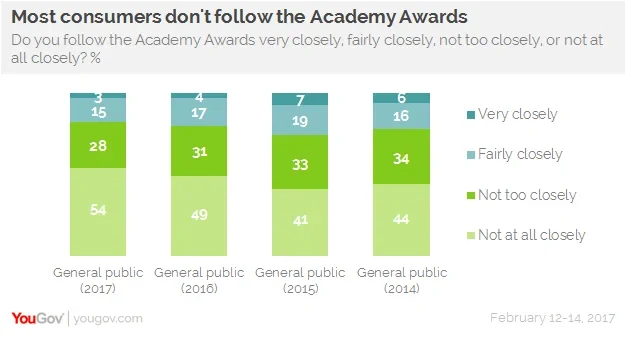 So who should win? Often, the public leans toward the most well-known nominees. In 2015, American Sniper and Bradley Cooper were the public's favorites, but neither the film nor the actor took home the statuette, losing to Birdman and Eddie Redmayne in A Theory of Everything.
This year, the two most-viewed films, according to self-reports by the poll's respondents, were Hidden Figures and Fences. La La Land, Hacksaw Ridge, and Arrival also scored high. Hidden Figures edges out La La Land and Hacksaw Ridge as the public's Oscar choice.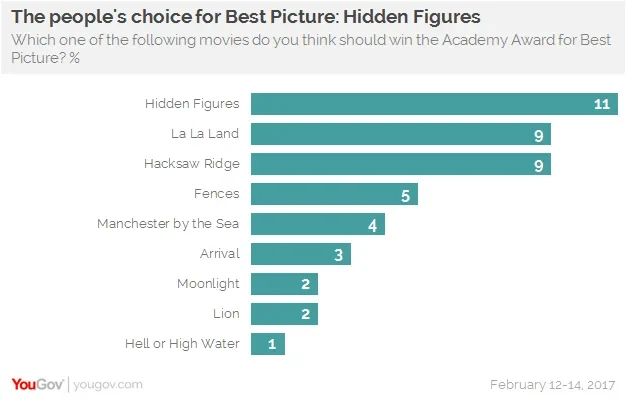 Hidden Figures, about African-American women "computers" in the 1960's space program, is boosted by its position as the clear favorite of African-Americans: nearly one in three blacks say it should win Best Picture. Whites are more evenly divided: 12% choose Hacksaw Ridge, while 8% name Hidden Figures. Fences, the story of a black family in 1950s Pittsburgh, takes second place among African-American respondents. A majority of white respondents, in keeping with their reported lack of interest in the Oscars, have no Oscar favorite.
As for the acting awards, Americans continue to respond to the people they know best: Denzel Washington is the clear favorite for Best Actor for his role in Fences, while Emma Stone is the Best Actress frontrunner for La La Land. Both whites and blacks favor Washington, who already owns two Oscars. Meryl Streep and Ruth Negga run close to Stone with African-Americans.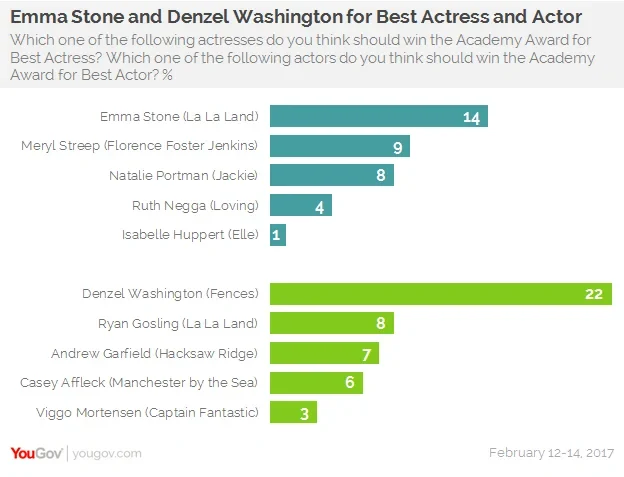 Jeff Bridges is the most well-known actor in the contest for Best Supporting Actor, and he is the most popular among the public, even though a majority have never heard of Hell or High Water, the film for which he was nominated. African-Americans choose Mahershala Ali from Moonlight. This category has the largest number of respondents with no preference.
Three women score well in the Best Supporting Actress category: Octavia Spencer, who has an Oscar for The Help, edges out Viola Davis (Fences) and Nicole Kidman (Lion). African-Americans are evenly divided between Spencer and Davis.
In keeping with the public's preference that awards go to people they know, Mel Gibson (Hacksaw Ridge) is the clear frontrunner for Best Director: 19% choose him — more than twice as much as any other Best Director nominee.
See the rest of this week's YouGov/Economist Poll