He is – at least in the latest Economist/YouGov Poll, conducted over the weekend of the joint "Rally to Preserve Sanity and/or Fear", hosted by Jon Stewart and his Comedy Central colleague, Stephen Colbert. Given a list of television commentators, Stewart emerged with the best favorable/unfavorable ratings: 47% of Americans held a favorable view of him, 27% were unfavorable. He edged out Colbert, who received a favorable rating from 44%, and an unfavorable one from 27%.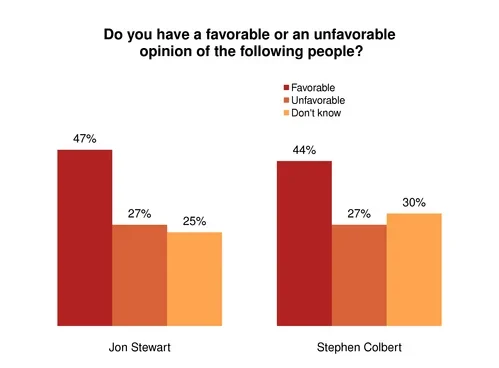 Two conservative commentators, Glenn Beck and Bill O'Reilly had mixed ratings, as did two liberal commentators, Keith Olbermann and Rachel Maddow. A third conservative, Rush Limbaugh, was viewed unfavorably by 51%. However, more than half of Republicans had favorable views of Limbaugh, Beck and O'Reilly.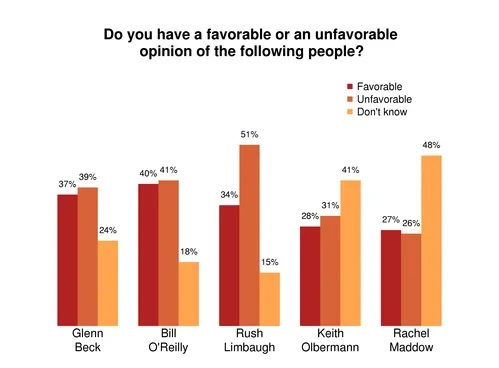 Stewart received favorable ratings above 50% from Democrats AND independents, and from liberals AND moderates. All of these except independents also gave Colbert ratings above 50%. Only among Republicans and conservatives were majorities unfavorable towards Stewart.
Stewart and Colbert also scored high with those under 30, people with at least some college education, and those on the two coasts (the Northeast and the West).
Do you have a favorable or unfavorable opinion of the following individuals?
Jon Stewart
Stephen Colbert

Democrats

64%

10%

55%

13%

Republicans

27%

51%

27%

44%

Independents

55%

25%

48%

27%

Liberals

82%

6%

55%

13%

Moderates

58%

19%

52%

20%

Conservatives

26%

53%

24%

48%

18-29

55%

20%

60%

15%

30-64

46%

29%

39%

30%

65+

40%

28%

32%

31%

Total

47%

27%

43%

26%
But is Stewart really the most trusted person in America? His favorable/unfavorable ratings exceed those that have been measured in recent Economist/YouGov Polls for a host of politicians and rival those of President Barack Obama. Earlier this October, President Obama received a 48% favorable rating from Americans in the Economist/YouGov Poll, but 47% were unfavorable. And the President's ratings were much better than those Americans gave other politicians, with two exceptions. In that poll, former President Bill Clinton and Secretary of State Hillary Clinton both had higher favorable ratings above those given to Stewart and Colbert; however, they also received more unfavorable ratings than the two Comedy Central stars.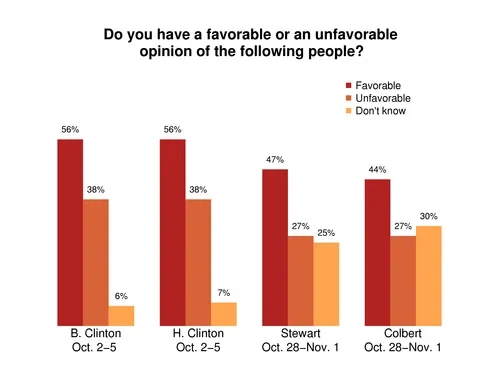 So maybe Stewart really is the most trusted man in America!
Image source: Flickr (Cliff1066)