New data from YouGov's TweetIndex reveals how Americans feel about each message Donald Trump posts on Twitter
If you're familiar with President Donald Trump, you're probably familiar with his official Twitter account: @realDonaldTrump. Indeed, hardly a day goes by without news breaking over something he said through a tweet — whether it pertains to the health of the economy or the size of a crowd.
While each Trump tweet routinely generates thousands of replies, retweets, and likes, it's not possible to parse how the public really feels about each 140-character message. Retweets, after all, don't always equal endorsements, and there's no dislike button.
Introducing TweetIndex:
Soon after Donald Trump's inauguration as the 45th President of the United States, YouGov began tracking the popularity of each Trump tweet with a tool called TweetIndex, which works as follows: Each day, YouGov's TweetIndex asks a nationally representative sample of 1,000 US adults to rate Trump's tweets on a five-point scale from "Terrible" to "Bad" to "OK" to "Good" to "Great." The tool then compiles the results into a final score that ranges from -200 (if everyone rated the tweet as "Terrible") to 200 (if everyone rated the tweet as "Great").
For example, on March 8, 2017, President Trump tweeted the following:
The tweet garnered over 20,000 retweets and more than 120,000 likes. On the surface, that's a pretty successful tweet.
According to data from TweetIndex, however, not everyone was so impressed. Perhaps because Trump's message came out on International Women's Day, and Trump himself has a questionable history with women, 47% of Democrats rated the tweet as either "Terrible" or Bad," compared to 21% who deemed it either "Good" or "Great." The tweet's overall score among Democrats came to -50.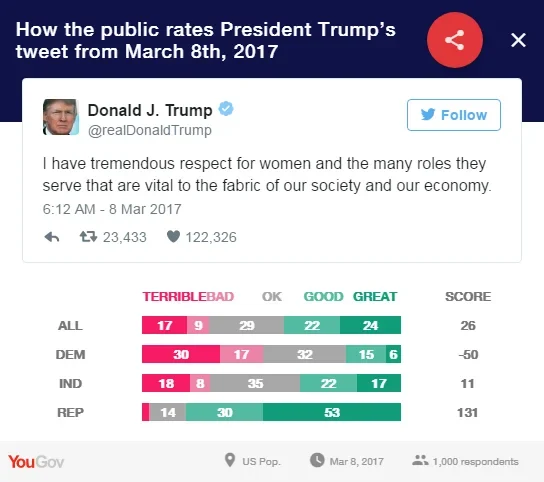 That said, US adults generally reacted more positively to the statement than negatively, giving it a final score of 26. The majority of Republicans, meanwhile, rated the tweet as "Great," resulting in a total tally of 131.
The Trump tweets Democrats like most:
Although Democrats certainly disagree with much of what Trump says and does, they don't necessarily frown upon each of his tweets by default.
Since TweetIndex began tracking Trump's Twitter account in early February, the two most popular tweets among Democrats happen to begin with the word "Happy" and end with an exclamation point. The first occurred on March 25, with a message that states, "Happy #MedalOfHonorDay to our heroes!" Democrats gave the tweet, which includes a photo of Trump surrounded by Medal of Honor recipients in the Oval Office, an overall positive score of 15.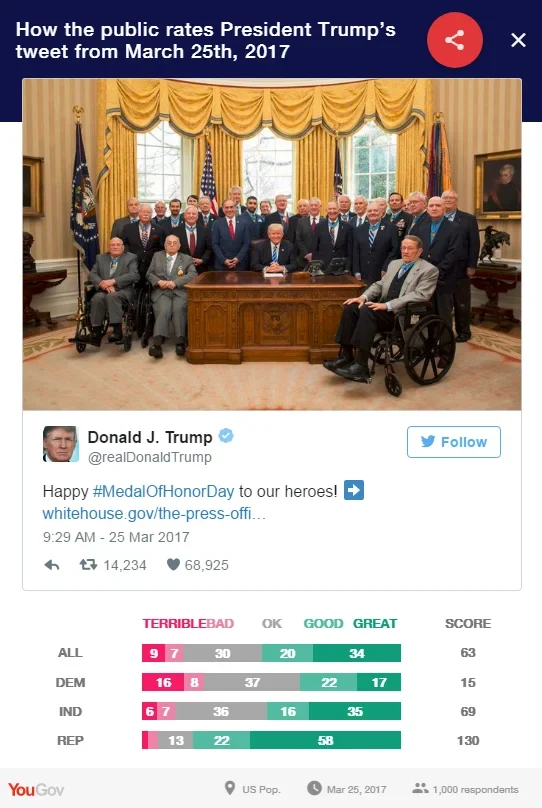 Another Trump tweet that also scored a 15 among Democrats simply proclaims, "Happy Easter to everyone!" It is, after all, a sentiment that's hard to get upset about.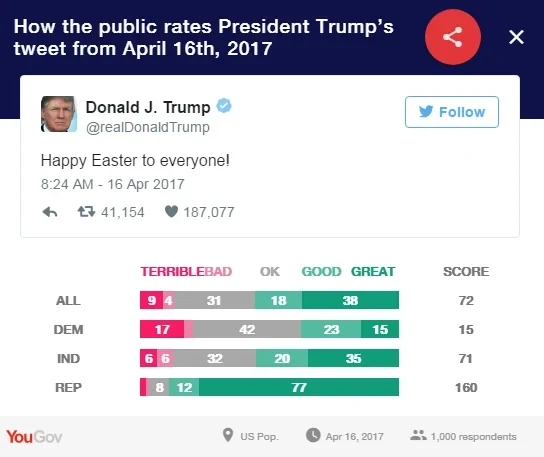 The Trump tweets Republicans like least:
At the same time, Republicans don't automatically love everything that appears on @realDonaldTrump, either.
In early March, for example, when Trump declared that Arnold Schwarzenegger was fired from NBC's The Apprentice for his "bad (pathetic) ratings," GOP members were clearly divided: 23% reacted negatively, 27% reacted positively, and 50% deemed the tweet a neutral "OK," resulting in a score of 4. Overall, the public gave it a -69.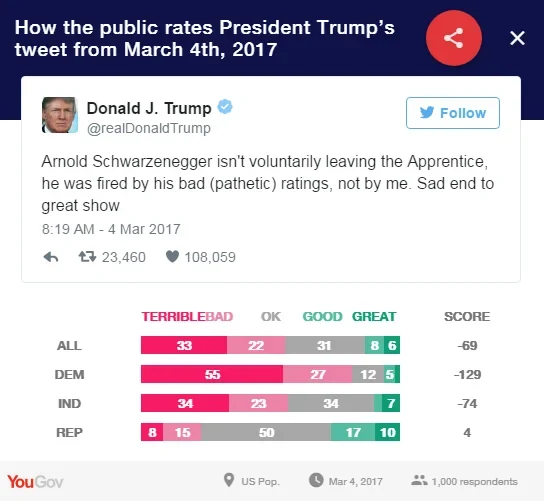 President Trump's lowest-rated tweet among Republicans, however, occurred when he attacked business mogul and fellow reality TV star Mark Cuban in mid-February. "He's not smart enough to run for president!" the tweet concluded. Republicans gave this a -18, with more calling it "Terrible" or "Bad" than "Good" or "Great."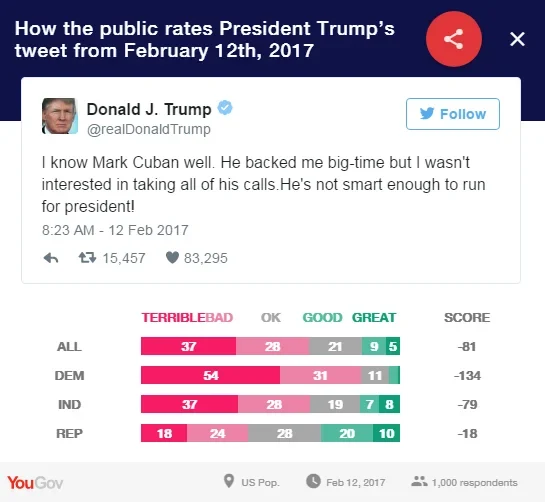 Overall, data from a recent Economist/YouGov Poll shows that 57% of Americans think the way Donald Trump uses Twitter is inappropriate for the President, while 25% consider it appropriate.