As they contemplate the 2012 election, most Republicans can find someone to support: only 10% in the latest Economist/YouGov Poll are undecided. But there is no consensus on a frontrunner.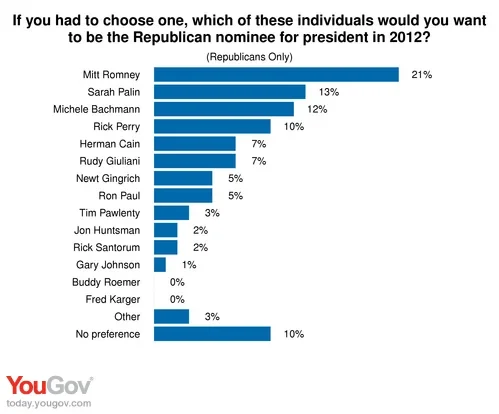 Former Massachusetts Governor Mitt Romney, an announced candidate, leads the field of Republican contenders, followed by former Alaska Governor Sarah Palin, as yet unannounced. Congresswoman Michele Bachmann of Minnesota, another not-yet-announced candidate, is third. Former Speaker of the House Newt Gingrich, whose campaign has hit some difficulties, is far back.

Nearly half the Republicans in this poll identify themselves as part of the Tea Party movement. Their preferences are different from those Republicans who do not. According to this poll, Michele Bachmann has become the favored candidate among followers of the Tea Party movement. Mitt Romney, who is the solid front-runner among non-Tea Party Republicans, is just the fifth most popular candidate among Tea Party followers. Sarah Palin still has strong support among all Republicans. She is the second choice candidate among Republicans who identify with the Tea Party movement as well as those who do not. 
If you had to choose one, which of these individuals would you want to be the Republican nominee for president in 2012?
Republicans

Sarah Palin

13%

12%

Mitt Romney

11%

30%

Newt Gingrich

4%

5%

Tim Pawlenty

5%

1%

Michele Bachmann

18%

7%

Jon Huntsman

0%

4%

Ron Paul

6%

3%

Rudy Giuliani

6%

8%

Herman Cain

13%

2%

Rick Santorum

2%

2%

Rick Perry

13%

7%

Gary Johnson

1%

0%

Fred Karger

0%

0%

Buddy Roemer

0%

0%

Other

3%

2%

No preference

3%

15%
When registered voters are asked in general terms whether they will support the Democratic or Republican candidate for president in 2012, the race seems fairly close. The Democratic candidate leads the Republican candidate, 43% to 39%. The Democratic lead widens when voters are asked about specific candidates. Democrat Barack Obama leads in two hypothetical match-ups with potential Republican challengers in 2012 — Michele Bachmann and former Utah Governor Jon Huntsman. This poll, conducted immediately before Jon Huntsman officially declared his candidacy, shows him trailing Barack Obama by ten points among registered voters. Michele Bachmann trails the President by eight points. In each case, at least 15% remain undecided. 
Full datasets for Economist/YouGov polls can be found here.
Photo source: Press Association