43% of all Republicans strongly approve the way Donald Trump is handling his job
Are all Republicans sticking with Trump?
Well, most are. In the latest Economist/YouGov Poll more than eight in ten Republicans approve of the way the President is handling his job (his overall approval rating is less than half that percentage). But there has been a decrease in intensity, not just in how strongly Republicans approve of his job performance, but on a number of other measures as well.
The erosion of strong approval among Republicans has been noted before in Economist/YouGov Polls. The percentage of Republicans who strongly approve of the President's performance is now consistently under 50%, down from well over half at the start of his Presidency. Clearly Republicans want to say good things about their party's President, but the strength of their expressions of support has slipped on this, on other judgments about the President and his performance, and on several measures of their expectations for what this Presidency can accomplish.
The share of GOP party identifiers that believe the United States will be more respected in the world four years from now than it is today has dropped from nearly two in three at the start of the Trump Administration to just about half today. That is still double the national total, but not quite the resounding positive it was before.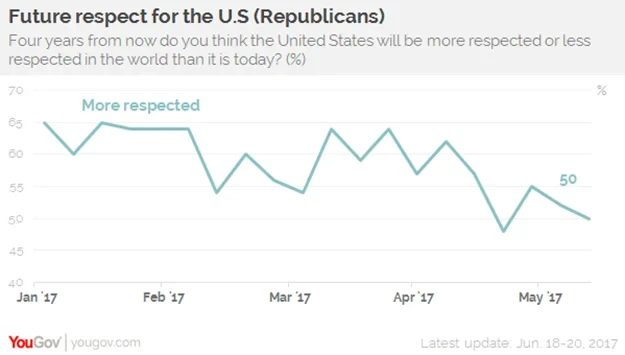 Some of that may be due to changes in the world and not necessarily changes in opinion about the President. Terrorist attacks in Western Europe in the last few months have been unsettling to many. Since mid-May half or fewer Republicans have said they think the country will be safer from terrorism in four years than it is today. At the start of the Administration in January more than two-thirds of Republicans believed this. And for the first time last week, the share of Republicans strongly approving of the President's handling of terrorism slipped below 50%, a drop of 16 points from the start of his Administration.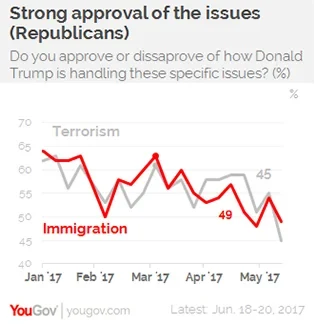 One of the larger shifts has come in the way Republicans evaluate the President's management of one of his signature issues, immigration. Strong approval on that issue is down from nearly two-thirds in January to just about half today. But more than three in four still approve (strongly or somewhat), down only a few points from what it was before.
There is also some evidence of softening in Republican views on some critical characteristics. Nearly all Republicans thought of the President as a strong leader at the start of his administration; now 84% do. Although the percentage has dropped, it is still a strong endorsement. But again, the strength of that positive assessment has shrunk -- from two-thirds in January to half now – twenty weeks later -- viewing President Trump as a "very strong" leader.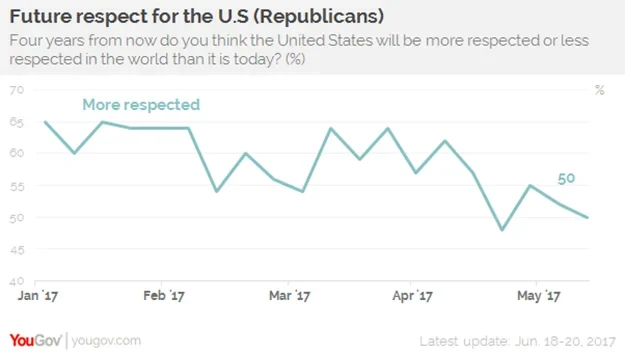 There was a small rise last week in GOP views of the President as a strong leader. But this week, the percentage dropped back. It also fell very briefly in early March during a time of wiretap claims and the second travel ban executive order.
There are smaller drops in the share of Republicans saying the President cares a great deal about them personally and those that see him as honest and trustworthy. But large majorities of Republicans still see him positively on those characteristics.
Which Republicans are less likely to support the President? It's clearly the case that President Trump does best with those who supported him all along – not just in the general election, as nearly all Republicans did, but in the primaries as well. In the latest Economist/YouGov Poll 59% of those who say they supported the President during the primaries strongly approve of the way he is handling his job, compared with 43% of all Republicans. Some of those Republicans did not participate in the 2016 primaries or caucuses. Among those Republicans who did not support Trump during the nominating process, supporting someone else or not participating, only a third give him strong approval now. One in four in this group actually disapprove.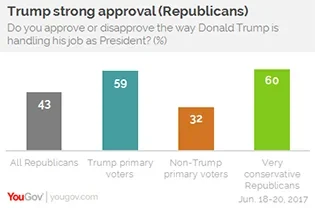 More than two-thirds of Republicans describe themselves as conservatives, and nearly a third say they are very conservative. During the primaries, the most conservative Republicans voters often supported more conservative alternatives, like Texas Senator Ted Cruz. But the most conservative Republicans are now the President's staunchest supporters, as they have been throughout his young Administration. In the latest poll, six in ten of those who say they are very conservative strongly approve of how the President is handling his job.
See the rest of this week's YouGov/Economist Poll