52% of U.S adults believe the Trump campaign had a responsibility to report the meeting with a Russian lawyer to the FBI
Continued revelations about a June 2016 meeting between Donald Trump's campaign officials and Russians promising damaging information about Democrat Hillary Clinton – a meeting attended by members of President Donald Trump's family – have made Americans suspicious of the behavior of those attending the meeting. Americans are also more concerned about the President's personal involvement.
Although in the next few days last year's meeting may be overshadowed by the failure of the GOP-controlled Senate to repeal Obamacare, right now it is a serious matter to the public. In the past week, the percentage in the Economist/YouGov Poll who think the President himself has done something illegal in his pre-Inaugural dealings with Russia has risen six points.
Those who say President Trump personally did something improper has jumped ten points.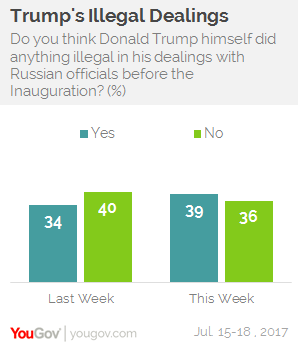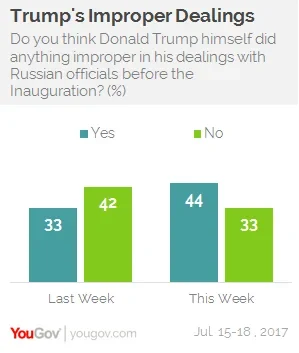 On both questions, a plurality now is critical of the President's actions.
Suspicion about the President's interactions with Russia before the Inauguration has increased among Democrats, independents and Republicans. Although the partisan pattern of GOP support and Democratic opposition continues, the percentage of Republicans believing the President may have done something improper in his personal dealing with Russian officials before the Inauguration has risen eight points in the last week, nine points among Democrats, and 12 points among independents. There were increases as well, although smaller ones, among the numbers thinking the President did something illegal.
On both questions, the percentages of Republicans thinking the President did something wrong rose from single digits to double digits, while the percentages of Democrats who thought he did not dropped from double to single digits. More independents this week think Mr. Trump did something improper than think he did not, while as many independents believe he did something illegal as believe he did not.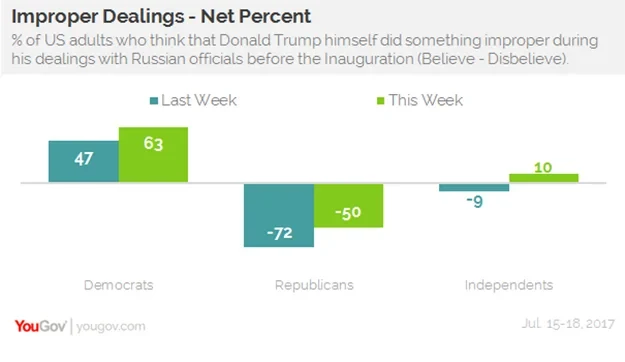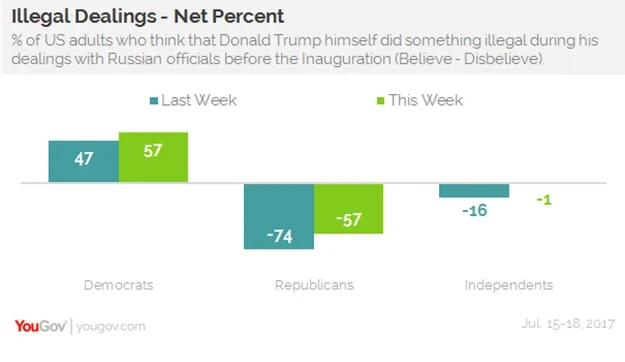 Americans don't like Russia. A majority (57%) views the country as unfriendly or as an enemy. Just one in five thinks it is an ally or a friendly nation. Republicans are less negative: 47% of them say Russia is unfriendly or an enemy, while 30% view it as friendly or an ally. But they believe the President thinks differently: by more than two to one, they believe the President sees Russia as friendly, up five points in the last week. [The poll was conducted before public announcement of a second, private meeting between the U.S. and Russian Presidents during the G-20 meeting earlier this month.]
There is even more skepticism about the actions of other members of the Administration than there is about the President when it comes to Russia, and three individuals are especially likely to be blamed. Just about half say that someone in the Administration did something improper; more than four in ten think someone did something illegal.
Most of those who see improper or illegal behavior see three potential offenders: the fired former National Security Advisor Mike Flynn and two of the men involved in last summer's meeting: Senior Adviser and Trump son-in–law Jared Kushner and Donald Trump, Jr. — Trump, Jr. especially is viewed as culpable. Nearly nine in ten who believe someone did something improper say Trump, Jr. did. More than eight in ten who see illegally at some point before the Inauguration say he is at fault.
As for the meeting itself, Americans are decidedly negative. Eight in ten know about it, and while there is a close division between those who see the meeting itself as breaking the law and those who do not, a majority believes the meeting was unacceptable and should have been reported to the Federal Bureau of Investigation.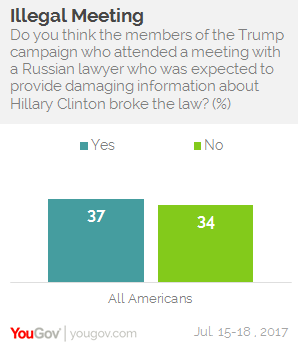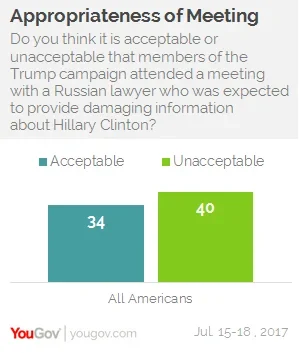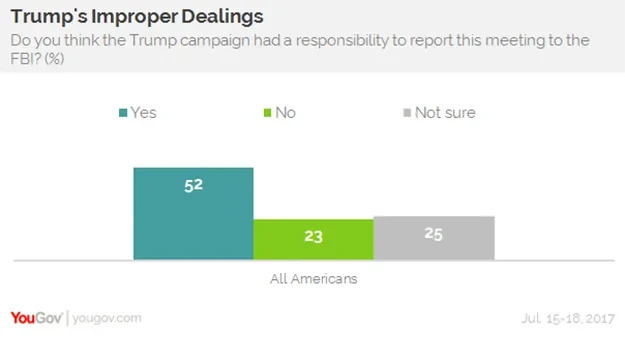 Most Republicans don't have a problem with the meeting. By three to one, Republicans say the June meeting with Russians was acceptable.
Whatever happened, this is a serious matter for most of the public. 55% say they are at least somewhat concerned about improper relations between the Trump Administration and Russia (although six in ten Republicans are not). A growing share of the public overall believes the current investigation into pre-Inaugural dealings will be a serious attempt to find out what happened, and not a politically motivated attempt to embarrass the President.
It is, however, an investigation that (by 48% to 29%) Americans believe the President has tried to influence.
As for the appointment of the Special Counsel to conduct that investigation, Americans approve. So do Republicans, although they divide closely.