Three criminal trials have been in the news lately — but only one of them has captured the public's attention.

Ask Americans how much they have heard or read about the perjury trial of Major League pitcher Roger Clemens, the sexual assault charges against former International Monetary Fund director Dominique Strauss-Kahn, and the murder trial of Casey Anthony — and the Economist/YouGov Poll did just that — and you will find that in only one of the cases do most Americans say they have heard a lot about it.

Americans have been a lot more attentive to the trial of Casey Anthony for murdering her two-year old daughter than they have been to either the Clemens or the Strauss-Kahn case. Six in ten have heard a lot about the Anthony trial, while only 36% have heard a lot about the Strauss-Kahn case, now postponed, and even fewer have heard a lot about the Clemens trial. 
How much have you heard or read about the following news stories?
| | A lot | A little | Nothing at all |
| --- | --- | --- | --- |
| The perjury trial of former baseball player | 16% | 43% | 41% |
| The charges against Dominique Strauss-Kahn, | 36% | 37% | 27% |
| The murder trial of Casey Anthony on charges | 60% | 32% | 8% |
Women claim to have heard less than men have about the Clemens and DSK cases, but there is no gender gap when it comes to the Anthony trial.

And more Americans have opinions about that case, too. Among those who are aware of the Anthony trial (92% of the public), 54% say they would have cast a guilty vote against Anthony if they had been on the jury. 13% would have acquitted her. Anthony was acquitted of the most serious charges.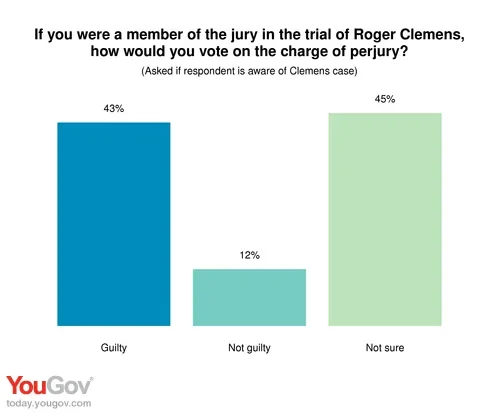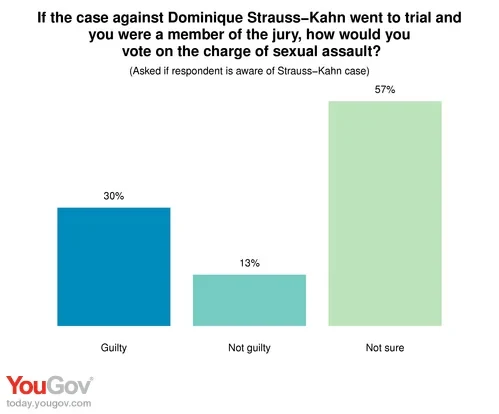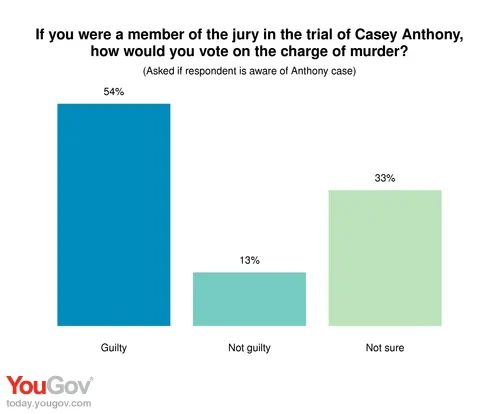 Among those aware of the Clemens perjury trial, more than three times as many think Clemens is guilty as say he is not. Fewer express an opinion about the Strauss- Kahn case, but those who do favor conviction over acquittal 30% to 13%. 
Full datasets for Economist/YouGov polls can be found here.
Photo source: Press Association