55% of U.S adults believe Donald Trump was a successful businessman
Americans give the President credit for being a successful businessman – and in the latest Economist/YouGov Poll, nearly half say that they believe he can generally get people to do what he wants. But when it comes to employing the right people, understanding important issues, and negotiating, Americans aren't quite as sure. And many think he might have a problem with Russia's president, Vladimir Putin.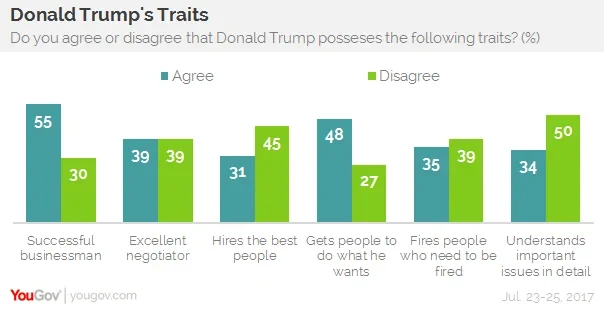 More than half of our respondents (including one-third of Democrats) describe the President as a successful businessman. Nearly half say he can get people to do what he wants. However, less than a third think the President hires the best people, only one in three thinks he understands important issues in detail, and only a few more say he fires those who need to be fired. And as many people say that he is not an excellent negotiator as believe that he is.
At least two-thirds of Republicans ­– even more of those who voted for the President last November – rate him highly on these elements, but fewer than half of Democrats and independents give him positive assessments on any business-related qualities.
These are relatively poor ratings for someone who made a career of firing people on television. In particular, the public opposes his most public firing, that of former F.B.I Director James Comey, by 41% to 32%.
There is also little support for another firing the President appears to be considering – that of Special Counsel Robert Mueller. By three to one, Americans say Mueller should not be fired. Many Republicans don't take a position on this, but those who do are evenly divided.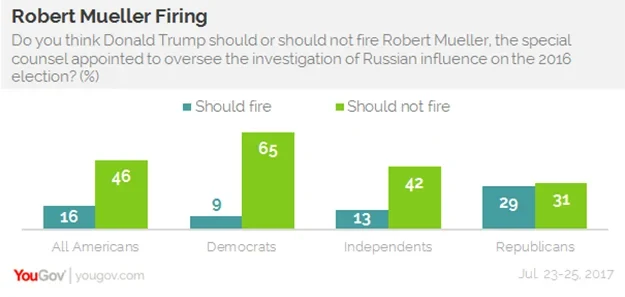 The Mueller-F.B.I. investigation is examining several meetings between individuals in the Trump campaign and Russian officials. The possibility of improper relations with Russia concerns a majority of the public. Americans aren't sure the President himself did anything illegal before the election, but most believe there was something wrong with the Trump Tower meeting last summer between representatives of his campaign and individuals linked to the Russian government who claimed they had damaging information about Trump's opponent, Hillary Clinton.
Although there is no public consensus on whether or not those attending the meeting broke any laws, the public views attendance at that meeting as unacceptable by nearly two to one ­­– 28% say the meeting was acceptable, 49% say it was not. And by two to one, Americans believe the campaign should have reported the meeting to the F.B.I.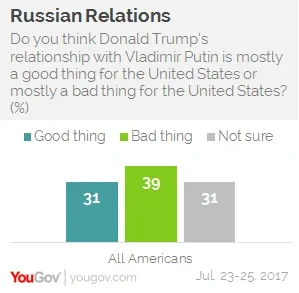 While many don't think the President has done anything illegal, there is worry about his relationship with Russia. By nearly three to one, Americans see Russia as unfriendly or an enemy. But by three to two, they believe the President sees it the other way. Russian President Vladimir Putin is overwhelmingly viewed unfavorably, 61% to 17%, so the President reaching out to Putin is viewed poorly by Americans.
Republicans, who overwhelmingly support the President, disagree. By more than three to one, they say it's a good thing.
But there may be a recognition that Putin has an advantage. Putin is overwhelmingly seen by Americans (who don't like him) as a strong leader. Eight in ten say that Putin is a strong leader – far more than think this about the American President.