41% of registered voters say they will vote for a Democrat for the House, 33% for a Republican
Public reaction to the health care repeal debacle and perceptions of Congressional inaction didn't just affect approval ratings for President Trump and Congressional leadership, but this week it took its toll on voting plans for the 2018 midterm elections. The latest Economist/YouGov Poll found the largest Democratic lead all year among registered voters looking ahead to which party they might support in the 2018 midterm vote for the U.S. House of Representatives.
Of course, that election is still a long way away – just about one in five registered voters admit they don't know what they will do. But in this week's poll, the Democrats hold an eight-point lead in the generic ballot. 41% of registered voters say they will vote for a Democrat for the House, 33% for a Republican.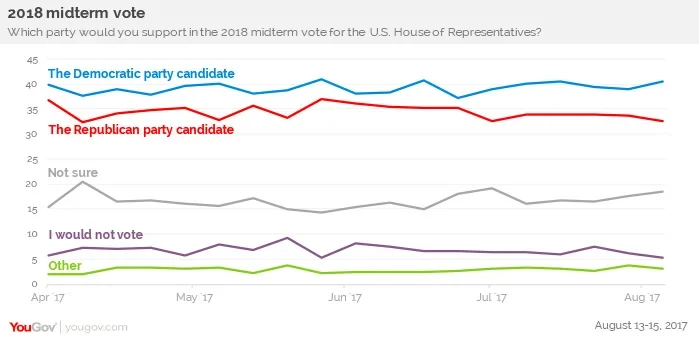 Independents, who according to national exit polls supported President Trump by four points last November, today give Democrats a six-point lead.
There are other indications of problems for Republicans. Few people like Congress – it has just a 10% approval rating, while the President's approval rating in this week's poll is 39%. Just 36% have a favorable assessment of Democrats in Congress. But even fewer rate Congressional Republicans favorably. 15% more people give Republicans in Congress an unfavorable rating than judge Congressional Democrats negatively.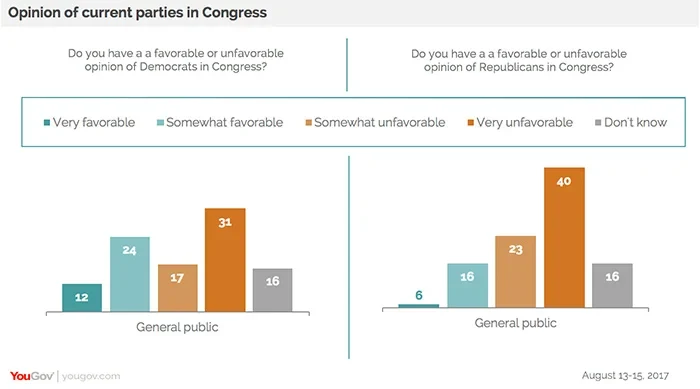 Barely half of Republicans give their own party's Congressional representatives a favorable rating, while three in four Democrats have a favorable assessment of the Democrats in Congress. Half of Republicans approve of Speaker Paul Ryan's performance, but only a third approve of Senate Majority Leader Mitch McConnell. More Democrats approve than disapprove of how Minority Leader Chuck Schumer is handling his job; House Minority Leader Nancy Pelosi also scores well.
There are winners and losers in the White House too. The President's own favorable rating is just 36%, and 56% view him unfavorably – the highest of this presidency. Three Presidential advisors (who all happen to be Generals) score better: Chief of Staff John Kelly is twice as likely to have favorable than unfavorable ratings – and Democrats are just as likely to view him favorably as not, an unusual Democratic reaction to a Republican Chief of Staff. Secretary of Defense James Mattis and National Security Adviser H.R. McMaster are also seen positively.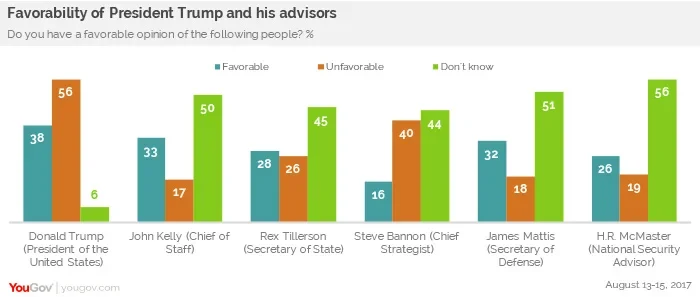 Of course, many don't have any opinion of White House staff or Cabinet Secretaries, but on balance they are seen favorably. Opinions of Secretary of State Rex Tillerson are mixed, with just about as many on one side as the other. Just 16% have a favorable opinion of the President's chief strategist Steve Bannon, his lowest percentage ever in the Economist/YouGov Poll.

Another low for the year is in the percentage who say things in the country are going on the right track. Just 27% say it is, down three points in the last week. 59% say things are headed in the wrong direction. While these are low marks for this year, there were many times during Barack Obama's presidency when the results of this question were equally as bad or even worse.
See the full results from this week's the Economist/YouGov poll